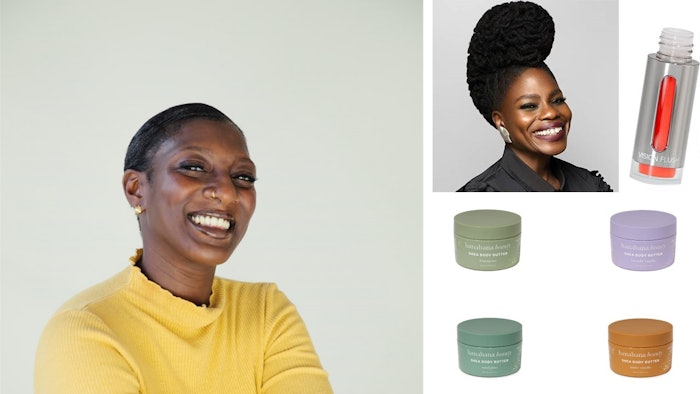 In an increasingly crowded beauty market, standout brands are few and far between. But there are a rare few who make a mark. Three of those brands—Hanahana Beauty and Danessa Myricks Beauty—will share their secrets for rising above the competition while embracing ethical practices during a forthcoming Beauty Accelerate Virtual talk, "Decoding Breakout Beauty Brands." Our experts will include: 
Abena Boamah-Acheampong, Founder/CEO, Hanahana Beauty

Danessa Myricks, Founder, Danessa Myricks Beauty
Hanahana Beauty, which launched in 2017 and later entered Ulta Beauty's Sparked platform, recently expanded into 400 of the retailer's stores.
The brand, a signatory to the 2021 #CodeRed4Climate social media blackout, is focused on bringing ethical sustainability to beauty and has made a name for itself via its partnership with the producers of Ghanaian-harvested shea butter.
Founder Abena Boamah-Acheampong was reportedly inspired by "her mother's method of heating up shea butter and cloves and adding them to her very own body butter concoctions for their family's use." Hanahana Beauty was born in 2017 in Boamah-Acheampong's kitchen during grad school; it remains hand-crafted in Chicago.
Danessa Myricks has been called "your makeup artist's favorite makeup artist" by Allure. Her expertise in color cosmetics is unquestionable.
So it's no surprise that her brand, Danessa Myricks Beauty, has been praised by Allure, Pop Sugar, Ebony and more. Beyond great products, Myricks has a mission for meaningful inclusion in beauty.
As she told The Zoe Report: "I want my brand to feel like a place where everyone feels at home and can say, 'I belong there, I can find myself in there,' and discover what their possibility can look like."
Attendees of this discussion will come away with insights to apply in their own differentiating innovation and strategic planning. To attend the talk live or on-demand, register below.
>>>REGISTRATION IS NOW OPEN FOR LIVE/ON-DEMAND ACCESS.<<<
Attendee pricing is designed to be accessible for indie and major brands alike. Contact us for special group rate discounts.