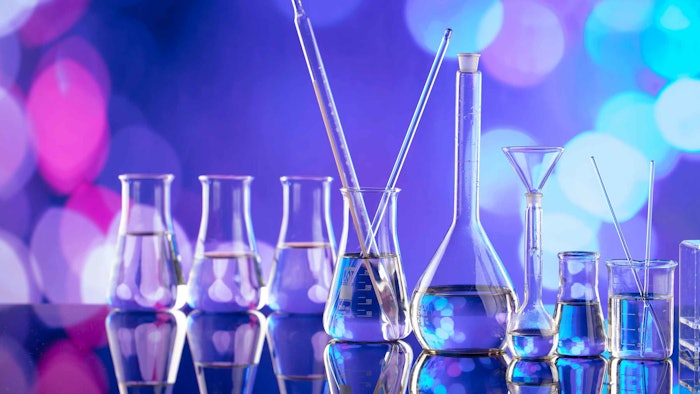 Cosmetics & Toiletries (C&T) is excited to announce the 2024 C&T Allē Awards finalists, who will be celebrated for their ingenuity in cosmetics R&D during an exclusive awards dinner — to be held on March 6, 2024, at The Biltmore Los Angeles, once again alongside our Beauty Accelerate event. The awards bring behind-the-scenes ingenuity into the spotlight, giving innovations ranging from cosmetic ingredients, blends and product formulas, to digital technologies, devices and test methods their time to shine.
Purchase dinner tickets or logo kits here. See the Allē Awards page for pricing.
"This is our second go around for the C&T Allē Awards and the competition was fierce," said Rachel Grabenhofer, awards organizer and managing scientific editor of Cosmetics & Toiletries. "Some very novel and resourceful innovations made this year's finalist cut, with just a few points' difference between them. The judges were also impressed by the potential longer-term impact of a few, too. It will be interesting to see who comes out on top."
Congratulations to all the finalists! As a reminder, each entry went through an extensive review by our judges and rated on multiple parameters. The top scores made the finalist list. Here's the big reveal (drumroll, please)...
For additional questions about dinner tickets, logo licensing and sponsorship opportunities, contact Jolly Patel, business development manager, at [email protected] or 1-630-344-6061.
Active Ingredients
Activen SA - XEP-716 Miniprotein
Algaktiv - Algaktiv Collage
Arcaea - ScentARC
Bio-az Pty. Ltd. - Bio-az Cosmeceutical Synbiotic
Clariant Production France - Rootness Mood+
dsm-firmenich - Pepha-Tight CB
Evonik Corp. - BeautiFerm Healerine
Evonik Corp. - Sphinox Immulance
Givaudan Active Beauty - RetiLife 100% Natural Origin Retinol
Greentech - Holobiosys
H&H Group Co., Ltd. - Sadorfons
Ichimaru Pharcos Co., Ltd. - Milltect
Ichimaru Pharcos Co., Ltd. - VeganProteoglycan
Industrial Technology Research Institute - I-Proteo (Ananas Sativus (Pineapple) Leaf Powder)
Laboratoires Expanscience - Epionine Bio
LipoTrue - Poptide
LipoTrue - V/WA
Lucas Meyer Cosmetics - ReviScalp
Mibelle Biochemistry - CALMandrin
Mibelle Biochemistry - TiMOOD
Rahn AG - Hairvivine-Pro
Sederma - Mel[o]stem
SILAB - Senevisium
Sino Lion USA - Ultimate Moisturizer: Evermoist AGG-50
TRI-K Industries - Fision HydraTress
TRI-K Industries - Tri-K EssentiaTein Protect
Base Ingredients
Advancion (Angus Chemical Co.) - DL-2AP Ultra PC Amino Alcohol
CP Kelco - Kelcosens Citrus Fiber
DayGlo Color Corp.- Elara Luxe Pigments
Evonik Corp. - Ecohance Care PS3
Inolex - AminoSensyl Ultra MB
Lignovations - Lignoguard
Oleon Health and Beauty - Oleon's Jelly Rheological Modifiers
P2 Science - CitroSperse Pigment Dispersions
Sharon Personal Care - Emulpharma Mimesis
Chassis/Blends
Dermegen Inc. - Natural Synergistic Preservative Blend
Natures Crops International - Natralipid Advanced Omega Complex
Sino Lion - Glutamix A50 Self Thickening Blend
Vantage Personal Care - Jeesperse NOLO Self-Emulsifying Powders
Claims Testing Method/Tool, Device and Digital Technologies
Coptis - AI-driven PLM Stability Test Predictions
Mineed Technology - Two-minute Detachable Microneedles
REVivo Biosystems - ReleGO and REVex: 4D in vitro platform
Shiny Brands Group - MIRAE Thermal Pro Beauty Device
Symrise AG - Next Gen Deo from 3D Ex vivo Sweat Model
Synergy Life Science, Inc. – Nebi
Winnox Cosmeceutics Sdn Bhd - Screen-Printed Antioxidant Sensor (SAS) Concept
Finished Formula - Indie
Dara Kennedy - Dara Kennedy Sea Serum
Earth & Body Wise - Earth & Body Wise GlacierMint Toothpaste
goop - goop Beauty Youth-Boost Peptide Serum
Hume Supernatural - Hume Supernatural All Body Deodorant
Integrity Ingredients Corp. - Tinted Glow Serum
Pharmacy Ioannis Assimakopoulos - NAMA Delicate Hair and Scalp Cleanser
RAAIE - RAAIE: A New Standard for Age Prevention
Roccoco Botanicals - Charcoal Clarity Mask
Roccoco Botanicals - Frangipani and Lychee Body Creme
Roccoco Botanicals - Overnight Recovery Mask
Ross Organic, an Azelis Company - Exfoliating Coconut Jelly Cube
Saint Cruz - Freshmetics–Freshly Made PC Products
Stoic Beauty Inc. - Harmonia Balancing Night Cream
Yobee Care Inc. - Yobee Care Restorative ScalpMask
You & Eye by Dr. Nicky - The Skinification of Lashes!
Finished Formula - Mass
#LubeLife - Actively Trying Fertility Lubricant
Innovative Beauty Group - Screensaver
PT Wahana Kosmetika Indonesia - Azarine Niacinamide 10% + DPG Serum
Shiny Brands Group Co., Ltd. - Retinol 3X PLUS+ Super Serum
SNF - Cold Process Minimalist Daily Hair Straightening Cream
Winnox Cosmeceutics Sdn Bhd - Scalp Biotics Technology
Winnox Cosmeceutics Sdn Bhd - Vitamin C Derivative and Resveratrol Hyperpigmentation Solution
Finished Formula - Prestige
Circadia - Serum 71: Past, Present & Future
Crown Aesthetics - BIOJUVE Living Biome Essentials Duo
DECIEM - Copper Amino Isolate Lipid
Epicutis - Epicutis Lipid Body Treatment
Eufora International - Eufora Triple Bond Repair
Linder Health - HA Pep Smoothing Intensifier
OLAPLEX - OLAPLEX Volumizing Blow Dry Mist
RAAIE - RAAIE: A New Standard for Age Prevention
Solésence Beauty Science - Soft Glow SPF 50+ Featuring Patented Kleair Technology
Theraderm - Theraderm Brilliance Boost Pads
Tosla d.o.o. - Premium-Grade Collagen Formulation
Tronque - Vitamin C Body Oil