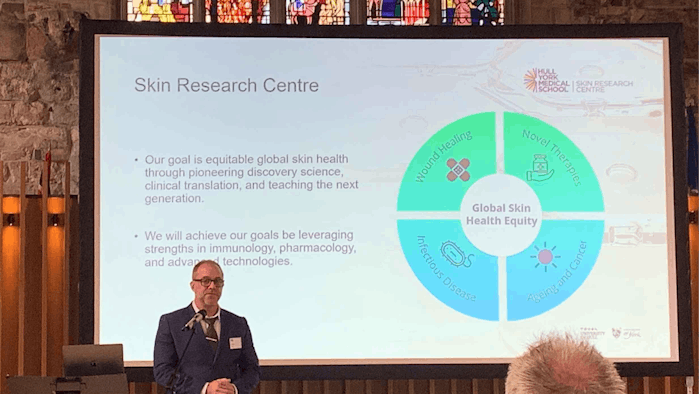 Jane Evison
The University of York at Hull medical school announced the opening of it research center that will bring together leading scientists, clinicians and advanced technology experts to improve skin health globally. This will include exploring how conditions and diseases impact some patients more than others based on their socio-economic status.
Per the university, the center aims to undertake pioneering research that will lead to improvements in the diagnosis, treatment and care for patients. This is because, despite the evident need for skin research, there is a significant knowledge gap both nationally and globally.
The launch of the Skin Research Center was held on Sept. 26, 2023, in the historic York Guildhall, and included invited guests and partners from industry, academia and the NHS. There, Prof. Tarl Prow, Ph.D., director of the center, introduced the work of the center.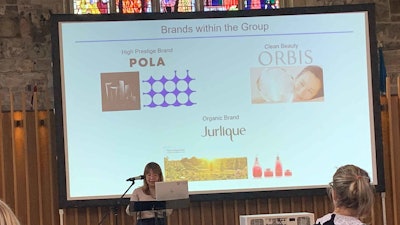 "Our aim is to be a world-class research center which focuses on improving patient care through scientific discovery and I believe we are uniquely placed to do just that," Prow said in a press statement. "Across our center, we have world-leading skin scientists who are undertaking research in skin microbiome, wound-healing and infection; infectious diseases and immunology; and skin aging and cancer.
"We have access to clinicians within the NHS who understand skin health and the impact of skin disease on patients. And we have advanced technology experts who have the knowledge, expertise and industry connections to be able to develop novel solutions to support the diagnosis and treatment of skin conditions."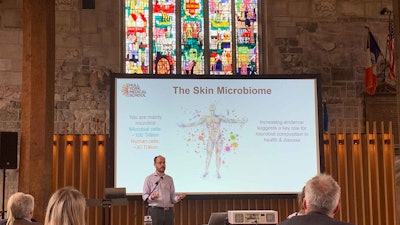 University of York Vice-Chancellor, Prof. Charlie Jeffery, added: "The Skin Research Center offers a unique environment in which we can further develop our understanding of skin disease and develop solutions which will improve the experiences of patients in our region, but will also influence health policy on a national and global level, reduce inequalities and make a real and lasting difference to people's lives."
The medical school's partnership with regional NHS Trusts, GPs and community health care providers means the center has access to a wide clinical base in which to conduct skin research for patient benefit.