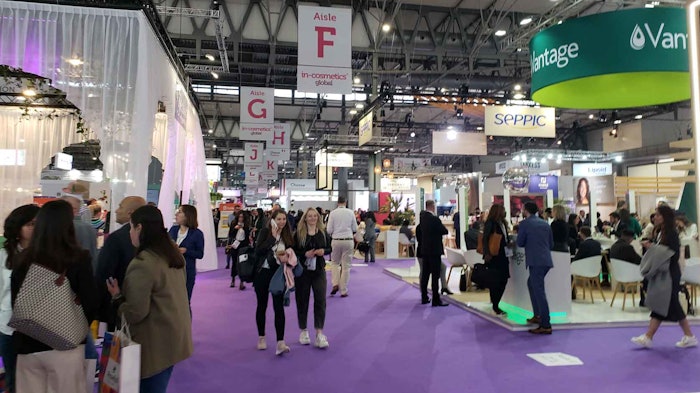 Exhibit aisles were jam-packed with cosmetics and personal care innovators at in-cosmetics Global 2023. Some 11,000 attendees were pre-registered to attend and in Cosmetics & Toiletries'  view, they were all there — and then some.
Exhibitors were consistently busy and out in full force with a multitude innovative solutions. Here's a brief recap of 15+ trends/terms in innovations we spotted there. (Note: This is by no means comprehensive.)
Check out all our photos in Cosmetics & Toiletries' LinkedIn and Facebook posts, and Global Cosmetic Industry's LinkedIn post!
1. Sustainability, Greener Processes, Circularity
Sustainable, eco-friendly and biodegradable, natural
Claims for vegan, nature-derived, COSMOS certified, ISO approved
Refillable (even product samples)
Upcycled ingredients
Greener production processes and platforms (e.g., fermentation), especially to produce purer molecules
Circular beauty and collaborative efforts to achieve such = future direction for this space
CSR efforts/focus of companies
Eco responsibility
Local sourcing and traceability, blockchain tracing
Plant stem cells as ingredient source
"White biotech"
Teaching consumers about renewability
Designed enzyme biopolymer technology
Carbon footprint
2. Senescence
Autophagy to remove senescent cells
Intercepting the signaling of harmful chemicals
Preventing senescence/"dermohacking" senescence
See related: Activating Autophagy to Energize Hair and Eyelash Growth
3. Fermented Beauty
Plant sugar-derived natural retinol alternative
Fermented soy milk for anti-aging effects
Fermented biotin as skin and hair "beauty vitamin"
Fermented honey for gentle skin peel
Fermented oils for antioxidant and moisturizing effects and as emulsifiers
Fermented enzymes for odor control
Fungus ferment to stimulate autophagy, reduce signs of aging
4. Skin Immunity/Immunology, Anti-inflammation
Regulating skin's defenses
Circumventing immuno-evasion to restart senolysis
Fermented flavonoid anti-inflammation
Addressing inflammaging
Addressing TEWL and redness
5. Beauty as Therapy, Wellness 
Reducing stress in skin to improve mood
Acupuncture-inspired effects, mood lift
Novel approach to measure user emotional response (based on abstract imagery - A.I. is involved)
Emotion boost
Feel-good molecules and pleasure
"Positive beauty," taking care of oneself without guilt
Merging of beauty and therapy
6. Hidden Damage
Repairing damage in hair and skin before it becomes more visible
7. Sebum and Pore Minimization
Sebum control through new receptor
Reducing pore size
Diminishing pore color
8. Neurocosmetics and Sensitive Skin
Soothing skin
Reducing stress
Dermocosmetics to reduce sensitive skin symptoms (e.g., improve TEWL)
9. Anti-aging, 'Baby Botox' and Protein Folding 
HA boost or supplement to revive skin
Senescence approaches
Retinol alternatives; e.g., algae-derived ingredient that works on all the same receptors except those that cause irritation
Alternatives to "baby Botox" (Millennial trend of getting Botox treatments to stave off wrinkles, not "look like your mom"
Peptides/cyclic peptide
Measuring smile lines dynamically as subjects smile to assess product efficacy
Protein folding to organize "skintropy" (i.e., sagging that occurs throughout the day making fine lines and wrinkles more pronounced late in the day)
Collagen boost/plumping of skin
Facial sculpting
Addressing "tech neck" (wrinkles on the front of the neck caused by looking down at our devices)
Preventing breakdown of native retinoic acid
Imparting blurring effects
Acting on advanced glycation end products (AGEs)
Cellular beauty (acting on ATP)
Timeless beauty
Addressing age spots
Pairing repair with prevention
Phytosqualane
10. Sleep for Beauty and Skin Health
Boosting night time skin recovery through olfactory molecules
Boosting melatonin production to help sleep and, in turn, skin recovery
Sleep is viewed as a "luxury" today
11. Microbiome and Holobiont
Microbiome friendly certifications
Microbes to address acne and pock marks
Controlling UV-induced microbe byproducts to reduce negative effects in skin
12. Hair and Scalp Care
Absorbing metals from water to prevent hair/scalp damage (anti-pollution)
UV protection for hair
Natural dandruff care
Scalp ais the new skin care
13. Natural Thickening, Viscosity Modifying
14. Marine Sourcing
15. Optimizing Delivery for Greater Efficacy
Pharma-grade liposomes to deliver actives
16. Honorable Mentions
Inclusion (e.g., non-whitening products for pigmented skin), genderless products, disability-tailored solutions (formulas too, not just packaging)
Metaverse/digital tech and research platforms/apps
Customization
Sensory pairing (scent and taste, music and texture), powders in sunscreen to sequester (not absorb) oil and boost efficacy, novel and unexpected textures, phase-change formulas, uniform texture and sensory performance across climates
Promoting concepts not ingredients 
Silicones still relevant, natural/synthetic hybrids, making them more eco-friendly
Efficacy before naturality (accept some synthetic-ness)
Multifunctionality 
Product protection, multifunctional "preservatives," replacing phenoxyethanol
Regulations shaping the industry, Green Deal/European standards, sunscreen limits in U.S.
Silicone-like ingredients
Mineral/chemical sunscreen hybrid
Reformatted products removing PEGs and other unwanted materials