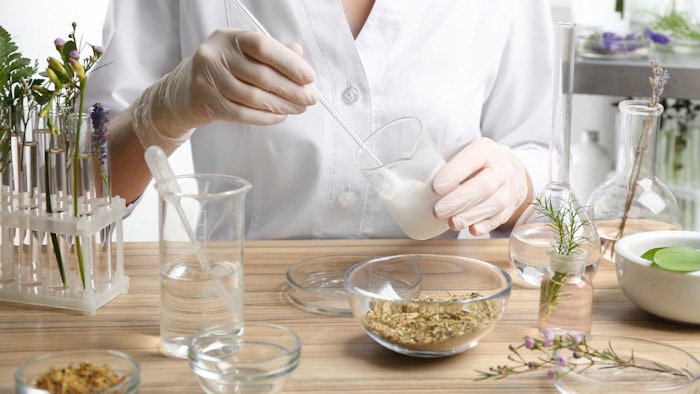 A new initiative will be highlighted on the final day (Sept. 22, 2022) of the 32nd IFSCC Congress: the "Innovation in Action Technology Showcase Challenge," co-hosted by the Cosmetics Cluster UK Ltd. (CCUK) and the Society of Cosmetic Scientists (SCS). The congress will be held in London from Sept. 19-22, 2022.
Per the organizers, this informal, interactive, hands-on session allows delegates visiting the area to experience the sensorial and visual aspects of innovations and discuss special features in person with the entrants. One entry will be selected as the overall challenge winner that day.
See related: IFSCC 2022 Reveals Full Scientific Program—From Neuroscience to Safety and More
Cosmetics and beauty innovators who have technology, engineering or design solutions that meet the needs of tomorrow's cosmetics are invited to enter. The initiative will provide entrants an opportunity to meet the cosmetic industry elite at IFSCC 2022 and showcase their innovations in action.
The challenge will span everything from "Research to Retail," and while the organizers anticipate many entries will be pre-launch, they also welcome new launches including technologies, designs or manufacturing processes that can be demonstrated to meet the future needs of the cosmetics industry.
Entries can be submitted now, and the chosen finalists will be invited to demonstrate their innovation in the showcase on Thursday, September 22, in the afternoon. Finalists will receive a complimentary day pass to the congress.
Panels selecting the finalists and winners will be led by Gill Westgate, Ph.D. (CCUK), and Katerina Steventon, Ph.D. (CCUK), respectively. These will include eminent representatives from the industry.
The organizers emphasize entries should demonstrate innovation in cosmetic products and/or technology or a novel facet of design or production engineering. Innovations that are not suitable for tabletop space can be entered via other formats such as digital media.
Enter now or see the Terms and Conditions.