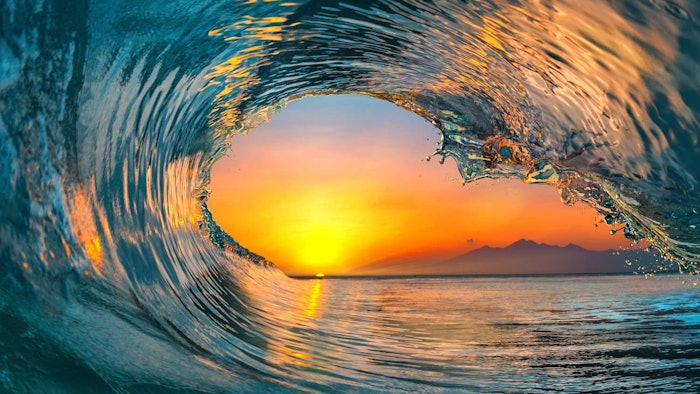 Inspired by World Ocean Day on June 8, 2022, Beauty Accelerate, the premier cosmetic industry event connecting brand marketing and R&D innovation, is excited to announce its recommitment to The Ocean Foundation (TOF), a nonprofit organization dedicated to reversing the trend of ocean environment destruction around the world.
See archived: No Eco-scuses; Packaging Can Conform with Natural Tenets
Through this partnership, now in its second year, a portion of the proceeds from Beauty Accelerate registrations will be dedicated exclusively toward TOF's Redesigning Plastics Initiative, for which, as readers of Global Cosmetic Industry and Cosmetics & Toiletries—the media brands hosting Beauty Accelerate—are aware, there is much more work to be done to establish a more circular and sustainable future.
Registration opens soon for Beauty Accelerate! Pre-register here.
"The industry has made great strides in sustainability in recent years, enabled by innovative technologies," said Rachel Grabenhofer, managing scientific editor, Cosmetics & Toiletries. "This includes everything from responsible sourcing, social progress, reducing emissions and improving transparency, to greener chemistries, low-water formulating, cultured extracts, fermented processes, refillable and recyclable packaging, and more. But I believe we're just getting started."
See also: 6 Sustainable Packaging Strategies for Beauty
Through this partnership, now in its second year, a portion of the proceeds from Beauty Accelerate registrations will be dedicated exclusively toward TOF's Redesigning Plastics Initiative."
This partnership announcement is also timely in that it follows recent work published in Environmental Science finding a new vessel for microplastics: human blood. "Plastic was located in the blood of 17 of 22 study participants; about 77%," TOF writes. "What this means for the human body is unclear but it's a sure indicator of the increased importance for a global plastic solution."
The aim of TOF's plastic initiative is not to "clean" our way out or "recycle" our way out; but rather, to "design" our way out.
As Mark J. Spalding, president of The Ocean Foundation, explained in a recent video, "Plastics are cheap and convenient, and reflective of our throw-away society, a behavior that so many of us are trying to change. However, a plastic-free world is an impractical goal. Some plastics have great benefit to the society." He added that new production facilities continue to break ground while the global community struggles to manage the plastic waste that is already on our beaches, in our rivers and in our ocean.
See archived: Measuring Europe's Microplastic Response
"We lack a market for recycled plastics, presenting a disincentive for scientists and industry to invest in research and development to change the way plastics are made to make them more easily recyclable." The Ocean Foundation is working to shift the conversation. Its redesigning plastics initiative, now in its third year, is working to develop and synthesize original science to inform legislative approaches to change the way plastics are made.
The initiative's biggest milestones to date include participation in/with:
U.S. Dept. of Energy's BOTTLE Consortium;
National Academies of Sciences, Engineering and Medicine (NASEM);
OneSource Coalition;
IUCN World Conservation Congress;
Ministerial Conference on Marine Litter and Plastic Pollution;
United Nations Environment Assembly (UNEA);
InMarEST Ocean Plastics Special Interest Group;
U.S. Plastics Pact;
Ocean Plastic Leadership Network;
World Plastics Summit; and 
7th International Marine Debris Conference.
"We want to identify those uses that are most essential and ask how to reinvent them so that they can continue to be used without harming human and environmental health," said Spalding. See the foundation website for more information.