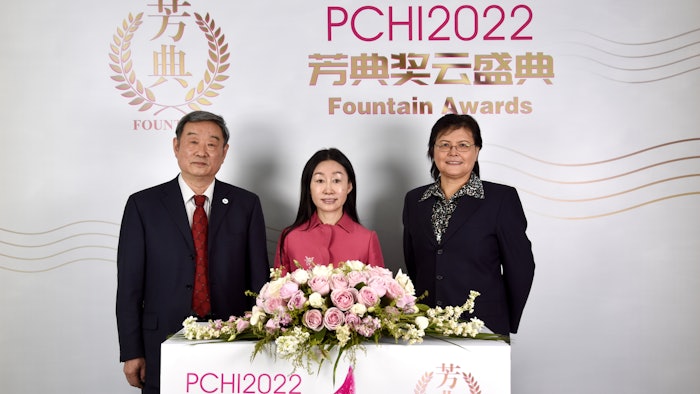 The winners of the 2022 Personal Care and Homecare Ingredients (PCHi) Fountain Awards were announced during the PCHi trade show. The awards celebrated creativity, innovation and excellence in personal care R&D. The event recognized 11 winners from 91 nominating companies, 152 products and 17 individuals. The winners were selected by a panel of 11 judges based on product ingenuity, technical prowess and market application prospects.
Related: Cosmetic Claims Put to the Test at NYSCC Suppliers' Day
2022 PCHi Fountain Awards winners:
Moisturizing/Hydrating: Shanghai Jayu Bio-Technology Co., Ltd.—Moisten Millennium
Anti-Aging: Shanghai Coachchem Technology Co. Ltd.—Anallerg-Pure-origin
Whitening/Brightening: Bloomage Biotechnology Corp., Ltd.—Bioyouth EGT Pro Super Active Ergothioneine
Skin Barrier Repair: Evonik Specialty Chemicals (Shanghai) Co., Ltd.—TEGO Sterol 7-DHC V
Green/Sustainable: Guangzhou Jiahua Chemical Co., Ltd. and Bowei (Shanghai) Chemical Co., Ltd.—Valida S+
Hair Care/Scalp Care: Jiangsu Trautec Medical Technology Co., Ltd.—Recombinant Type XVII Collagen
Sensory Enhancing: Uni-Powder—PF
Emulsifying/Stabilizing: Momentive Performance Materials Inc.—Silsoft Composer Emulsion and Lubrizol Management (Shanghai) Co., Ltd.—Carbopol SC-800 Polymer
Best Newcomer: Lu Yina, Shanghai JAKA Biotech Co., Ltd.
Outstanding Individual of the Year: Wang Guanfeng, Bloomage Biotechnology Corp., Ltd.