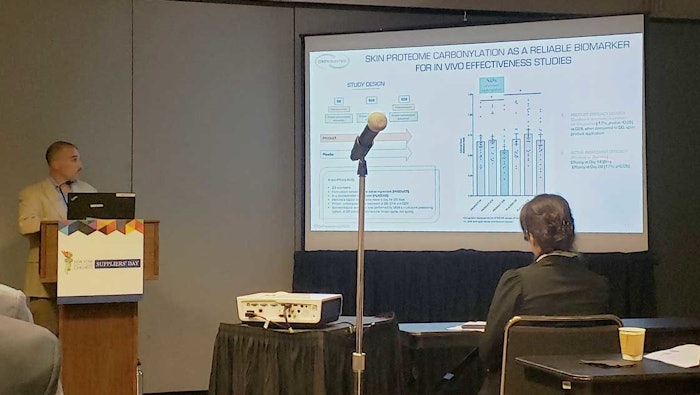 The first full day of conferences and conversations at NY SCC Suppliers' Day, held May 3-4, 2022, reiterated several relatively established trends in cosmetics R&D, e.g., sustainability, transparency, proven efficacy, safety, etc., as expected, but also underlined the critical need to substantiate those claims with solid science.
This was apparent from both exhibitors, who shared insights in terms of the certifications or criteria customers expect raw materials to meet (notably COSMOS, USDA Biopreferred and UEBT), and from the conference program, featuring a two-part session across two days on in vitro modeling to predict clinical outcomes.
See related: NYSCC Suppliers' Day Focuses on Digital Age of Beauty
In vitro Testing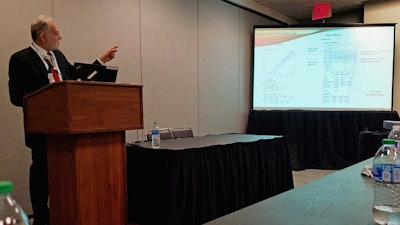 Part one of the conference session covered topics including genetically engineered 3D skin models; testing the skin's innate immune response in vitro and non-invasively; bioequivalence efficacy testing for sunscreens; solutions from in silico and in vitro testing to clinical bioanalysis and imaging; sensorial evaluation in cosmetics and the integration of the sensory neurons in in vitro models; and in vitro studies of skin deposition and permeation and their practicality.
See related: 7 Years in the Making: CE Recommends In vitro SPF Double Plate Test Method
Eduardo Ruvolo, director of clinical and scientific affairs at Beiersdorf, addressed SPF testing, including the complexity of getting reproducible results using different test models. "[Using ISO 2444], the higher the SPF, the higher the standard deviation and variability of the data," he said. His talk also stirred audience interest in what the point is at which raising the SPF level provides negligible differences in protection. He emphasized there are various biological factors to consider, but that the ideal cut-off could be somewhere in the range of SPF 25-60.
Microbiome and Skin Longevity Biomarkers
Another conference session focused on the industry's latest darling: the microbiome. Topics ranged from topical probiotics and deciphering skin longevity biomarkers, to myths and facts about the skin microbiome, a citizen science approach using a kit to collect consumer data, skin microbiome personalization and more. 
Martin Baraibar, CEO at OxiProteomics, explained that chronological and biological age can differ remarkably, and since skin is subjected to a combination of intrinsic and extrinsic insults, this difference could even be further pronounced. The design of dermocosmetic interventions targeting the root causes of aging may therefore help to slow skin structure and function decline by keeping "healthy" skin.
To achieve this, however, he noted that the identification of reliable biomarkers of skin longevity is needed, pointing to distinct signatures of biomarkers (i.e., specific proteins from different anatomical compartments or organelles) that have been observed upon skin exposure (in vitro and ex vivo) to different types of stress.
See related: Citizen Science for Skin Microbiome Research—A 'Microbiome-friendly' Case Study
Microbiome-friendly Certification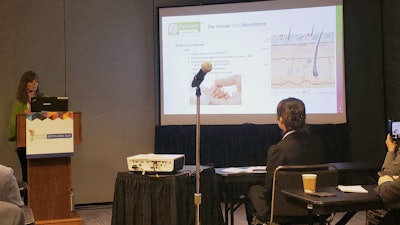 Also under the microbiome umbrella, Kristin Neumann, of MyMicrobiome AG, explained that an imbalanced skin microbiome causes irritation and makes skin more prone to skin diseases like psoriasis, acne, eczema and dermatitis. "We really need to be aware of what we are feeding our microbiome," said Neumann, highlighting the poor modern-day diet.
In contrast, a well-balanced skin microbiome is essential for health and, by extension, beauty. She described an independent certification for microbiome-friendly cosmetics and personal care products to give scientifically valid data for microbiome related claims in the cosmetics industry. According to Neumann, claims that products nurture or rebalance the microbiome are difficult to prove due to the diversity of the microbiome as well as individuals. She believes microbiome-friendly is the better claim. "It's easier to prove that a product doesn't harm the microbiome," she explained.
Day Two's testing topics will range from delivery modeling techniques; scalable in silico simulation for total body exposure using in vitro transdermal and respiratory tract permeability assays; in vitro model challenges for skin lipid measurements in the clinic; 3D bioprinted full skin models with Immunization, pigmentation, vascularization and oil functions; diabetic skin and its modeling to improve skin condition; and tissue engineering from normal to compromised skin. 
For more information, visit the NYSCC Suppliers' Day website.