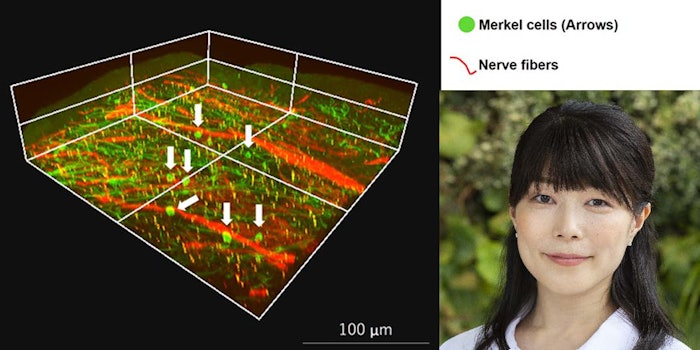 Moe Tsutsumi, Ph.D., of the Shiseido MIRAI Technology Institute, was honored for the top presentation during the International Federation of the Societies of Cosmetic Chemists (IFSCC) virtual conference, hosted by the Mexican chapter from Oct. 18-28, 2021. 
Tsutsumi's presentation, entitled "Skin Beauty with Gentle-touch-receptor Merkel Cells—Restore Your Sense with a Pleasant Scent," was selected from among 285 papers presented at the conference, including 35 oral presentations and 250 posters. This is the 29th IFSCC congress or conference award for Shiseido.
In collaboration with Monasterium Laboratory, she and other Shiseido researchers discovered that odorant receptors are expressed in Merkel cells, which mediate touch sensation. Together, they demonstrated, using human skin culture systems and live cell-imaging of human skin, that these receptors are activated by a type of synthetic perfume that has sandalwood-like odor.
In addition, they found the peripheral nerves that are connected to Merkel cells and transmit touch sensation to the brain are also involved in maintaining the structure of the dermis, in terms of firmness and sagging. These discoveries suggest the Merkel cells can be activated by odorants even in the absence of touch and this mechanism has the potential to improve skin condition.