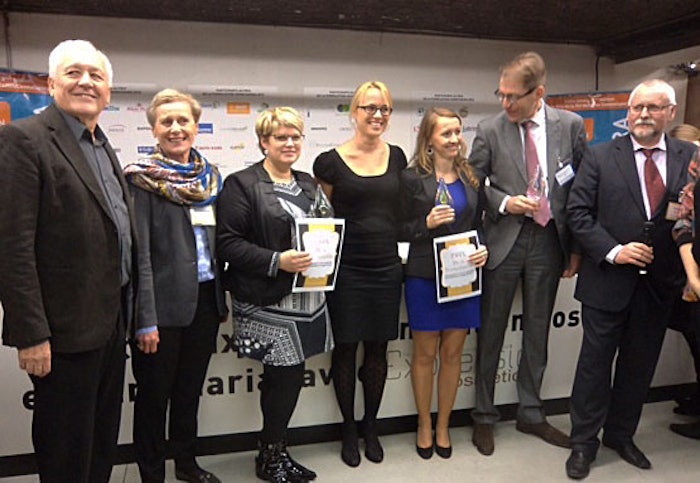 Although recent events cast a cloud over the city of light, the cosmetic industry showed its determination to continue with discussions on cosmetic formulation at the Société Française de Cosmétologie's (SFC) Cosmetagora, held Jan. 13-14, 2015 in Paris. Over 1,000 visitors and 152 exhibitors visited the first day of the event.
At the event, BASF presented trend-driven skin and color care solutions inspired by life. "Beautiful Faces" was its anti-aging face care concept that translates consumer needs into tailored solutions. In addition, "Color Trends 2016" was its effect pigment collection that helps customers create solutions for next year's beauty trends
"Beautiful Faces" was developed from a consumer study in France conduced by BASF and TNS Infratest using a validated typology system to define the personality characteristics and needs of six consumer archetypes and translate these needs into innovative anti-aging face care products. The study involved interviews with 1,223 women aged 25 to 75 in France in 2013. All of them were regular users of anti-aging face care products, applying them at least once a week, and were also decision-makers or co-decision-makers when it came to brand purchases. The women were put into one of six groups (Energetic, Perfect, Professional, Protected, Authentic and Creative) based on their personality, emotional needs and purchase motivations, as opposed to external factors.  The "Authentic" consumer, for example, places special emphasis on products that employ natural ingredients and are environmentally friendly. She strives for natural-based, effortless beauty. As a result, her anti-aging face care products need to be straightforward – with no need to fuss or spend a lot of time in front of the mirror. She favors a likable, trustworthy brand that offers good value for money. The "Authentic Boost" formulation is a dry yet nourishing anti-aging oil containing natural-based ingredients that combines easy skin hydration with non-greasy, velvety smoothness.
At the event, Seppic discussed new data on two of its ingredients: Septonic M3, an anti-aging mix of minerals; and Geltrap, a gel-in-oil emulsion with high water content above 80%. Data showed Septonic M3 oxygenated skin for an improvement in wrinkles and skin texture. The active was found to have a chrono-energizing effect similar to cytochrome C2, stimulating metabolism and cellular renewal and protecting the mitochondria against primary free radicals. In addition to its action on cellular oxygenation, Septonic M3 also protects the dermis and improves cellular communication.
Geltrap is formulated cold, with low or high shear. As a result, compared with the hot manufactured o/w emulsion, the production of 5 kg of Geltrap with low shear saves up to 98% energy and 78% manufacturing time. This is equivalent to a 4.6 kg reduction in CO2 emissions. The impact on the environment is also significantly reduced compared with a cold manufactured w/o emulsion; Geltrap saves up to 74% energy and 64% manufacturing time.
As the event is focused on formulation, three formulation awards were given. Taking first place was DKSH for its Total Shield Cushion Formulation SPF 25. Second prize went to Shin-Etsu, again for a foundation, and third place went to Soliance for their personalizable mask.