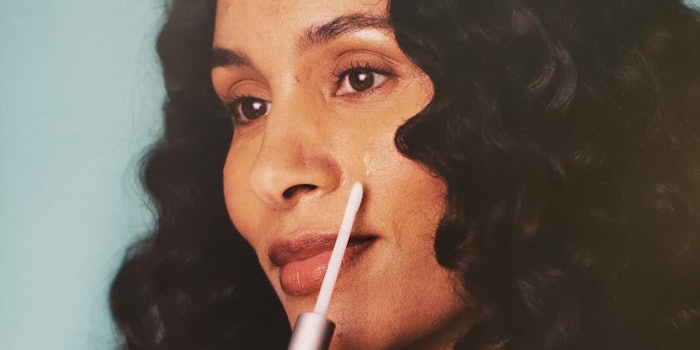 photo credit: Clariant
Clariant presented its latest BeautyForward 5 formula and trend concepts and highlighted three recent ingredient introductions in a digital 'Ask the Expert' press briefing.
 "Clariant conducts market research to see what will drive consumers in the coming months to create formulas that meet those needs," explained Jasmine Shah, customer experience and trends leader for the company. These trends and related prototypes are gathered and introduced annually via the company's BeautyForward collection, now it its fifth year. This year's core trends include: ubuntu (togetherness), hygiene beauty and beauty unwrapped.
See previous: BeautyForward; Clariant's Active, Anti-aging and Fantasy Formulations
Ubuntu
After being locked down by the pandemic, people want to regain a sense of togetherness and community. This philosophy of humanity toward others is embraced by the zulu term ubuntu. To gather together again, however, wearing a mask is a prerequisite, which impacts beauty in several ways.
Shah explained, "We saw the coining of the term maskne and diving deeper, we saw real evidence that mask-wearing causes acne, along with itch and irritation from friction, which proved there is a need for skin-soothing treatments."
See related: Unmasking 'Maskne'—Underlying Causes and Future Innovations
Soothe + Cool Facial Serum:  In relation, Clariant developers created its Soothe + Cool Facial Serum packaged in a lip gloss-like tube with an applicator for precise and targeted application. The serum includes actives such as Clariant's HerbEx Korean Ginseng (INCI: Butylene Glycol (and) Water (aqua) (and) Panax Ginseng Root Extract) and MultiEx HumiD-Max Plus (Glycerin (and) Water (aqua) (and) Trehalose (and) Panthenol (and) Polyquaternium-51 (and) Sodium PCA (and) Sorbitol (and) Urea (and) Pentylene Glycol (and) Sodium Hyaluronate), among others.
Emollients also are added to ensure moisturized, hydrated and protected skin, providing immediate relief from mask-induced irritation. Examples include the Plantasens Olive Squalane (INCI: Squalane) and Sensotain EP 6205 (INCI: PPG-5 Ceteth-20).

Hair to be Beautiful Elixir: Consumers also became focused on self-care and at-home hair treatments during the pandemic, which led to the emergence of two claims important to hair care: ease of use and moisturizing. Now, in coming together again, consumers want hair that looks healthy and nourished, and Clariant wrapped up these facets with the ease of use and moisturizing prerequisites in an at-home, buttery hair elixir: Hair to be Beautiful.
The formula includes emollients such as Clariant's Murumuru Butter (INCI: Astrocaryum Murumuru Seed Butter (and) Tocopherol) and hair conditioning agent Genadvance Hydra (INCI: Lauryl/Myristyl Polyricinoleate (and) Glycerin). It is applied using a dropper to direct the product to the roots or tips of hair, as needed.
Hygiene Beauty
Hygiene beauty, as the name suggests, falls at the intersection between hygiene and beauty, which is precisely where consumers and the industry currently finds itself. "We started to notice the number of brands launching their own hand sanitizers with skin benefits that are much more luxurious and caring," explained Shah. "The number of patents for sanitizers and cleansers also increased."
SanitiZ 'n' Care: Responding to this crossroads, Clariant developed its SanitiZ 'n' Care luxurious cream gel sanitizer formulated with emollients and ethanol to leave skin moisturized and protected. "It is compliant with the WHO ethanol recommendation...and it includes emollients and rheology modifiers to give it a gel texture to deliver these ingredients for cleansing and skin benefits," Shah said.
See also: Formulating on Trend; Hand Sanitizer
For example, the formula includes Plantasens Carefeel Light (INCI: Ethylhexyl Olivate) and Plantasens Olive LD (INCI: Hydrogenated Ethylhexyl Olivate (and) Hydrogenated Olive Oil Unsaponifiables) for emolliency. It adds Hostacerin MCP (INCI: Ammonium Acryloyldimethyltaurate/Beheneth-25 Methacrylate Crosspolymer) as a rheology modifier for enhanced skin feel.
Beauty Unwrapped
Finally, the beauty unwrapped concept responds to heightened consumer criticisms for plastic packaging and the amount of packaging in general used for products. "Bars offer options for no-plastic packaging and also provide branding messaging; essentially showing rather than telling a company's values and ethics," explained Shah. "It's a point of differentiation," she said, adding that bar formats have emerged in the skin and hair care space and that in parallel, Clariant has developed one for each category.
Nourishing Bath Melt: The Nourishing Bath Melt is said to bridge self-care with skin care in a solid product that dissolves in warm water, providing moisturizing, skin renewing and gentle cleansing benefits druing bathing. Featured ingredients include Plantasens Cocoa Butter (INCI: Theobroma Cacao (Cocoa) Seed Butter) as an emollient; GlucoTain Sense (INCI: Sunfloweroyl Methyl Glucamide) as a surfactant; Buriti Oil (INCI: Mauritia Flexuosa Fruit Oil (and) Tocopherol) as an active moisturizer; and others. 
According to Shah, "The melt is solid at room temperature but in the bath, or even in the hands, it melts. The technology is like a lipstick," she explained, adding that it does not resolidify in the bathtub once it cools.
Hair Necessities Bar: Finally, the Hair Necessities solid shampoo bar is a concentrated solid shampoo bar formulated with an optimized combination of ingredients to ensure rich, creamy foam with gentle cleansing. The solid format, like the bath melt, also opens the door more sustainable packaging options.
Ingredients featured include the GlucoTain brand Care (INCI: Cocoyl Methyl Glucamide) and Plus (INCI: Capryloyl/Caproyl Methyl/Glucamide (and) Lauroyl/Myristoyl Methyl Glucamide) surfactants, plus Beraclay Old Rose (INCI: Kaolin) as the active.
Renewable Carbon Index, Holistic Cell Renewal and Natural Barrier Boost
Beyond the BeautyForward concepts presented, Clariant re-introduced three recent ingredient launches targeting consumer concerns.
Natural, renewable and biodegradable texture modifier: Appealing to consumers who want to play an active part in climate mitigation is the natural Plantasens Biogum Tara rheology modifier (INCI: Caesalpinia Spinosa (Tara) Gum). As previously described, this ingredient was developed through a partnership with Polygal AG, and besides offering a renewable carbon index (RCI) of 100% and being biodegradable, it is said to solve the formulating challenges of low viscosity and stringyness.
Holistic and natural senolytic and cell renewal active: Also recently launched, Celyscence (INCI: Not Provided), derived from milk thistle flower extract, targets cellular senescence in a host of ways, by: preventing cells from becoming senescent, inducing selective apoptosis, selectively eliminating senescent cells, preventing senescence-associated secretory phenotype (SASP) production, which in turn reduced IL-6 and MMP-1, and reverting cell phenotypes, leading to an increase in collagen.
Barrier booster and balancer: Lastly, in conjunction with Beraca, Clariant created its Ethience Protect (INCI: Glycerin (and) Water (aqua) (and) Bertholletia Excelsa Seed Extract), which also acts in several ways to protect and replenish the skin. As previously discussed, it: stimulates the production of lipids and prevents the entry of allergens/pathogens into skin; reinforces the brick-and-mortar components of skin; and works at the dermis level to improve skin structure and cohesion. This ingredient aims to reduce the effects of friction in skin caused by mask-wearing and shaving.