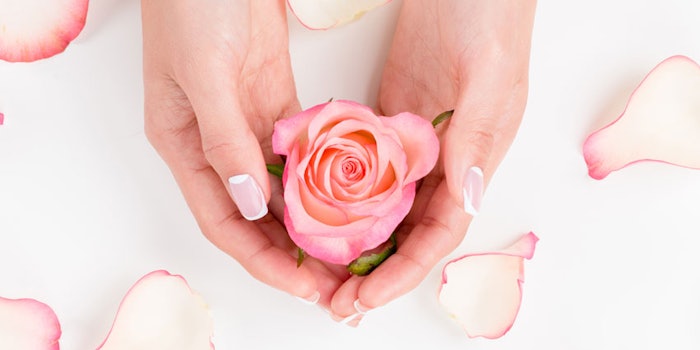 IFF/Lucas Meyer is gearing up for the California SCC Suppliers' Day with a new launch and data on several skin care actives and silicone-like gelling agent.
Featured ingredients demonstrate properties including:
Skin detox: Rosality (INCI: Pentylene Glycol (and) Rosa Damascena Flower Water (and) Rosa Damascena Flower Oil), for skin detox and anti-pollution activity. This ingredient regulates cell activity disrupted by stressors, protects against stress-induced DNA damage and decreases melanin synthesis. It is recommended to address the visible signs of stress and skin fatigue, reduce the appearance of dark circles, and to promote skin vitality, activating glow for a more rested, relaxed and refreshed look.
Restructuring skin: SkiNectura (INCI: Glycerin (and) Water (aqua) (and) Anigozanthos Flavidus Extract) is a botanical extract for anti-aging, anti-wrinkle and cell turnover benefits. Derived from the Anigozanthos flavidus flower, also known as kangaroo paw flower, endemic to Australia, it increases the production of the dermis architectural protein Tenascins-X. 
Furthermore, it has been shown to increase the synthesis of the dermal proteins collagen and elastin, as well as fibroblast contractile forces. The organic Australian extract is suggested for products to rapidly (i.e., 1 hr) rebuild skin architecture, decrease the appearance of wrinkles (eye and neck are), and sagging skin with increased effects over time.
Anti-pollution barrier-builder: IBR-UrBioTect (INCI: Water (aqua) (and) Glycerin (and) Inula Helenium Extract) is designed to promote skin barrier strength. It helps to decrease the inflammation response in skin due to pollutants such as diesel fumes and cigarette smoke, and to reduce blue-light/HEV-induced ROS/oxidative stress damage caused by protein carbonylation. 
The active ingredient has been shown to improve hydration, skin radiance and elasticity, as well as help to reduce the appearance of wrinkles. It is positioned to delay signs of premature aging in urban environments.
Silicone-like, next-gen gum: Siligel (INCI: Xanthan Gum (and) Lecithin (and) Sclerotium Gum (and) Pullulan) is a gelling agent that provides a silicone-like skin feel and high resistance to electrolytes, thanks to its combination of phospholipids and polysaccharides. Designed to revolutionize the use of gums, the ingredient is reportedly easy to use, as it does not require pre-dispersion, even in cold processes.
The ingredient's versatility lends it to applications as a gelling agent, stabilizer, co-emulsifier and suspending agent. It is resistant to a high amount of electrolytes, and a natural solution to easily create robust formulations with no compromise between efficiency and aesthetics.
For more information, contact IFF/Lucas Meyer or visit them at booth #541.