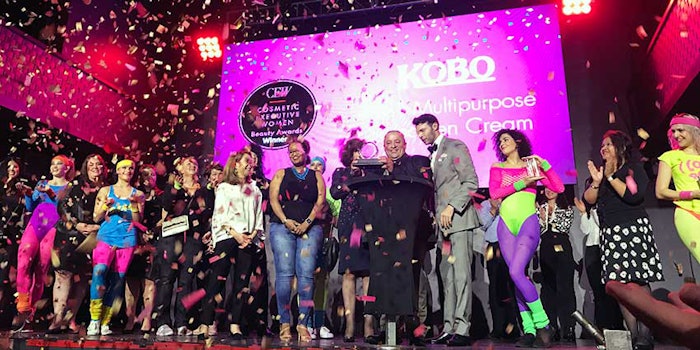 On a stage overlooking a room of neon, hairspray and fishnet, the New York Society of Cosmetic Chemists (NYSCC) named the winner of its 2019 beauty award at its third annual Awards Night ceremony, this year with a 1980s theme.
In partnership with Cosmetic Executive Women (CEW), the Supplier's Award: Ingredients and Formulation recognizes new ingredients or formulations bringing innovation and new technology to the industry.
The winning formulation was chosen due to its relevance in both today's industry and that of the future, along with its "truly innovative" and multifunctional nature, according to judges. Judges include: Reese Pharmduy, L'Oréal; Eileen Kim, Chanel; Mike Wong, Ph.D., EOS; Tao Zheng, Ph.D., Edgewell; and Laura Garratt, Bare Minerals.
This year's finalists comprise:
BASF, Chione Electric Fuchsia
Catalent, Catalent Superstar Brightening Drone Cosmopod Capsules
Croda, Shape and Play Cleansing Sand
DuPont, Arctic Snow Crush
Kobo, 4-in-1 Multi-Purpose Sunscreen Cream
Dow, Agecap Smooth Cosmetic Ingredient
And the winner is...
Kobo took home the prize for its 4-in-1 Multi-Purpose Sunscreen Cream, a SPF 27 mineral sunscreen based on zinc oxide. The formulation includes several pigments to create a more-even, luminous skin tone, and its cream-gel texture reportedly leaves a silky skin feel.  
Kobo they will also be recognized at the CEW Beauty Awards luncheon, to be held May 17, 2019, at the New York Hilton.
The NYSCC Awards Night took place on May 7, 2019, at Stage 48 in New York.