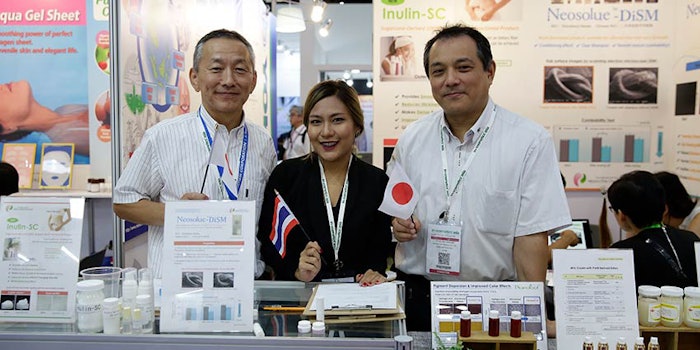 in-cosmetics Asia was held Oct. 30-Nov. 1, 2018 in Bangkok. Here's what you need to know.
11,307—The number of cosmetics professionals who attended the three-day event, hailing from 73 countries
480—The number of suppliers presenting their latest ingredients
54—Number of global experts participating in the educational program
90—The number of minutes each 'silent' R&D tour lasted; new to the program, they were curated and led by cosmetic chemist Rouah Al-Wakeel
100+ —Number of formulators, from companies such as Unilever, Coty, L'Oréal, AmorePacific and Procter & Gamble, who joined sessions to learn more about biotechnology actives, leadership in microbiomics and natural ingredients during the tours
66—Products on display in the Innovation Zone, all of which had been launched within eight months of the event; two notable ingredients were Evonik Specialty Chemicals' Rheance Glycolipids and Silab's Ecobiotys (winning top prizes at the Innovation Zone Best Ingredients Awards, in the functional and active categories, respectively). The Mintel Live Demonstrations, focusing on Developing Beauty in a World of Emotions, was a hit with visitors.
2022—The year in which Asia-Pacific is set to become the largest hair care market, a key point noted in the Spolight On areas, which focused on hair actives, sensory enhancers and hydration. Hair care actives presented included natural treatments from DSM Nutritional Products; a new frizz control ingredient from Gattefossé Asia Pacific; and a treatment for split ends from Solvay Specialty Chemicals Asia Pacific.
Related: Givaudan Active Beauty's Hair Care Concept Wins Big at in-cos Asia
596—Professionals attended the Formulation Lab, which consisted of 11 sessions allow cosmetic chemists to get hands-on with ingredients and learn new techniques to develop products; popular sessions included those held by Valerio Vergani of Grant Industries, educating chemists on how to create 'non-whitening, high SPF, high sensory formulations with Halal compliance' and Carsten Dietz, R&D/quality director of Cosphatec GmbH, demonstrating how to create a soft, anti-pollution, highly caring and stable anti-ageing skin elixir
"Innovation is always strong at any in-cosmetics event, but visitors and exhibitors have told us that they were impressed with the sheer number of new products on display at this year's Asia event," said Sarah Gibson, exhibition director, in-cosmetics Asia. "Thanks to the interactive and educational elements of this year's show, manufacturers will be able to create some incredible new products that will advance the current cosmetic retail space, offering new and innovative end products that meet cutting-edge trends."
in-cosmetics Asia 2019 will take place from Nov. 5-7, 2019.