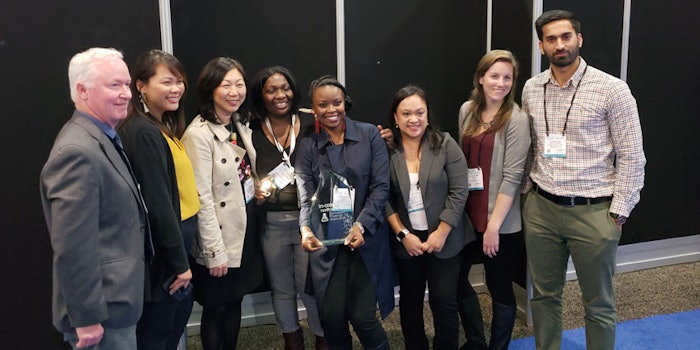 A much-anticipated moment during in-cosmetics North America was the awards ceremony for concepts entered in the Sensory Bar and Makeup Bar showcases, as well as the Innovation Zone ingredients and Formulation Challenge. Winners included the following. 
Sensory Bar
Sumitomo Seika won for its Aqupec ingredient entry in the Sensory Bar showcase. This cross-linked acrylic water-soluble resin reportedly shows excellent thickening effects even at low concentrations by neutralizing with adequate alkalis. Unlike other soluble resins, the solution is said to have a thixotropic character. 
The product was demonstrated in a sample anti-wrinkle gel-cream, which exhibited a smooth texture and light feel, but also high moisture-retention abilities. It also was shown in an organic UV filter sunscreen formula with a smooth texture and light feel, plus an SPF 20 and PA++ estimated rating.
Makeup Bar
Sandream Impact won in the Makeup Bar showcase for its hydrating, plumping and brightening facial mist, designed to refresh and revive skin. The cool and soothing formula was formulated with raspberry ketone glucoside and sodium hyaluronate, for whitening/brightening and anti-aging properties. 
Innovation Zone
As per usual, three winners were honored with the Innovation Zone bronze, silver and gold awards. Taking the bronze, LipoTrue was highlighted for its Munapsys ingredient; reportedly the first anti-aging active able to act on both pre- and post-synaptic pathways to impart Botox-like anti-wrinkle benefits.
The silver went to Sensient Cosmetic Technologies for its Natpure Fibers, a new range of natural fibers developed for natural skin care formulations. Extracted from sunflower seeds and hemp shives (depending on the grade), the fibers are designed to impart a high soft focus effect to redefine the appearance of skin by hiding small color and texture imperfections.
Taking the gold was Mibelle Biochemistry, for its MossCellTec No. 1 (INCI: Phytol (and) Isomalt (and) Water (aqua)). Designed to maintain cell nucleus health, the ingredient can strengthen skin against urban aggressors and climatic changes. It also has been shown to enable skin to adapt to environmental changes and improve skin moisture, even in stressful conditions.
Formulation Challenge
Finally, formulators from Colgate-Palmolive, Estée Lauder, Unilever, Shiseido, Swiss American CDMO and Johnson & Johnson competed against the clock and each other in the Formulating Challenge held in the Formulation Lab, and judged by Mintel and the Institute of Personal Care Science. 
The teams were given a mystery box of ingredients and had 90 min to create a winning and marketable formula. The runner-up, for the third consecutive time, was Unilever and the big winner was Shiseido. It was a hard-won victory that drew great interest from attendees and exhibitors alike.