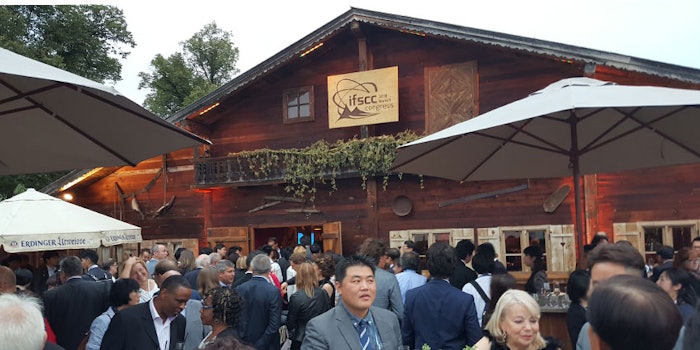 Horse-drawn buggies ushered IFSCC 2018 attendees to a private Oktoberfest celebration, closing out this year's congress. In addition to the changing of the guard, from Peter Kang to Juergen Lademann, and heartfelt thanks to past presidents and supporting officers and members, the evening gala celebrated special achievements in cosmetic science.
3D Visualization of Skin Structures
Ezure Tomonobu, of Shiseido, accepted the Basic Research Award for his group's work demonstrating a 3D technique to visualize the internal structural components of skin. It works by combining scanning electron microscopy with a whole-skin, electron-conductive treatment. The resulting 3D image, designated "Digital-3D Skin," is then color-coded via artificial intelligence software to make the skin components easily comparable throughout treatments of interest.
"I think this system should be freely shared amongst cosmetic researchers worldwide," Tomonobu added during his podium presentation.
Using this technique, the Shiseido team identified the skin fibroblast network as a critical anti-aging target, in contrast to conventional anti-aging treatments targeting cells and cell-induced damage. The group showed how reconstructing a damaged network can improve an aged appearance.
Stopping Sweat at the Source
Torsten Ertongur-Fauth (not pictured), of BRAIN AG, received the Applied Research Award for his work on bioactive antiperspirants for cosmetic applications. His group developed a concept for sweat reduction based on directly targeting primary fluid secretion in human sweat glands.
The researchers uncovered a previously unidentified key player in human sweat glands: the ion channel TMEM16A, also known as ANO1. They then generated a cell-based assay to emulate it. The assay was combined with select compound libraries, and via high-throughput screening campaigns, small-molecule modulators of TMEM16A were identified. Various safety and efficacy tests are currently being performed on their sweat-reduction efficacy in vivo.
Predicting Hair's Future Condition
Keiko Nagami, of Milbon Co., received the Best Poster Award for an approach to predict the future of an individual's hair's condition. Her group made a comprehensive study of the hair and scalps of 2,461 Japanese females, ranging in age from 20s-70s. Properties including sebum and moisture content were measured, and image analyses were made of their scalps.
In addition, an expert panel evaluated 20 hair characteristics including elasticity, smoothness and shine. A correlation was found between the microscope-based scalp images and the evaluation results. Key findings included:
Yellowing of the scalp is associated with the progression of age-induced changes;
An increase in redness of the scalp is associated with accelerated graying; and
The total area of dark hair decreases with age, which could provide a metric for predicting hair loss, thinning and graying.
Based on these measures, a tool was created to calculate hair age and predict future changes in its qualities.
Cooling UV Protection for Asian Skin
Finally, Alexandra Lunan, Ph.D., of Shanghai PECHOIN Daily Chemical Corp., accepted the DGK's (German SCC's) 2018 Innovation Golden Award for an innovative cooling sunscreen to protect Asian skin in the visible and near-infrared spectrum. This approach to skin protection was taken since it is know that damage is caused not only by UV-induced erythema, but also by increased amounts of free radicals formed by solar radiation in both the visible and infrared regions of the spectrum.
According to the company, this is the first sunscreen developed especially for Fitzpatrick types III–VI. The formulation includes a balanced selection of titanium dioxide pigments, highly efficient antioxidants from traditional Chinese medicine and coolants. Taken together, these ingredients reduce the concentration of free radicals in darker skin types, i.e., Asian and colored skin.
Advancing Cosmetic Science 
Also during the closing IFSCC gala, Nelly Dubrulle, of DNA Genesee, accepted the 2018 Henry Maso award; her recognition was previously announced in 2017. Dubrulle won for her paper submission, "DNA Metabarcoding as a Tool to Trace Plants of Interest in Ingredients or Cosmetics."
Mandeep Dutta Joshi, previously of the Nepal Medical College Teaching Hospital in Kathmandu, and now of the Far Western Community Hospital in Attariya, won the 2018 Rainer Voegeli Travel Grant, which funded his expenses to attend this year's IFSCC Congress.
Finally, the Lester Conrad Award was accepted by Manuel Li, president of the Asociación Peruana de Química Cosmética, based in Lima, Peru. The society won the award in 2017, which supports proving eligible societies with local education to advance cosmetic science in the region.