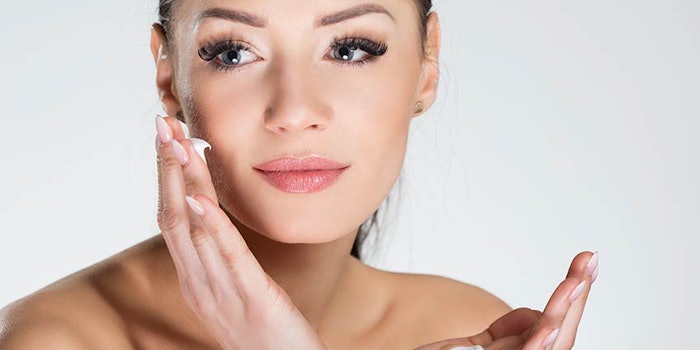 BASF will present a number of ingredients designed to protect and re-balance the skin, and slow down the hair aging process, at in-cosmetics Global 2018.
Innovations include:
Replexium—A skin-bioavailable synergistic complex of two patented peptides, which targets specific proteoglycans and collagen XVII that decrease with age. In vitro studies demonstrated its ability to increase the synthesis of lumican, syndecan-1, collagen types I and XVII, while clinical studies demonstrated its ability to significantly decrease the appearance of fine lines and wrinkles (11 percent after three weeks, and 23 percent after eight weeks). It also improved dermal density (21 percent) within three weeks.
Proteasyl—A natural, active polypeptidic ingredient extracted from peas, Proteasyl acts as a protease inhibitor, quickly improving skin elasticity. It rebalances the regenerative and destructive processes in the skin and increases the synthesis of proteoglycan and fibers. Studies have proven its efficacy on the arms, chest and face.
RNAge—An active which balances Let-7b, the microRNA that downregulates the production of proteins which are key to building dermal architecture. It helps the dermis stay dense, rebuilding it from within and firming facial shape, and is extracted from sea buckthorn.
Hyalurosmooth—Extracted from the Indian Cassia angustifolia, Hyalurosmooth helps the skin recover its hydration and radiance by repressing the damaging impact of cortisol on the skin and restoring collagen type I and hyaluronic acid.
DN-Age—An anti-aging ingredient for hair, DN-Age slows down the graying process and reduces hair loss. It acts on the scalp by preventing UV-induced DNA damage, and protects hair follicle cells and prevents graying and aging. In a six month placebo-controlled clinical study with 38 volunteers, 80% of participants perceived their hair to be stronger, fuller and thicker. DN-Age is extracted from Cassia alata leaves and titrated in flavonoids, DN-Age is available as a concentrated powder and hydro-glycerin solution.
Rheocare XGN—BASF's first polymer based on pure vegan xanthan gum, Rheocare is a thickening agent and stabilizer for emulsions and surfactant-based formulations and is 100% based on renewable feedstock and produced without GMOs. It creates crystal-clear formulations, has a high electrolyte and ethanol tolerance and can be processed cold. It is a highly flexible polysaccharide and can be used for various cosmetic applications, as well as oral care.
Tinosorb S Lite Aqua—A water-dispersible form of the oil-soluble Tinosorb S, Tinosorb S Lite Aqua allows cosmetic manufacturers to reduce the UV-filter load in the oil phase, creating more flexible and lighter formulations. This makes it an ideal candidate for low viscous formulations, which benefit from a reduced oil phase, and its unique properties allow water resistance to be achieved in spite of having a UV filter in the water phase.
BASF will present at booth E40 during in-cosmetics Global 2018, held April 17-19 in Amsterdam.