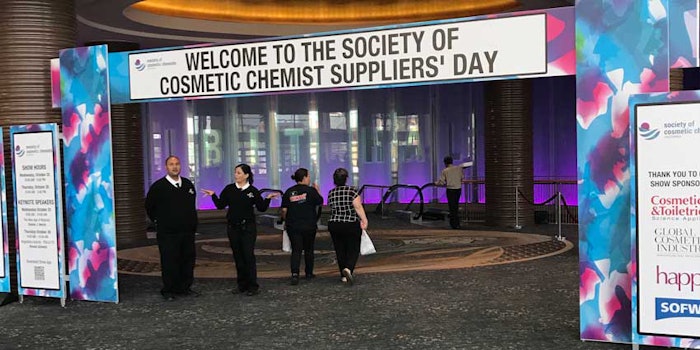 California Suppliers' Day attendees braved unseasonably high temperatures (99 degrees Fahrenheit, to be exact) in Long Beach, California, on October 25-26, 2017, for the sake of learning about the latest in ingredients, formulations and technologies.
Keynote Speakers Focus on the Wellness Trend and Natural Products 
Each day of the event kicked off by highlighting some of the industry's biggest trends of the moment: wellness and naturals. On October 25, Denise J. Herich, founder of The Benchmarking Company, held a session titled "The New Age of Naturals," focused on feeding the beauty buyer's appetite for "good-for-you" products and ingredients. The following day began with Ronie Schmelz, attorney at Tucker & Ellis, LLC, leading a session focused on "how to market natural products, without drawing the attention of regulators and class action lawyers."
4 Standout Trends

Get ready to start hearing a lot more about circadian rhythms. Why? Earlier this month the 2017 Nobel Prize in Physiology or Medicine was jointly awarded to Jeffrey C. Hall, Michael Rosbash and Michael W. Young for their discoveries of molecular mechanisms controlling the circadian rhythm. In the beauty and personal care industry, researchers have also started to explore circadian rhythms, the effects they have on consumers' skin and how to better enable the skin's barrier function during the day and its recovery function at night. 
A product's sensorial properties are often a huge selling point when it comes to consumers. Formulators have taken notice of this, and are getting inspired from items usually found in a refrigerator or kitchen pantry. Food and beauty inspired DD Chemco's Food Lab, where featured products included Cold Pressed Apple Jelly, Champagne Bubble Mask and Overnight Oat Serum, while Lubrizol displayed products resembling honey and pudding. Clariant showcased products, including a powder that transforms into a foam, that according to the company, "break formulation and market conventions."  
Perhaps one of the fastest growing trends in the industry is personalization. Products that can be tailored to consumers and their unique skin, hair and beauty needs, are continually growing in demand and are prompting consumers to seek out products made specifically for them. 
Active beauty, too, is a trend receiving a lot of attention from both the industry and consumers. Going hand-in-hand with the wellness trend, consumers are becoming increasingly more active and want beauty products that keep up with their physical regimes. Once again, sweat-proof claims are becoming increasingly popular as are hair care products specifically designed for athletes. 
This is just a snapshot of what happened on the show floor this year. Stay tuned over the next few weeks as we delve deeper into some of these trends and focus on other product innovations from the event. Can't wait? Check out our Facebook page for a look at the trends mentioned above and more!