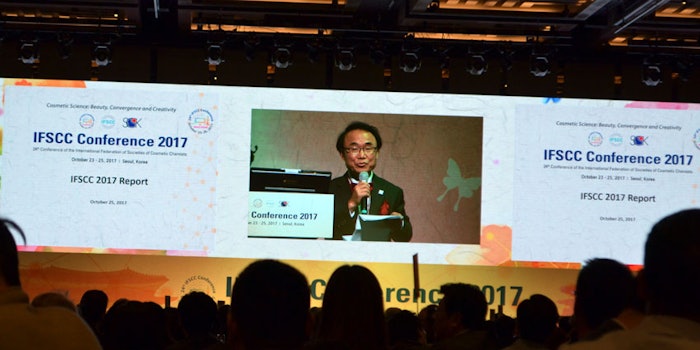 Tears and laughter rounded the closing gala of the IFSCC Korea conference.
Bittersweet Tears
Tears, for the "changing of the guard,"—i.e., from Amy Wyatt, 2016-2017 IFSCC president, to Peter Kang, 2017-2018 IFSCC president. In addition, per tradition, IFSCC 2015-2016 immediate past president Philippe Auderset received the society Certificate of Appreciation for his support during the year's transition. All praesidium members, organizing committees and attendees were graciously thanked for tireless effort and support, making this year's event such a success. 
Kang shared that the official number of attendees was 851. Wyatt encouraged all to continuously support this dedicated society and to attend upcoming congresses in Munich, Italy, Japan, London and Spain. She added that although we're living in a digital time, there's really no comparison to face-to-face interaction. Finally, Wyatt reflected, "As Peter Kang said during the opening ceremony, and I agree, beauty really can change the world." 
Excellence Elevated
The awards ceremony, led on stage by Frederic Leroy, chair of the IFSCC scientific committee, was short, sweet and ceremonius. The Henry Maso Award, for best scientific paper published in the IFSCC journal within two years prior to the current IFSCC congress, was presented to  Nelly Dubrulle, who was not present to accept the award. Her work was titled, "DNA metabarcoding as a tool to trace plants of interest in ingredients or cosmetics."
The Johann Wiechers Award, formerly the IFSCC Conference Award, is presented for the most meritorious podium presentation pertaining to either basic or applied cosmetic research at an IFSCC Conference. The winner was Kazuyuki Miyazawa, of Shiseido Co., Ltd., Japan, for his talk on the development of a shield technology based on skin's surface charge to protect against air pollutants. 
The award for Best Poster presented at this year's conference went to Petra Huber, for her poster, "How far can we predict sensorial feelings by instrumental modeling?" Finally, the host society presented its award for best paper at the conference given by a local member. The award went to Eun Bi Ko, of AmorePacific, who presented on genotype-phenotype interaction analysis of skin properties through genome-wide association studies in 411 Korean females.
Laughter and Good Times
As for the laughter . . . After pausing for dinner, attendees were entertained by a comedy and drumming act by a troupe dressed as chefs. They pulled IFSCC 2018 President-Elect Juergen Lademann and other "volunteers" into their performance, featuring some serious Korean soup-making. The act closed with a lively drumming performance of knives on cutting boards, among others.
The evening closed with warm invitations from Lademann, to attend the IFSCC in Munich in 2018, and Emuele Piras, IFSCC president-elect for 2019, to explore Milan. Old and new friends and colleagues said their goodbyes, with sights set on future congresses—and cosmetic innovation.