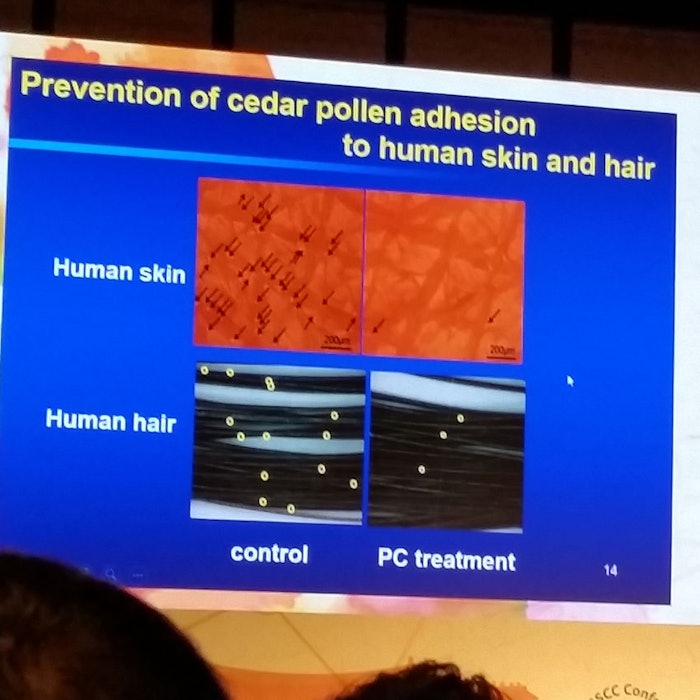 Day Two of the IFSCC Conference in Seoul also continued with skin—after all, it's a pretty big organ to cover—although this time, looking more outwardly: as a health indicator, in acne care, 3D modeling of it, visible anti-aging effects, anti-pollution care and more.
Interesting 'Skin'plications
Kyung-Min Lim, Ewha Womans University, Republic of Korea, and Vânia Rodrigues Leite-Silva, UNIFESP, Brazil, served as moderators of the first session. The morning keynote was given by Tetsuji Hirao, Chiba Institute of Science, Japan, who described the stratum corneum's ability to indicate health conditions. Jean-Marie Botto, of Ashland Specialties, France, presented an global approach to acne; from research implicating genes using bioinformatics, to the study of impacted proteins using 3D skin models.
Ji Hwoon Baek, of Dermapro Ltd., Republic of Korea, shared work conducted with the Foundation of Korea Cosmetic Industry Institute on three facial aging parameters—wrinkles, elasticity and pores—and their high correlation with age. These results were obtained by non-invasive measurements in some 5,205 Asian subjects.
Philippe Mondon, of Sederma, France, highlighted a new matrikine-derived peptide that up-regulates longevity genes to improve ECM architecture and connections between dermal cells within their matrix. Finally, closing the morning session was Ng Win Pin, of L'Oréal Research and Innonvation, Singapore, who showed the age-dependent effects of mechanical stimulation on dermal fibroblasts. This work was conducted in collaboration with the National University of Singapore to understand.
Show and Tell
During the coffee break, attendees once again had the chance to attend some 250 poster sessions and visit a modest 20+ exhibitors. The exhibition tends to be larger on even years of the IFSCC "Congress," but the smaller setting gave interested attendees an intimate environment to hold valuable conversations.
Cosmeceuticals in Action
The late morning session focused on cosmeceutical innovation, led by moderators Jin Hee Kim, of Daegu Haany University, Republic of Korea, and Carmina Casas, of Sociedad Española de Químicos Cosméticos, Spain. They welcomed keynote speaker Jürgen Lademann, M.D., of Charité-Universitätsmedizin, Berlin, who described the interaction of free radicals with antioxidants in the human skin, and provided conclusions for sun protection.
Next up was Youssry Botros, of PanaceaNano, Inc., USA, who enticed attendees with his exploration of next-gen cosmetics incorporating nano-cubes. He described them as porous, green, scalable crystalline nanomaterials whose hollow center can store ingredients with their own internal space for engineered release of ingredients. The molecular cubes have tunable shell thickness for controlled and extended release.
"These materials have potential application across several platforms, including skin care cosmetics, fragrances, pharmaceuticals, chemicals and petrochemicals, the environment, food and beverage, and agrochemical," said Botros.
Christophe Klose, of Lipotype GmbH, presented work in conjunction with the University of Medicine, Wroclaw, Poland, for a high throughput shotgun lipidomics approach to quantitatively analyze tape-stripped human stratum corneum lipid profiles. "Our goal was to attempt to analyze as many lipids as possible in a single run," Klose explained. 
Next, Gwen Shui Man Tong, from Amorepacific, Singapore, provided an insider's perspective on ASEAN consumers, noting a shift toward the use of cushion cosmetics. The research she hilghlighted explored differences in consumer preferences between Thai, Malaysian and Singaporean women. While many sought the dewy glow these products impart, the application techniques varied and the preferences for tactile attributes were not the same across the board, or in comparison with Koreans. Mapping out these differences enabled the company to adapt formulations to improve them for the targeted markets.
Finally, Kazuyuki Miyazawa, of Shiseido Co., Ltd., Japan, closed out the morning session with a talk about the development of a shield technology to protect against air pollutants. Using a protective biocompatible polymer, he and co-researchers were able to control the surface charge of skin so as to avoid drawing particles to it where they can attach, penetrate and cause damage. Miyazawa's work won an award during the closing gala celebration.
Stay tuned to Cosmetics & Toiletries as we wrap up the remaining talks and showcase all the big winners.