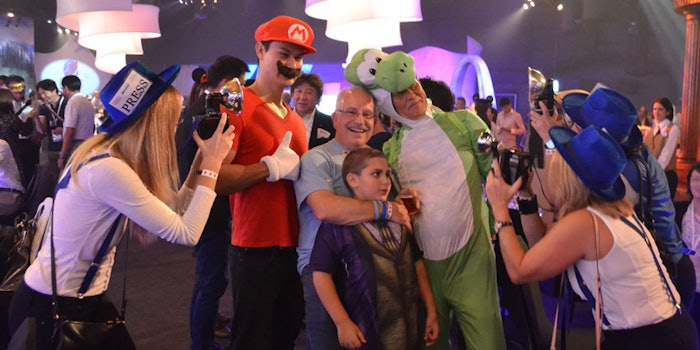 Last night was the IFSCC 2016 social night at Epcot. To say that attendees had a great time would be an understatement. From meeting old and new friends from around the world, to having Epcot and its attractions all to ourselves, this was a night that everyone in attendance will remember for a long time.
Since it was Halloween, we at Cosmetics & Toiletries decided to dress up as "vintage news reporters" complete with press passes in our hats, suspenders and chunky, old-fashioned cameras. Rumor has it that people thought we were part of an act that Disney had orchestrated for the evening's event!
Dinner and cocktail hour kicked off the evening. Since the IFSCC Congress is being held in United States this year, the idea was to show off the culture to foreign attendees. A live musical performance showcased music from New Orleans and other parts of the U.S. throughout the evening. At food stations scattered around the room, people could sample everything from baby back ribs, to vegetarian dumplings, to roast beef, to cod. . . to name a few.
After mingling with other attendees, and snapping lots of real and "vintage paparazzi" photos, it was time to venture out into Epcot's World Showcase to enjoy desserts and the nightly firework show, "Illuminations." Check out our Facebook Live video to see part of the show. Disney sure knows how to do fireworks.
After the general public exited Epcot at closing, IFSCC attendees were given free rein of parts of the park. There were snack stations scattered among the attractions, a Hummer DJ that turned Epcot's walkways into full blown dance floors, even zombies walking around with the IFSCC guests—it was Halloween, after all. We were given access to four of the rides in the park Test Track, Soarin', Mission: Space and The Seas with Nemo & Friends. We rode Test Track twice and Soarin'.
All in all, it was a great night that allowed the attendees of the IFSCC Congress to let loose, socialize with others in the industry from around the world, and enjoy their time at Walt Disney World.
We've documented the whole evening on our Facebook page. Head over and check it out!