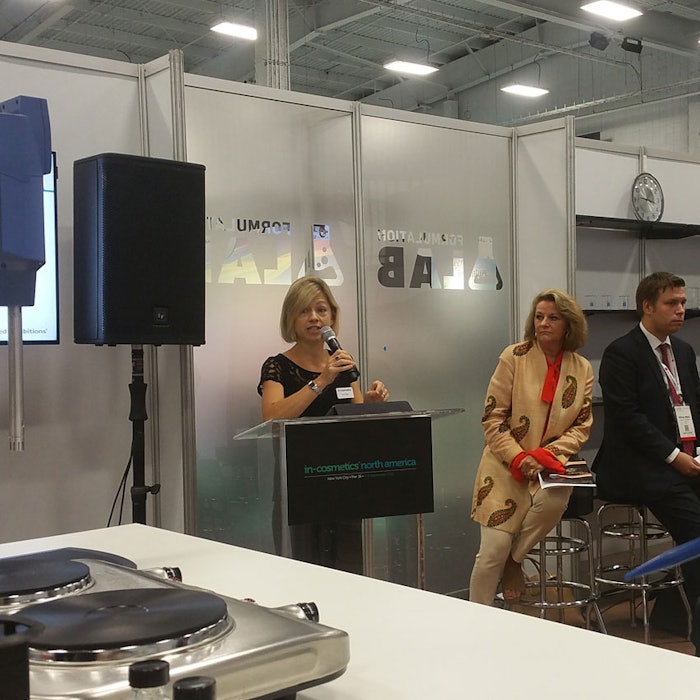 Lucy Gillam, portfolio director with Reed Exhibitions, welcomed members of the press to the new in-cosmetics North America event, which anticipated some 2,000 attendees to grace its aisles over the two days.
"We expect the show will feel much like the larger events, just on a smaller scale—for now," said Gillam, adding that the event will move to the Javits Center next year. "We have 160 exhibitors and expect attendees from 23 countries."
She briefly explained the show's all-new Formulation Lab feature was designed to let local formulators hone their skills in a familiar setting.
Kline's Nikola Matic then provided an overview of the specialty chemicals market. "We estimate the global personal care ingredient market to be around U.S. $20 bn."
He added that conditioning polymers are the largest segment, as are surfactants, emulsifiers and antimicrobials. He noted the top 10 suppliers hold 45% of the total market share, and that the greatest growth is expected in China, India, then Southeast Asia.
Pam Busiek, of ICMAD, talked about ingredients as "the" conversation, since the industry is always looking for what's next.
Rounding out the opening press conference, Belinda Carli, director of the Institute of Personal Care Science, presented her picks for the top ingredients in the innovation zone. These included: Cosphatech's Neosome EM Ultrafill, bitop AG's 28Extremoin, Ashland's Blumilight, Gattefosse's Gatuline Renew and Revolymer's Rev Care Natural Effects.
Overall day one was busier than most anticipated, despite some extra sultry weather. But most exhibitors who had come into the show not knowing what to expect (like many of us), had several good conversations. 
"But day two will be the true test," many said. Indeed, it will.