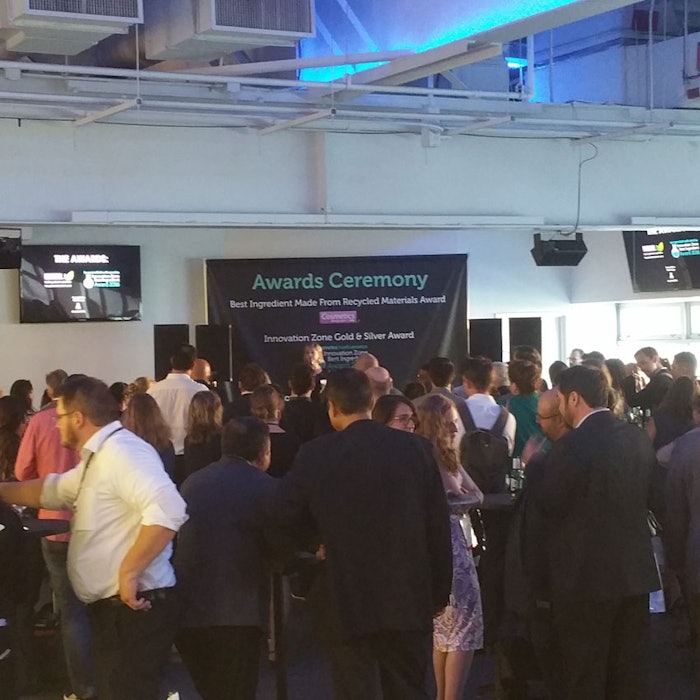 The first day of in-cosmetics North America event in New York closed in star-studded style, featuring the late Joan Rivers--the queen of plastic surgery herself, who commended the industry's innovation during the awards reception.
ICMAD, the official Awards partner, presented the Innovation Zone Best Ingredient Gold Award to Sensient Cosmetic Technologies, while Conair Corp. scooped the Formulation Challenge Award after creating a new beauty product in just 90 minutes in the Formulation Lab on the show floor.
Fending off seven other suppliers, Sensient Cosmetic Technologies (SCT) took home the Innovation Zone Best Ingredient Gold Award. Chosen by an esteemed judging panel, including representatives of Locke Lord, Elysee Scientific Cosmetics, LEC Associates and Steinberg & Associates, SCT impressed the judges with its FSP Surface Treatment Technology.
Containing both hydrophobic and lipophobic properties for long-lasting makeup, the technology is resilient to perspiration, sebum and humidity. It achieves this without any compromise on smoothness during application and compressibility for use with pressed powders.
Cosphatech LLC claimed the Silver prize for Neosome EM Ultrafill, an advanced delivery system formed by a multilamellar liposome system.
Pam Busiek, President and CEO of ICMAD, who presented the winners with their awards, commented, "It our pleasure and we are proud to be partnering with in-cosmetics North America to present this award, which recognizes the development of a novel active or functional ingredient featured in the in-cosmetics North America Innovation Zone.
"There were many inspiring entries this year that combined innovative science and product features to provide demonstrable differences to existing ingredients."