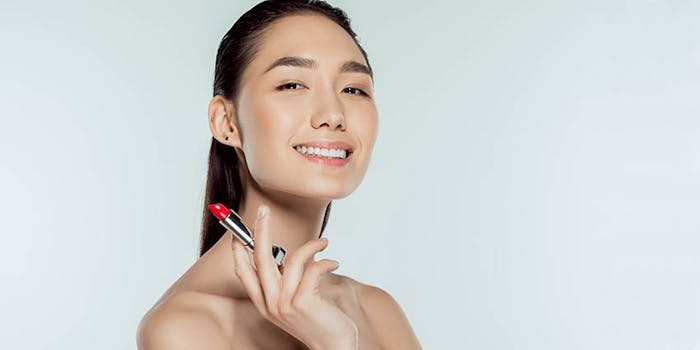 Product appearance and efficacy are no longer enough for today's consumers, who increasingly look to the sensorial aspects of their personal care products to elevate their skin care, hair-styling and cosmetics experience.
At in-cosmetics Asia's Spotlight On Sensory Enhancers showcase, ingredients meant to enhance the feel and smell of cosmetic formulations were put on display for visitors to experience for themselves. The following are seven standout concepts from the showcase.
1. Lipstick Innovations Come Out on Top
As consumer interest in all things lip care ramps up, many of the event's sensory innovations could be used to improve lipstick and balm formulations.
Aiglon's Veggie Gel (INCI: C12-15 Alcane (and) Hydrogenated Styrene/Isoprene Copolymer) is a lipophilic, clear texturizer, allowing formulators to add their own tints, pigments or glitter to this suspending, nontacky gel. Packaging plays into consumer's sensorial satisfaction as well; this gel's flowable, thixotropic texture is compatible with multiple packaging options—from lip gloss containers with applicators, jars, pump bottles and squeeze tubes—to help fulfill that driver.
Meanwhile, Smart Wax 2025 (INCI: Synthetic Wax (and) Copernicia Cerifera (Carnauba) Wax) from Ina Trading Co., Ltd., offers an alternative to paraffin and microcrystalline waxes, to enable a soft and smooth skin feel while maintaining solidarity in lipstick formulations.
2. Effective Powder Options
Composite powders for pleasantly textured color applications also made their mark, including Japan Natural Products' (JNP) composite powders. Advanced Pigments JNP (INCI: Varies) are reportedly liquidless binding agents for compressed formulations. The ingredients combine cosmetics powders such as talc, sericite, synthetic mica and more with natural ester waxes, and enable a soft powdery feeling with easy payoff in compressed cosmetics.
Additionally, Guangzhou Batai Chemical Co., Ltd.'s, Organosilicone Composite Powder BT-9101 (INCI: Vinyl Dimethicone/Methicone Silsesquioxane Crosspolymer) reportedly provides a soft-focus effect to matte products, including lipsticks and "velvet" lip glosses. The powder is also meant to absorb a certain degree of grease in a formula, and can be used to infuse a natural-feeling texture to cushion and powder color applications.
The sebum control theme continued in Sunjin Beauty Science's Sunsil-Oleo20 (INCI: Silica (and) Cetyl Alcohol). The Cosmos-approved lipophilic powder combines surface-treated silica and cetyl alcohol to provide selective sebum absorption in formulations.
3. Feel-good Hydration
Givaudan Active Beauty's film former, Unitamuron H-22 (INCI: Water (aqua) (and) Pentylene Glycol (and) Tamarindus Indica Seed Gum), reportedly helps to recover a youthful appearance in skin while providing a velvety skin feel. Its smoothing effect, combined with its ability to preserve and increase skin hydration and elasticity, is meant to provide moisturizers with advanced properties—to this end, a clinical study also showed a decrease in skin roughness after two weeks of use.
Sophim's Vegebalm formulation is a rinse-off balm with a soft and creamy texture; it contains the company's olive-sourced ingredient Biophytosebum OR (INCI: Olive Oil Decyl Esters (and) Squalene), along with Phytosqualan (INCI: Squalane) and Vegeline OR (INCI: Ricinus Communis (Castor) Seed Oil (and) Hydrogenated Castor Oil (and) Copernicia Cerifera (Carnauba) Wax). These ingredients combine to nourish and hydrate hair.
4. Grease-free Formulating
Moisturization without an inconvenient, residual oily feeling was the target of KCI Limited's Hydroquat 510KC (INCI: Polyquaternium-51). The aqueous ingredient suppresses skin irritation and increases water absorption with a natural-feeling and smooth sensory effect.
In sun care, BRB Singapore, Pte. Ltd., aimed for a smooth skin feel with its Transparent Smooth Sunscreen Stick formulation. The stick reportedly leaves skin without a greasy feeling while still protecting from UV rays.
5. Left in Suspense
Lubrizol Southeast Asia (Pte), Ltd., presented its anionic rheology modifier, Carbopol Aqua SF-3 (INCI: Acrylates Copolymer). Meant to provide structure to surfactant systems with suspended micas, glitters and scrubs, the polymer reportedly works well in low-viscosity cleansers and creates a rich lather. The supplier included this in its Sea of Shimmer Foaming Hand Soap CL-H0034 formulation, highlighted at the event.
6. Food Meets Beauty
Created using only food ingredients, Ichimaru Pharcos Co., Ltd.'s, Wamino-BonBon (INCI: Molasses (and) Oryza Sativa (Rice) Lees Extract) draws off of Japanese agriculture and manufacturing—both its sake and molasses components were produced in the country. The combination of the two is meant to provide moisture to the skin and hair, and changes formulation textures by improving density and foam quality.
7. Smooth Emulsions
Coatex's polymeric emulsifiers—Rheostyl E-Cream (INCI: Acrylates/Palmeth-25 Acrylate Copolymer) and Rheostyl E-Light (INCI: Acrylates/Palmeth-25 Acrylate Copolymer)—combine traits of both polymers and emulsifiers, offering simple emulsification with smooth textures. Where Rheostyl E-Cream can add to rich and cushion textures, Rheostyl E-Light is reportedly suitable for light, thin emulsions in water-resistant formulations.
in-cosmetics Asia was held in Bangkok, from Oct. 30-Nov. 1, 2018.