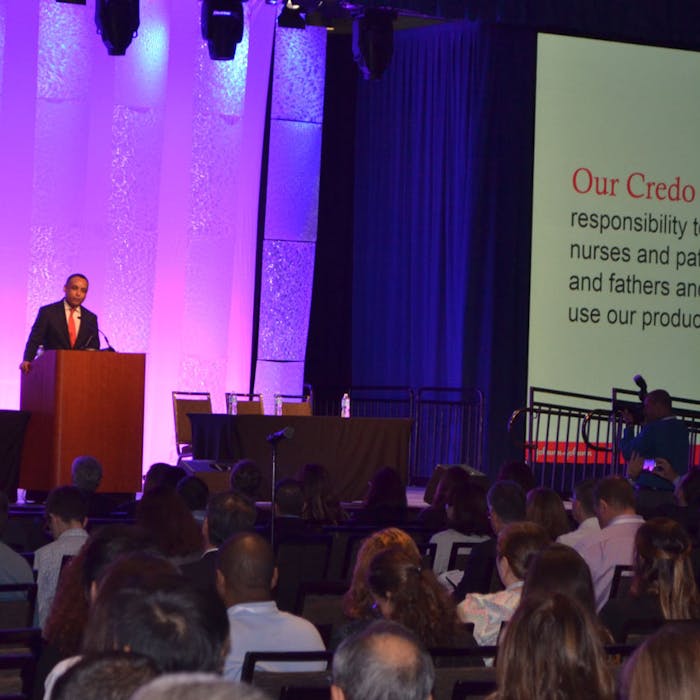 The microbiome, technology and IoT were among six areas keynote Josh Ghaim, Ph.D., CTO of Johnson & Johnson, highlighted during the IFSCC 2016 Congress. However, the company's approach to serving these areas is all about collaboration.
"Johnson & Johnson (J&J) is a health care company first," said Ghaim, who emphasized the company's efforts to disseminate information to consumers. "We've invested in technologies that are free to consumers; for example, apps that give new moms information to care for their newborns." He added there are also significant improvements in 3D printing that can benefit the beauty industry, and even bigger opportunities with data and advanced analytics.
Innovating Together
"We operate through collaborations with health and medical groups. This puts forth better ideas and pays off very well for us." He described the company's four main innovation centers in Shanghai, Boston, London and Menlo Park, California. "We have more than 140 start-ups in our facilities," explaining that J&J helps to get start-ups' products to market under their own brands, even backing some of them.
The La Lumiere anti-acne and anti-aging mask is one example. This approach also allows the company to test how the products do and, in some cases, then pull the product to make improvements and relaunch under a J&J brand; for example, Neutrogena.
"There are many ways to do R&D," he said. "[The strategy of] building large R&D organizations is almost gone," said Ghaim, noting that some companies are still using this strategy. "J&J's approach is to collaborate with suppliers, universities, even companies as big as us to drive innovation."
Harmonizing Methods
Ghaim then explored opportunities for the industry, starting at the cellular and sensory level. "We need to better understand skin and its mechanisms at the cellular level," he said. "The efficacy of anti-aging products isn't there yet." "But," he added, "the efficacy doesn't matter if you don't deliver on aesthetics." He believes you shouldn't have to compromise efficacy for aesthetics, you should be able to provide both.
He also scrutinized sun care, which is failing if some 65,000 people in the United States alone are dying each year from skin cancer. "We need the right in vitro models to study cellular activity, and we need to harmonize those models. There is significant opportunity in developing the right in vitro methods, and at this point, SPF is the biggest issue." He added that methods will improve if companies can support one another.
"We need to openly publish our scientific data and challenge each other to progress," said Ghaim. "We can then align standards and simply let the competitive technologies and products speak for themselves." He gave the example of testing products to improve skin's moisture barrier, which often is conducted by assessing the products' abilities to counteract the effects of surfactants, such as those used in daily cleansing.
"So often, petrolatum is used simply to occlude, but we need to balance occlusion with an inside-out approach and really collaborate to understand what's happening with ceramides. No one believes they penetrate the skin, so how can we deliver them?"
Another example is acne, which obviously causes much distress socially, especially in the lives of young consumers. "Just using benzyl peroxide or salicylic acid isn't the answer. We think it's possible to see acne before it appears."
Technology Shapes Consumers
Contrary to what you might think, Ghaim reports "Millennials don't love apps. That's because they don't learn." He explained the J&J is looking to work with Google and just about every other tech company out there to bring machine learning into the product development process.
"Consumers use products on an ongoing basis, so devices can be used to learn from their experiences by acquiring new data and assisting with clinical efficacy testing."
6 Future Opportunities
In closing, Ghaim presented what he believes to be the biggest future opportunities for cosmetics and personal care.
The Microbiome. According to Ghaim, "We need to better understand the effects of products on the microbiome."
Systems Biology. We need to view skin as a dynamic system consisting of lipids, etc.; and take a holistic approach to underlying interactions.
Biomimicry. How can we harness what nature has to offer? It's not just about deriving natural extracts, it's about looking at how nature behaves and works, and how we might leverage this.
IoT. The Internet of Things (IoT) could be used to impact how we do clinical studies and give feedback to consumers.
3D Printing. It's come a long way, but imagine if consumers could print out 3D patches at home to apply to their skin for treatments.
Advanced Analytics. This comes back to collaborations with one another to understand the skin and test appropriately to innovate for the future.