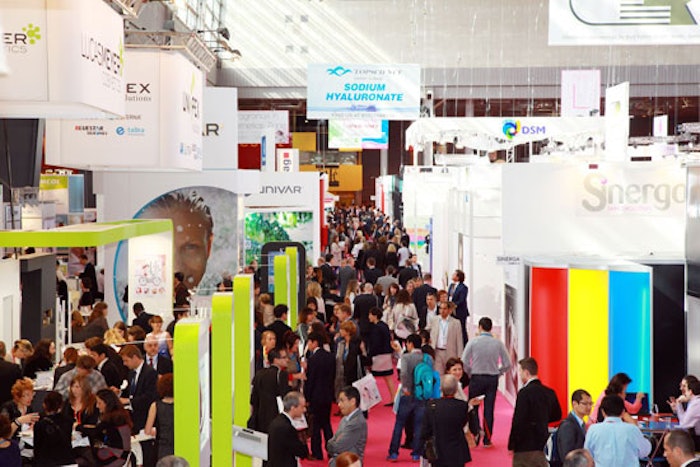 According to event organizers, more than 9,400 unique visitors from around the globe visited in-cosmetics 2013—a 20% increase on the previous record for visitor numbers. Sixty percent of those attendees traveled to Paris from outside France to discover new ingredients, formulations and an extensive educational program. More than 650 exhibitors packed the show floor, including more than 100 companies who had never been to an in-cosmetics event before.
Special Sections
Chosen to tie in with 2013's status as the UN's International Year of Water Co-operation, the theme of the Paris event was H₂0. Visitors were invited to follow a trail around the hall that highlighted the new technologies, formulations and product concepts currently employing water in innovative ways.
For example, Gattefossé challenged attendees to "rethink water' with its fruit waters, Original Extract Cranberry BIO and Original Extract Cherry Bio, which are designed to replace water in personal care formulations with added benefits. Chimex also presented its waste-water treatment process, which allows water to be returned to its natural environment or be recycled and used again in production. Grant Industries also presented its Intense Hydration Series, a set of formulations designed to restore and enhance skin hydration. The hydrating formulas include watery aesthetics and fresh skin feels to re energize sensorial properties to the skin.
The water theme could also be seen in the Innovation Zone, where there were special sections dedicated to water-related subjects. Liquid Assets was a stand exhibiting finished products that claimed unique sources of water, which were used for added benefit. For example, Nature Republic's Shea Butter Fresh Steam Cream used "hot steam technology and Polynesia Lagoon water," whereas Masque*ology's Perfect Triple BB Cream SPF 50+ PA+++ is formulated with "mineral-rich deep sea water and Ecocert-certified chamomile flower water." A Thirst for Beauty featured beauty-enhancing drinks such as InnerShine's Red Collagen Youth Drink and Kuang Chuan Beauty Track's Si Wu Herbal Drink.
A "Testing and Regulation Zone" housed first-time exhibitors specializing in this increasingly important sector of the personal care industry, offering advice and support on cosmetics safety, efficacy, claims, quality and regulatory compliance. The new features were rounded off by the "Fragrance in Cosmetics Zone," a dedicated area where exhibitors specializing in fragrance were concentrated.
The 2013 series of workshops, innovation seminars and marketing trends sessions covered a wide cross section of topics, all of which were designed to inform and educate attendees on the issues currently impacting the industry. Offering insight from suppliers on the latest ingredients, case studies from international companies and the experience of industry experts, many of these sessions were filled to capacity.
Awards Ceremony
Innovation was celebrated at the show in a glittering Awards Ceremony at the end of the first day.
Cosmetics & Toiletries announced the winners of its R&D Awards, with Yves Saint Laurent Beauté taking the Most Creative Application for Youth Liberator Range with Glycanactif and Dow Corning the Best New Ingredient for EL-7040 Hydro Elastomer Blend.
Dow Corning EL-7040 Hydro Elastomer Blend is an elastomer extends the versatility of silicone elastomer gels, well-known for the unique sensory and mattifying properties they provide in products like primers, by introducing a polar functionality into the elastomer gel. This results in new types of delivery systems for both oil-soluble and water-soluble actives with new textures and refreshing, smooth and powdery skin feel.
Glycobiology has emerged as a key topic of science, and YSL Beauté has applied this concept to skin. Glycans are found on the surface of cells and can "unlock" them, to ensure that regeneration messages are transmitted appropriately. Data suggests that depending on their composition, glycans could differentially modulate keratinocytes, melanocytes or fibroblasts. Forever Youth Liberator is thus formulated with a complex of active ingredients to "unlock" cells and release youth-promoting messages.
Induchem's new ingredient Neodermyl was selected as the winner of in-cosmetics' Innovation Zone Best Ingredient Award, recognized for it efficacy and scientific grounding. Silver prize went to Symrise with SymHair Force 1631, a natural anti-hair loss active, while BiotechMarine was awarded bronze for its new anti-dandruff ingredient, Eusculane.
Karl Lintner was announced as the winner of in-cosmetics Lifetime Achievement Award, commenting: "I am absolutely thrilled to have won this award. It's an honor to be recognized for everything I have done in my career by my past and present colleagues and peers."
New Technology Launches
Croda made additions to its NatraGem and ViscOptima ranges in addition to a brightening active through its Crodarom subsidiary. NatraGem EW is an emulsifier wax with excellent stabilization and thickening properties that is capable of creating formulations ranging from lotions to high viscosity creams that are non-whitening on the skin and have excellent sensory benefits. And NatraGem S150 is an effective and multifunctional solubilizer that is designed to combine lipophilic cosmetic actives with their carrier oils into clear formulations. And for the multifunctional category, Croda introduced ViscOptima SE, a liquid rheology modifier that can be used to emulsify and stabilize high levels of oils and silicones within a formulation. ViscOptima LV is a multifunctional liquid dispersion polymer that can emulsify up to 20% oils and silicones to create light milks, creams and lotions. Crodarom debuted Porcelain Flower, an extract of the Hoya lacunosa that brightens skin with antioxidant, moisturizing and soothing benefits in skin care, foundations and BB creams.
Beauty Creations, the cosmetic active ingredient business of BASF, is now offering Shadownyl, a potent brown seaweed extract to combat the formation of wrinkles and dark circles around the eyes for a fully refreshed and enlightened eye contour. Beauty Creations introduced the plant-based Freshaxyl, a natural efficient anti-odor active for the growing deo market.
BASF unveiled the second level of the Care Creations brand roll-out—launching the formulation concept "Cosmetics for real life," which studies, explores and develops based on consumers' daily needs. Luviset One was among the new products on display, an all-in-one solution for hair styling gels, creams and waxes that delivers strong styling performance, long-lasting curl retention and provides a smooth, crystal-clear gel base. Also debuted was Lamesoft OD, a microemulsion for oil deposition on the skin in bath and shower applications without a greasy after feel. The company also launched the broad-spectrum UV filter Tinosorb A2B, which provides protection from UVB and UVAII wavelengths from 290 through to 340 nm. BASF also presented Chione HD, effect pigments for the "nude look" trend, which continues to drive demand for cosmetics that give the skin a natural but radiant complexion. Formulated into BB creams or skin care serums, Chione HD pearls achieve brightness and correct imperfections effectively.
Lipo Chemicals introduced Vedaplex, a range of botanical ingredients based on Ayurvedic practices. The range offers specific combinations of plant parts and extracts to improve the function, balance and vitality of the three Ayurvedic skin types: Vata, Pitta and Kapha. The company also discussed Liponate NPGC-2, an oil-free emollient with excellent absorption properties that leaves a silky after feel on skin and hair.
Dow Corning introduced its Dow Corning ES-5300 Formulation Aid, a new benefits-rich w/o silicone emulsifier. This technology delivers advanced aesthetics and performance for liquid and cream foundation and sunscreen while maintaining the high stability needed to avoid ingredient separation. The company also debuted Dow Corning PH-1560 Glossy Fluid, a material that allows for high gloss in lip care applications. The company utilized Trends Lab, its market research arm, to present Urban Beauty, a collection of four consumer trends including: Pro Studio, Luminance, Jelly and Multi-Task. Jelly refers to jelly formulations, which are a trend expected to move west from Asia.
Evonik introduced Tego Carbomer 841 SER, a novel cross-linked polyacrylic acid copolymer designed to control the rheology of surfactant systems, especially for very mild formulations based on sulfate- and/or PEG-free surfactants. Also in rinse-off, the company introduced ABIL Soft AF 200 and AF 300, medium and high molecular weight aminosilicones for conditioning shampoos and conditioners, respectively. In leave-on, the company introduced ABIL EM 120, a multipurpose PEG-free w/o emulsifier with performance benefits in color formulations.TEGO Cistus and TEGO Stemlastin were the company's two active launches. While TEGO Cistus, an extract of pink rock rose high in polyphenols, combats the undesirable effects of sun exposure, TEGO Stemlastin, a red algae extract, maintains epidermal stem cell capacity and boosts the production of elastic fibers.
Dow launched EcoSense 3000 Surfactant, an addition to Dow's alkyl polyglucosides portfolio that offers product developers a readily biodegradable surfactant for use in shampoos and body washes. The EcoSense family of products is based on coconut and palm oils, contains no added sulfates or preservatives, and offers excellent foaming and mildness in formulations.
Purac discussed its recent study that Purasal NH/COS is able to significantly reduce visible skin dryness, roughness and desquamation in dry skin. Purasal NH/COS is a concentrated solution of the ammonium salt of natural L-lactic acid, produced by fermentation from biobased carbohydrates.
Developed in line with Clariant's new Secret Code of Beauty concept, the company featured four new ingredients. Aristoflex Velvet adds a soft, velvety skin feel to skin care formulations. A finalist in this year's Cosmetics & Toiletries R&D Awards, the new member of Clariant's versatile Aristoflex polymer product line is an answer to the trend toward luxury, providing a true sensorial experience. The Plantasens natural ingredient range, recently acquired from CRM International, includes plant-based actives, unique emulsifiers and a broad selection of emollients ranging from vegetable oils and natural butters to alternatives to silicones, petrolatum and lanolin. Most Plantasens products are also Ecocert approved. Perlogen creates the sparkle in beauty formulations, a cold processable, liquid pearlizing concentrate for rinse-off products that creates an intensive silky shine in shampoos, liquid hand soaps, nourishing conditioners and moisturizing washes. And Genagen SC blends are cold processable and offer excellent foam building. The two grades of easy to use blends are based on a unique and patented technology to upgrade a broad variety of formulations. They improve opacifier stability and shorten production time.
Micro Powders, Inc. introduced three new products. MicroSorb 944S is a micronized combination of high molecular weight polyethylene and calcium silicate designed to provide maximum oil absorption while delivering a smooth silky and luxurious feel to pressed and loose powders. MicroSpersion 684S-XF utilizes the combination of the extra fine particle size and spherical shape of its Microslip 684S, and MicroCare 710 is a finely micronized combination of polyethylene, carnauba wax and PTFE to promote the adhesion of cosmetic formulations to the skin.
AAK Personal Care extended its Lipex line of shea-based functional emollients with an eco-designed ester called Lipex SheaLight. The general-purpose emollient can be used in a wide range of cosmetics. In response to the global trend toward making skin care products lighter, particularly body lotions and facial care products, the new ester targets beauty brands that want to develop safe, stable formulations combining light, dry sensorial properties with a better sustainability profile. The ester can be used alone or in combination with other esters, vegetable oils, shea butters, silicone oils and synthetic emollients when formulating everyday skin care products.
AkzoNobel Global Personal Care showcased products and technologies that support the company's commitment to sustainability. These included BioStyle CGP, a fixative styling polymer; Structure Style polymer, a non-GMO starch-based, film former and rheology modifier; Amaze XT styling polymer, a multifunctional fixative and thickening/suspending agent; ArmoCare VGH-70, a vegetable-based di-ester quaternary; Dry-Flo TS, a non-GMO, aluminum-free, modified tapioca starch; and naturally derived Structure Cel polymers, a family of cellulose derivatives. The company also presented an interesting study on global mens styling product usage. The company surveyed men from around the world and went through their grooming routine, asking them what they liked and did not like. They found that scent played a huge role in the men's purchase decision. Whereas the Asian men wanted hard and waxy styling products, European men wanted easy spreading without flaking or shine. Conversely, Latin American men wanted a shiny look. Unsurprisingly, the survey did not find not much consistency with American men, whose styling product preferences varied widely. These men used different products for work and leisure as well as using different products as their hair grew out.
Mibelle Biochemistry introduced PhytoCellTec Symphytum, a comfrey stem cell extract that has been shown to boost the regenerative power of epidermal stem cells and their ability to build new tissue.
Silab debuted CellDetox, a purified α-glucan active ingredient, obtained by biotechnology process, that detoxifies cells by removing altered cell components and guarantees cell and tissue longevity and blocks the accumulation of lipofuscin aggregates, a true marker of aging. Helping to smooth skin, renew radiance and even tone, CellDetox is recommended for regenerating, detoxifying and anti-aging skin care products. Silab also launched ApolluSkin, a protective antipollution active principle derived from dandelion, a plant known for its detoxifying properties.
Merck presented new effect pigments and formulation ideas at in-cosmetics. Its Colorona SynBerry Pink is the highlight of the new pigments based on synthetic mica. This color-intensive, fuchsia-red pearl-luster pigment with its clear, brilliant masstone can be incorporated into all cosmetic formulations and, in particular, it adds an elegant finishing touch to decorative cosmetics for the eyes and lips. Also, Ronastar Diamond Black was presented at in-cosmetics, showcasing the deep, virtually black color and a unique luster that can be used in all cosmetic products, in particular in decorative cosmetics such as mascara, eyeliner, eye shadow and nail polish. And Ronastar Copper Jewel is a vibrant, copper-colored effect pigment that is characterized by brilliant luster and good coverage. The substrate is based on glass flakes and can be used in all cosmetic formulations. Additionally, as active ingredients that prevent acne or neutralize free radicals on the skin are increasingly in demand, Merck released RonaCare AP to address this. In a current study, it proved to be an effective agent for acne prevention while protecting against skin damage caused by a high individual level of radicals.
Symrise presented natural and sustainable actives for skin and hair from microalgae at the 2013 in-cosmetics. For new launches, in collaboration with Cutech, Symrise identified marine water microalgae as an excellent source for new cosmetic actives and introduced SymHair Force 1631 to help fight hair loss and improve hair density, and SymBronze 1659, a natural biological tanner derived from microalgae. Working from the inside, it provides a natural, sunless tan, accelerates the natural tanning process under sun exposure and prolongs the tan.
Lubrizol added a rheology modifier to its Carbopol range that offers electrolyte tolerance, high thickening performance in a broad pH range and rich, distinct sensory attributes in challenging skin care formulations.
Carbopol Ultrez 30
(INCI: Carbomer) is a crosslinked acrylic acid homopolymer that allows formulators to create skin care products with medium to high viscosities. The carbomer allows the formulator to achieve desired rheological and aesthetic properties in the presence of electrolytes or the acidic actives required for today's consumer products.
Wacker debuted BelSil Reg 1100, a silicone resin elastomer gel that produces long-lasting effects in beauty products and leaves the skin feeling pleasant and silky soft, and BelSil ADM 6102 E, a silicone emulsion and highly effective hair conditioning agent that allows product developers to create products that make hair soft and pleasantly supple.
The first outcome of a partnership between Seppic and Coatex (a subsidiary of Arkema), Eliclear 4U was introduced at the show. The rheology modifier helps ensure there is no compromise on clarity for textured beauty formulations containing suspended particles, a marketing advantage to convince consumers with transparent packaging. Seppic also introduced Cosmetofood, a formulation concept that presents cosmetic formulations that look good enough to eat. Examples included a gel facial serum made to look like gaspacho, an o/w facial emulsion that looked like egg yolk, an anti-aging mask that looked like guacamole and a body emulsion that looked like chocolate syrup.
Ashland Care Specialties announced Actopontine biofunctional, a bio-engineered peptide designed to support skin's own production of a key protein called dermatopontin. Ashland introduced APShield 100 polymer, a polymer technology demonstrated to advance the performance attributes of antiperspirant products. And Ashland also debuted Conditioneze 22 and Conditioneze 37 cationic solutions. These two polyquaternium polymers are designed to impart deep conditioning, luster and soft-silky feeling properties to hair. Conditioneze 22 is recommended for use in colorant products, ethnic hair care and shampoos and conditioners formulated for damaged and treated hair, while Conditioneze 37 imparts excellent conditioning benefits in conditioners and hair masques and acts as a rheology modifier, enabling an enhanced rheology profile.
Sonneborn Refined Products presented its SonneNatural 200 series, its latest collection of natural emollients. The line of 100% vegetable-based emollients is an extension of the existing SonneNatural brand and includes three novel offerings—SonneNatural H-203, S-205 and J-207 offer a range of slip, gloss and cushion to fit any formulation requirement, while providing exceptional TEWL performance. Each product adds substantive feel and body to formulations without the negative attributes associated with fillers, such as starch and clay.
Air Products launched its new Dermohydrine cellular active, offering product developers an effective, high-performing moisturizing solution that can meet the natural ingredient demands of consumers. Dermohydrine cellular active is the newest addition to Air Products' Rovi cosmetic active ingredient portfolio.
Solvay debuted Jaguar LS, a conditioning guar polymer for modern shampoo products. Jaguar LS boosts active delivery and is particularly suitable for transparent formulations. With its eco-friendly profile, it provides superior conditioning versus PQ-10s in cost-efficient shampoos, and being substantive to hair, it is also capable of enhancing sensorial hair feel.
Honeywell introduced Asensa NCL 111 (10 micron) and NCL 112 (20 micron), two grades of micronized polylactic acid to enhance structured aqueous or emulsion systems to affect feel during and after application. These two micronized powders function as suspension aids, binders and flattening or texturizing agents. The company also debuted the Asensa NSC range (22, 23, 25 and 30), which are mactic acid monomers in four particles sizes and shapes that serve as exfoliants.