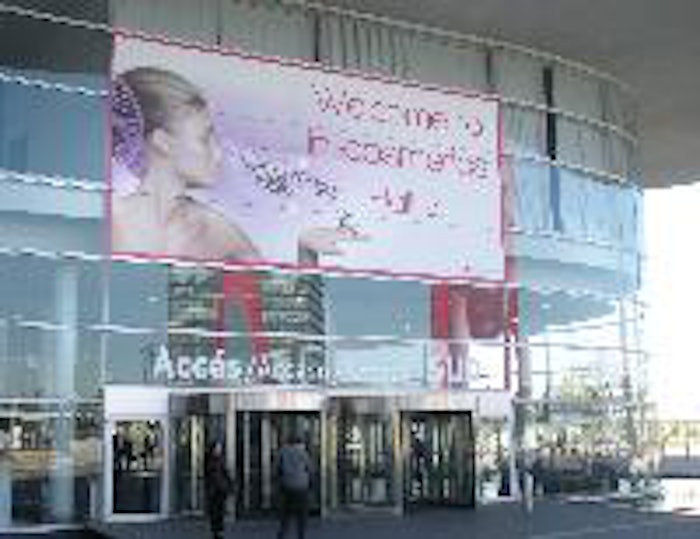 BARCELONA—Personal care was taken very personally at in-cosmetics in Barcelona, April 17–19, 2012, as ingredient developers took R&D to a painstaking level of detail: the genome. While the study of gene expression is by no means new, and the concept of epigenomics has previously emerged at conferences and in research at universities and large manufacturers, it has materialized in the mainstream as the basis for many new cosmetic active launches. In fact, during the event, the editors of Cosmetics & Toiletries interviewed several attendees who noted the highly advanced methods being used by raw material suppliers.
However, the specificity of such techniques does not necessarily limit one to the development of one active for one function. By evaluating a broader profile of activities, some ingredient developers have found that, as suspected, the activity of a whole raw material, taken together, is often greater than the sum of its parts.
A total of 590 exhibitors participated in this year's event, including 50+ new exhibitors, showcasing everything one might imagine; from nutricosmetics and gene-regulating actives for anti-aging benefits, to new targets such as aging in the legs, partnerships with market research companies and holistic approaches to ingredient development. Launches in crucial mainstay ingredients such as formulating aids, sensory materials and staple skin, sun, hair and color ingredients also abounded. Following are just a few highlights. During the three days, a total of 7,152 unique attendees perused such offerings, an increase of 5% over 2011, making in-cosmetics 2012 the largest to date.
Genetic Cosmetics
As Rebecca James Gadberry of the University of California at Los Angeles and YG Labs, once explained, genetic traits were once thought to be unchangeable but it turns out there is an epigenome, or "above" genome, that manages their expression, and this entity can be manipulated. According Gadberry, UV radiation, diet, drugs, stress and cosmetic ingredients are among a number of factors proven to trigger chemical influences on gene expression without changing the genes themselves.
in-cosmetics dedicated an entire education session to such research, titled "Cosmetogenomics—At the Cutting Edge of Cosmetic Science," with discussions of gene expression studies and proteomic techniques to explore skin and hair properties, toxicology and product efficacy. Contributions were included from VitroScreen, the University of Bradford, Laboratoires Expanscience, and the Institute for Health and Consumer Protection of the European Commission's Joint Research Center.
As noted, several suppliers leverage these techniques to further the development of cosmetic actives. Lipotec, for example, presented its nutricosmetic/cosmetic antiwrinkle concept In & Out, which combines an oral ingredient with a topical ingredient. The topical component is said to control collagen fibril diameter and spacing, ensure collagen network organization, and inhibit collagen degradation and glycation. Also, Evonik launched its Tego Arjuna S (INCI: Terminalia Arjuna Bark Extract (and) Pentylene Glycol) solution of pentacyclic triterpenes to counteract the signs of aging. In vitro DNA chip, gene and protein studies showed the active induces growth factors like VEGF. Furthermore, it up-regulates markers related to increased sebum production (FGFR2, FGF2) to address drying in menopausal skin.
Laboratoires Expanscience developed Effipulp, an anti-aging, plumping and detoxifying active that stimulates the endogenous synthesis of hyaluronic acid to restore volume to mature, dehydrated and stressed skin. Finally, Lonza (Arch) featured its ReGeniStem Red Rice extract elicited to promote the expression of secondary metabolites to upregulate the expression of collagen protein, reducing wrinkles and increasing hydration; this ingredient notably was recognized as a finalist for the Cosmetics & Toiletries R&D Awards.
Holistic Approaches

AkzoNobel Global Personal Care shared information on its Zeta Fraction technology, which was behind the launch of its Recentia CS (INCI: Camellia Sinensis Flower/Leaf/Stem Juice) product. The Zeta Fraction technology, which was developed by Integrated Botanical Technologies (IBT), was acquired in 2011. This technology was used to selectively isolate biologically active components from living Camellia sinensis plants based on their electrokinetic (zeta) potential without any exogenous solvents or chemical modifications. This technology preserves the inherent osmotic pressure of the plant cell juice and uses it as a separations medium. Targeted fractions are then gently separated based on their zeta potential. The resulting fractions provide a wide range of targeted benefits.
Inventor of Zeta Fraction technology Michael Koganov, ScD, PhD, described the novel technique. "We recognized the problems with basic extraction techniques, which are based on dried plants and use solvents." He added that the new technology maximizes the potential of the whole plant. Leader of the Recentia CS development, Olga Dueva-Koganov, ScD, PhD, said, "This process enables [us] to produce unique and fully sustainable cosmetic ingredients that demonstrate multiple activities and work together to protect skin."
A different approach to holism was presented by BASF with its new "Inspired by Life" campaign, branded as Care Creations. The company showcased its latest innovations including synthetic mica-based pigments, high-performance hair care ingredients and cosmetic actives, while inviting customers to experience how the personal care market can be shaped by innovations inspired by life. 
"We are drawing our inspiration from real life and real people while striving to understand what is relevant to them, their needs and habits," said Simon Medley, senior vice president of BASF Personal Care Europe. "Our new brand, Care Creations, gives voice to this commitment and our business approach, while expressing clearly our strengths of science excellence and market empathy."
Old Favorites With a Twist

Ingredients for anti-aging benefits and to cleanse the skin while maintaining skin microflora are nothing new, but this year a few new twists on these longstanding concepts were noteworthy. For instance, Sederma presented a ginger extract to alleviate leg discomfort and premature aging in the legs. Legance is a vegetal extract of Zingiber zerumbet obtained by supercritical carbon dioxide that inhibits the inflammatory phenomena leading to lipid storage and water retention, to restore circulation in the legs and relieve the sensation of tiredness. In vivo studies conducted by a company-appointed phlebologist on volunteers found the ginger extract to improve the appearance of legs and ankles, attenuated spider veins and relaxed legs.
In addition, the Solabia Group introduced a technology for the skin's ecosystem based on a bacterial adhesion regulator. Teflose (INCI: Propanediol (and) Water (aqua) (and) Rhamnose (and) Glucose (and) Glucuronic Acid) inhibits the adhesion of undesirable or pathogenic bacterial strains involved in the creation of body odors, acne and sensitive skin such as atopic dermatitis. This natural branched polysaccharide is rhamnose-rich and obtained by bacterial fermentation.
Eco-friendly and Nature-derived

As Emiro Khury, PhD, of EK Consulting told the editors of Cosmetics & Toiletries, "Natural, sustainable, green and eco-friendly are still a focus [for the industry]," although he noted a greater emphasis seemed to be on highly technical analytical methods. However, these trends in nature-derived, sustainable and eco-friendly ingredients remained strongly apparent in the event education sessions and supplier launches. For instance, a formulation workshop was led by Judi Beerling, technical research manager for Organic Monitor and subject matter expert for the Cosmetics & Toiletries Complete Cosmetic Chemist naturals training program, titled "Green Formulations: Overcoming the Technical Hurdles." Beerling highlighted the major technical and formulation issues associated with such products, providing practical advice for organizations looking to obtain certifications.
Launches included Mibelle Biochemistry's PoreAway product based on mastic, an aromatic resin from the bark of a tree that grows on the Greek island of Chios. Gattefossé introduced Gatuline Radiance, an Asian shrub extract that stimulates microcirculation for improved skin radiance, and Calumet Penreco, LLC, debuted its hybrid petrolatum blends that combine Snow White Petrolatum USP with one of the following four natural oils: macadamia nut oil, avocado oil, safflower oil and olive oil. The moisturization properties of petrolatum with natural oils aim to offer a more natural alternative to petrolatum alone.
Dr. Straetmans introduced Dermosoft Decalact Deo, a natural deodorant active, which was shown to have the same in vitro activity as triclosan and ethylhexylglycerin, with longer-lasting protection than ethylhexylglycerin; and Dermofeel GO Soft, a natural, food-approved emulsifier for w/o formulations. Further, Interpolymer Corp.'s recent launch, Syntran PC 5620, is a water-based, film-forming polymer based on a novel acrylate cross-linking technology that enables the formulation of nail polish that is hydrating, compatible with water-based actives, and eliminates concern for safety hazards, toxicity and VOC levels. This ingredient won the Cosmetics & Toiletries R&D Award for Best New Ingredient.
Sensory Appeal

As previously reported, Eugene Ward of Siltech observed, "The difference between personal care and industrial is that personal care is all about feel and touch." Thus, the focus of some exhibitors was on these very fundamental and crucial ingredients for personal care products. For instance, Rhodia launched Rheomer 33 (INCI: Polyacrylate-33), a rheology modifying polymer for personal cleansing solutions. This hydrophobically modified, alkali-swellable emulsion (HASE) polymer was designed to provide efficient thickening, shear-thinning rheology and good suspension properties in low-to-medium surfactant systems. Also, resulting from the partnership between Clariant and KitoZyme, Clariant again highlighted its Touch of Nature range of Kitozyme's sensory-enhancing biopolymers for skin, body and hair care formulations. Offered under the line are: Vitipure Feeling (INCI: Chitin (and) Beta-Glucan), for skin care; Vitipure Sensation (INCI: Chitin (and) Beta Glucan), a refined grade for color cosmetics, and Velsan Soft (INCI: Chitosan Succinamide), which boosts wetting and foaming properties.
Sun-sational
With "Solar Beauty" as the theme for the In-Focus feature, sun care played a large role in this year's product offerings. This featured section on the show floor navigated attendees across a beach setting, complete with sand, palm trees and lounge chairs, to illustrate the latest launches in sun care ingredients. For example, Kobo Products presented its Composite ACT-50 "non-nano" powder containing attenuation-grade titanium dioxide entrapped within an acrylates matrix. The company's process is designed to reduce agglomeration and provide high SPF efficacy with low whitening effects and greater tactile properties.
The Hallstar Company featured its HallBrite PSF (Undecylcrylene Dimethicone) ingredient, combining the company's proven photostabilizer technology with the esthetic benefits of silicone. Dow Personal Care showcased its EPITEX water-resistant polymer, while Daito Kasei introduced its Ceriguard SP-O2, another "non-nano" grade of cerium dioxide (CeO2). According to the company, this material has been used in the painting industry to prevent light fading and has made its way into personal care due to its capacity to reflect light.
Cosmetochem presented its Sereniks natural skin shield based on Canadian Tsuga Canadensis, clinically proven to protect against photo-aging and inflammation. Finally, Instituto di Ricerche Biotecnologiche (I.R.B. Srl) offered its Buddleja Davidii Stems G (INCI: Glycerin (and) Buddleja Davidii Meristem Cell Culture (and) Xanthan Gum) stem cell blend that provides UVA protective benefits in addition to other protective activities.
Hair We Go

Located front and center of the show floor, DSM Nutritional Products presented its new Tilamar Fix A140 hair styling hold product with fanfare as a professional hair dresser performed hair styling feats using the company's product on a raised stage. According to the company, hairspray users worldwide seek fast-drying products that maintain style all day long without being sticky on hair and hands. In addition, Ashland, previously ISP, again featured its BiotHAIRapy line of biofunctional extracts to target the outer and inner root sheath of the hair follicle to strengthen hair and make it healthier.
Furthermore, Provital Group offered its Keramare active ingredient derived from brown algae that, when injected into the hair matrix, utilizes a natural three-dimensional delivery system to release the active ingredient, leaving shine on even damaged hair. Also, Croda presented its Keramimic 2.0, a new generation of biomimetic keratin developed using cutting edge proteomics to offer intelligent, targeted repair for the most damaged areas of hair. In relation, its Keramimic 2.0 KeraDyn HH conditioning agent was also presented, innovatively designed to deliver healthy hair dynamics to damaged hair by enhancing fiber alignment and reducing friction between hair strands for the freedom of movement that healthy hair enjoys.
In Living Color

It seems that new developments in color cosmetics come along only once in a while. This may be in part due to the fact that only a limited number of pigments are approved for cosmetic use, especially in the United States. However, one notable development in this area, among others, was DKSH's Hifeset product, a new class of layered pearl pigments. Onto a flat, smooth synthetic mica, iron oxide is coated and then surrounded by titanium dioxide. This provides both higher chroma and brightness.
In relation, Edwin Faulkner's It's a Colorful World book (published by Allured Business Media, publisher of Cosmetics & Toiletries) was also featured at the event. In this book, Faulkner, with 40-years of experience working with color, offers a comprehensive look at what goes into selecting colors for decorative cosmetic products. Specific pigments groups are broken down with respect to chemical properties, regulatory concerns, applicability to various product developments, esthetic quality, and the economics of selecting colors for use in decorative cosmetics. For more information, view the abstract.
Trends Development

Beyond marketing trends presentations featured at the event and those clearly identified in the launches noted above, a novel approach to identifying and developing trends for manufacturers was undertaken by Seppic. As Arnita Wofford of Seppic eloquently explained, "Inspired by 2013–2014 fashion, décor and industrial trends, Seppic decided to collaborate with French forecasting agency Carlin International to translate these trends for personal care." In a brainstorming session, the company's international marketing, sales and research teams crafted a "lookbook" of cosmetic formulations corresponding to different market segments using these trends that attract and captivate formulators, marketers and consumers alike. "The idea was not to follow a trend to meet a need, but to anticipate the future needs of the client," Wofford explained.
In brief, the company aimed to create a sense of reliability and stability by reinventing the recipes of yesteryear with its Apothi'Care formulations. Various products can be added to an initial "chassis" formulation for the development of custom products. In addition, to "create an element of surprise and draw out the alter-ego," as Wofford described it, the company developed its Fantasy Paradox to provide new ideas and products for cosmetic formulations. For example, a fluorescent-orange cream blush may appear bright and bold in the jar, but once applied and rubbed in, it changes to match the natural blushed tone of the wearer's skin.
Awards Ceremony

During the in-cosmetics Awards Ceremony, held on April 17, 2012, Cosmetics & Toiletries announced the winners for the 2012 Cosmetics & Toiletries R&D Awards. In addition, in-cosmetics named the winners of its Innovation Zone Awards. More than 150 exhibitors and visitors congregated at the Marketing Trends Theatre to find out who won.
Lucas Meyer Cosmetics was applauded by the industry for its new ingredients Progeline and ADIPOFILL, with the products jointly claiming the in-cosmetics gold Innovation Zone Best Ingredient Award. Progeline is a three amino-acids peptide biomimetic of an Elafin, an elastase inhibitor produced by keratinocytes, which helps fight the aging process. The ADIPOFILL product is also a new anti-aging ingredient derived from vegetable glucose and obtained by biotechnology.
Celebrating the award, Isabelle Lacasse from Lucas Meyer Cosmetics said, "Having been up against some tough competition, we're thrilled to have won this coveted award. It's been a busy year for us, so to receive such recognition is terrific."
The silver prize went to Mibelle Biochemistry for DermCom, which stimulates the communication between epidermal and dermal cells to help boost collagen and elastin production that renews the skin's resilience and firmness. Lipotec took the bronze for its hydrating ingredient Hyanify, an exopolysaccharide obtained through biotechnological processes from a marine bacterial strain.
Lucy Gillam, event director for in-cosmetics, said of the awards, "With such a high caliber of finalists, a lot of thought went into whittling it down to our winners, who are shining examples of new cosmetic innovation in 2012. We are delighted to recognize the industry's budding talent, and look forward to seeing how all of our finalists progress from here."
Cosmetics & Toiletries R&D Awards were presented by Rachel Grabenhofer, editor of Cosmetics & Toiletries. For Best New Ingredient, Interpolymer Corp. won for its Syntran PC 5620 water-based, film-forming polymer, which imparts superior gloss, adhesion, water-resistance and hardness to nail polish. It provides quick dry time and easy removability with alcohol, and is compatible with water-based actives, eliminating the concern for safety hazards, toxicity and VOC issues currently facing solvent-based nail enamels containing nitrocellulose, without loss in performance.
Patrice Heintz of Interpolymer accepted the award on behalf of his colleagues. "We're just a small, family owned company," said Heintz, "and going up against some of the bigger companies, we didn't think we'd stand a chance. It's quite a surprise."
For Most Creative Application, Kao Brands USA won for its John Frieda Frizz Ease 3-Day Straight Semi-Permanent Styling Spray. This product is a premium, mass-marketed styling spray that allows consumers to straighten curly/wavy hair for up to three days or until shampooed. The product envelops each hair strand and when it is exposed to heat from a flat iron, the product changes from a solid to more liquid state; upon cooling, the product changes back to a solid state, which provides salon-quality straightened hair that lasts.
Eiichi Nishizawa, PhD, accepted the award for Most Create Application. "We are very honored to be chosen," said Nishizawa. "Thank you very much."
Grabenhofer described the awards process, "This year's entries were all very innovative in different ways." She explained the judging panel ranks each entry on a scale from 1–5 for both significance to the industry and long-term impact. "We tally up the totals to determine the winners but it was so close that it wasn't clear, until all the numbers were in, who the winners were." Considering there were 30 entries to contend with, even making it to the final round is an achievement. "All the finalists should be congratulated," said Grabenhofer.
Follow Cosmetics & Toiletries as it develops full-length feature articles on many of the technologies submitted. To nominate an ingredient or product for the 2013 awards, visit www.CosmeticsandToiletries.com/awards.
in-cosmetics 2013

The 2013 in-cosmetics event will return to Paris on April 16–18, 2013. For more information, visit the in-cosmetics website.