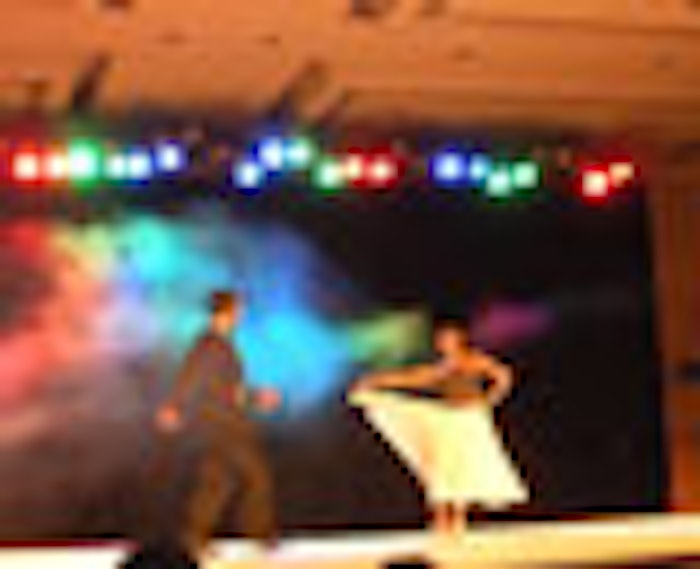 Melanin-derived hair dye, pearl-inspired skin radiance and the effects of thermal energy on skin were among the unique research concepts presented at the International Federation of the Societies of Cosmetic Chemists (IFSCC) Congress, held Sept. 20–23, 2010, in Buenos Aires, Argentina. The organizers reviewed 300+ abstracts to choose presentations that best supported the event's theme, "Innovation and Responsibility: Cosmetics Forever," for the nearly 900 visitors from 39 countries in attendance.
The opening ceremony kicked off with immediate past president, Gavin Greenoak, who welcomed delegates to "the vibrant city of Buenos Aires." César Fernández Tudela, PhD, president of the Argentine Association of Cosmetic Chemists (AAQC), welcomed guests as well, and noted the high scientific level of this year's selected keynote presentations and that this event showed astounding advancements. This led to the presentation of the annual Maison G. de Navarre Maison Young Scientist Prize to Caroline Yulek, senior chemist at Merle Norman Cosmetics, whose essay on nanotechnology won her attendance to the event. Alberto Martin, PhD, president of the organizing committee and the AAQC vice president, then declared the congress open, noting that the next three days' sessions would reveal the future of cosmetics.
The opening ceremony keynote lecture was presented by Robert Y. Lochhead, of the University of Southern Mississippi, who believes "the future of formulation is in high throughput, combinatorial methods." He described such means to quickly identify optimum ingredient combinations for product formulas, which he visualizes using phase diagrams. "We can look at 10,000 formulations a week with robotic handling," explained Lochhead.
Lochhead's talk then shifted to recent university work employing high throughput processing (HTP)—in particular to develop makeup for extreme conditions, and non-cosmetic work to find ways to break up oil slicks such as this year's spill in the Gulf of Mexico. The makeup developed for extreme conditions was designed to protect the wearer from heat blasts; it utilizes heat reflective pigments that block infrared (IR) radiation. To break up oil slicks, Lochhead worked toward finding natural, biodegradable means to emulsify the oil. He noted that through lamellar phase stabilization of lecithin and cetyl hydroxyethyl cellulose, cleanup crews will be ready for the next spill.
After Lochhead's presentation, attendees were treated to a traditional Argentinian folk ballet performance, after which they networked with friends and colleagues at the welcome cocktail reception.
The first full day of presentations opened with a keynote lecture by Elizabeth A. Jares-Erijman, Partner Group of the Max Planck Society and the University of Buenos Aires, on nanotechnology. She described how quantum dots can be engineered to accelerate protein self-assembly or degradation. While her research is primarily in the medical field, it suggests application in advanced skin care.
Similar to Lochhead's extreme condition makeup, Naoko Kida of POLA described research into how skin temperature can impact its functioning. Findings suggest that the activation of the TRPV4 gene is reduced as the temperature is reduced, and TRPV4 activation induces keratinocyte differentiation, in turn promoting the formation of tight junctions in the skin and advancing barrier function. Kida suggests this could be used for the development of products that encourage healthy skin, even in cold weather, via the maturation of tight junctions in the skin. Masae Iida, also of POLA, wrapped up the first day's session with her work related to skin radiance. She described a laminated, quasi-stratum corneum (SC) powder inspired by the structure of pearls to create a powder that imparts radiance to skin regardless of its condition.
The second day opened with a keynote lecture by Satoshi Amano of Shiseido Research Center. He described how the basement membrane (BM) at the dermal-epidermal junction plays important roles in maintaining healthy skin but becomes damaged after UV exposure. Using skin equivalents, the researchers found that matrix metalloproteinase and plasmin cause BM damage, and that its reconstruction is enhanced by inhibiting proteinases and increasing synthesis of BM components. The second day also featured work by Toshihiko Hibino, also of Shiseido, et al., on characterizing and regulating the mechanisms of bleomycin hydrolase (BH) as an enzyme to generate the skin's natural moisturizing factor (NMF). Researchers purified the aminopeptidase based on its citrulline-cleavage activity and identified it as a neutral cysteine protease, BH. They found that BH activity was significantly down-regulated in corneocytes extracted from the skin of women in their 60s, compared with women in their 40s.
Researchers suggested that BH may be a new target for the treatment of dry skin as well as skin diseases, such as atopic dermatitis. This paper received the IFSCC's Basic Research Award during the closing ceremony and gala. Co-authors included Mariko Egawa, Junko Nomura and Toshii Iida, all of Shiseido; Yayoi Kamata of Shiseido and Kitasato University; Mami Yamamoto of Shiseido and Tokyo Medical University; Kazuhiko Ishihara of Kitasato University; Ryoji Tsuboi of Tokyo Medical University; and Atsushi Takeda of Sagami Women's University.
Also during the second day, Atsuko Ebato of Kao Corp. presented dihydroxyindole as a new natural hair dye. He explained, "Melanin is a natural black pigment existing in human hair but the pigment cannot be used directly as a dyestuff for hair coloring because it is too large to penetrate into hair." He described how melanin is generated through a biological process and that intermediate melanin precursors within this process can be used because they are smaller. He showed how this material colors gray hair without the use of peroxide. Tomoko Ikeda, also of Shiseido, then presented on the development of lipstick to provide luster, adequate moisture and long-lasting color to the lips without secondary staining; i.e., transfer-resistant. This work was based on a phase-separation mechanism that yields the formation of liquid crystals with a high refractive-index oil.
Based on this mechanism, a lipstick base formula was prepared with glyceryl isostearate, trimethyl pentaphenyl trisiloxane and glycerol; the resulting lipstick exhibited better gloss and hydration than standard film-forming sticks and was transfer-resistant. This presentation won the IFSCC's Applied Research Award, presented during the closing ceremony and gala. Co-authors included Tomo Osawa, Noriko Tomita and Tanemasa Nagano, all of Shiseido.
The third day of sessions opened with a keynote from Gillian M. Eccleston PhD, of the University of Strathclyde (UK) on the challenges of formulating and processing structured fluid and semisolid dermatological products. She described how it is important to understand the relationship between microstructure and rheology at all stages of manufacture, storage and use to develop meaningful rheological tests that characterize the formulation and to control its quality. Specifically, Eccleston described the gel network theory—the manner in which fatty amphiphiles and surfactants interact with water to form a powerful structuring mechanism in aqueous lotions and creams.
Philippe Mondon of Sederma presented on a sphingosine-1-phosphate-like lipid that according to Mondon triggers mechanisms to improve skin moisture homeostasis and barrier function. He also described a novel noninvasive device called the Aeroflexmeter that associates the contactless deformation of the skin by compressed air and its dynamic measurements by a high frequency laser line profilometer.
Satoru Hashimoto of the Nikkol Group described hexasomes, a delivery vehicle shown to optimize the permeation of actives through the SC. Hashimoto proposed that the hexosomes work by fusing to the lamellar phase of the SC. Finally, Seiji Hesegawa of Nippon Menard Cosmetic Co. presented research on skin-derived stem cells for repair functions in skin care. Particularly, sweet cherry seed extract was found to promote the proliferation of stem cells in skin, while Boat steerculia seed extract promoted keratinocyte differentiation and purple barley seed promoted collagen synthesis of fibroblasts. A two-month continuous use test of a skin cream containing these ingredients showed improvements in skin texture and wrinkles.
However, while this work was compelling, during the question and answer session, Eric Perrier of LVMH apologetically disagreed with this approach to repair. "I have doubts over the safety of proliferation as an approach to repair," he said.
Poster presentations were also given during the three days, and topics ranged from developments in actives and methods to assess cosmetic efficacy and sunscreens, to advances in delivery, antiaging, eco-friendly cosmetics, manufacturing and equipment and care of nails, hair and skin. In addition, work relating to the immune system, neurobiology for wellness, decorative cosmetics, consumer health/prevention care and safety, animal testing alternatives—and even legislative changes/challenges was presented. Yuki Sugiyama and co-authors Takashi Ohmori, Hideki Shimizu, Tomoko Kimura and Daisuke Yoshizawa, all of Shiseido; Yoji Tezuma and Yusuke Aoki of NOF Corp.; and Yotaro Morishima of the Fukui University of Technology won the Best Poster award for their paper, "A Novel, Self-Assembled Structure for Transparent, Reversibly Deformable Oil Gels and its Application to Cosmetics." This award was presented during the closing ceremony and gala.
The IFSCC closed with a celebratory dinner during which the IFSCC presidential gavel and award were passed on, and awards were presented. In addition to the previously mentioned awards, the Basic Honorary Mention was awarded to Eric S. Johnson, of P&G Beauty, et al. for, "Polymer-Surfactant Phase and Surface Interactions Leading to New Models for Cationic Polymer Chemistries"; the Best Argentinian Paper was presented to Jorge A. Montanari, of Universidad Nacional de Quilmes, et al. for "Ultradeformable Liposomes for Topic Application of Cosmetic Actives can Modulate their Destination Across The Stratum Corneum"; and finally, the Best Raw Material Award was given to Norberto Delic, of AAQC, et al. for "Silica Nanoparticles Modified with Cinnamic Alcohol: Synthesis, Characterization and Uses In UV Protection."
The evening wrapped up with a live performance by local guitarist legend Esteban Morgado, accompanied by the art of tango dancing, and went on through the early morning hours with a DJ dance party. The next IFSCC Conference will be held Nov. 1–3, 2011, in Bangkok, and the next IFSCC Congress will be held in 2012 in Johannesburg, South Africa. For more information, visit www.ifscc.org.