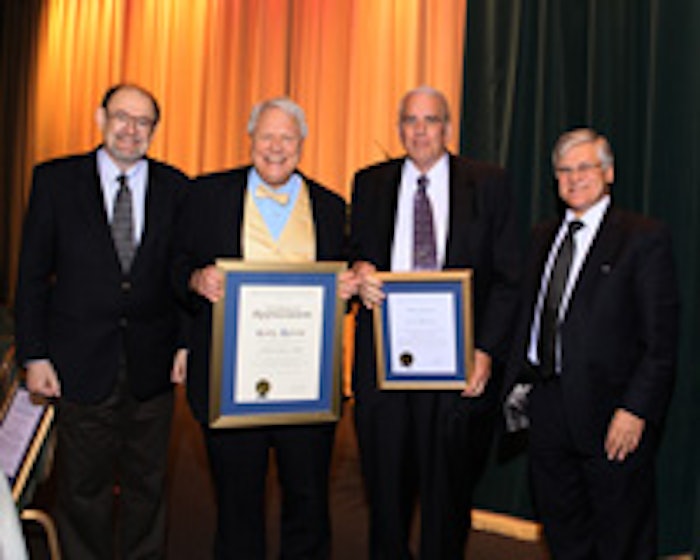 NEW YORK—The SCC Annual Meeting and Technology Showcase, held Dec. 10-11, 2009, at the New York Hilton focused on the traditional categories, from sunscreens and modeling/data assessment, to skin biology, formulating and hair color, but this year had a particularly heavy focus on the methods or means to an end within these categories, especially in relation to testing for efficacy.
Opening the conference, 2009 SCC President Gary Agisim of Pfizer (formerly Wyeth) welcomed attendees. According to Agisim, event pre-registrations totaled about 1,000 in spite of the economy, which impressed him. The tone in his voice was bittersweet in that this event would be his last as president. "The most important achievement of my presidency is that I've had fun," said Agisim.
The first scientific session, moderated by Mindy Goldstein, PhD, covered sunscreens and the keynote lecture, "Improving Sunscreen Photostability by Quenching the Singlet Excited State," given by Craig Bonda of The Hallstar Company, set the bar high for the talks that followed. Bonda introduced ethylhexyl methoxycrylene as a photostabilizer that preserves butylmethoxy dibenzoylmethane's ability to absorb UVA and UVB in the presence of octyl methoxycinnamate due to its speed. Additionally, he showed that the material can stabilize retinol, to preserve it from photodegradation.
Following Bonda, Howard Epstein of EMD Chemicals addressed safety in sun care with his discussion of reducing the dermal uptake of organic sunscreens via an encapsulation technology. According to Epstein, the technology he described was developed during a time when sunscreens were thought to be dangerous. Considering sensitive skin—as Zoe Draelos, MD, pointed out during the question and answer (Q/A) session—this technology could be applicable specifically in sunscreens for children. Also considering safety, Pascal Delrieu, PhD, of Kobo Products presented, "Non-nano Zinc Oxide," describing means to measure the sizes of particles ranging from electron microscopy and dynamic light scattering to laser diffraction and acoustic attenuation. In the end, he added that there still is no clear evidence that nanoparticles penetrate the skin.
The Frontiers of Science Award Lecture, sponsored by Cosmetics & Toiletries magazine, featured the DNA work of Nadrian C. Seeman, PhD. Seeman, who is specialized in biological crystallography, reached far beyond the day-to-day of formulating and forced attendees to think in terms of not only DNA helices but self-assembled 3D crystalline structures. He described applications of his work including a self-assembling "walker," which can carry cargo as it moves to replicate along a DNA strand. While the concept is very early in its stages of development, as one attendee pointed out, this has the potential to serve as a future delivery mechanism in cosmetics and personal care.
After the morning sessions, the conference took a recess to allow attendees time to peruse the technical showcase followed by lunch, which featured not only good food, but also a host of awards recognizing esteemed members of the society. Janusz Jachowicz, PhD, of Better Cosmetics LLC, was presented the Maison G. deNavarre Medal Award for his significant work in measuring the physical properties of hair and in developing instrumentation used throughout the industry for hair measurements, as well as his work using theoretical science principles to predict product behavior on hair.
The Shaw Mudge Award sponsored by BASF Corp. was presented to Trefor Evans, PhD, for his paper, "Quantifying Differences in the Propensity for Breakage in Afro and Caucasian Hair," presented at the 2009 Annual Scientific Seminar. The Allan B. Black Award, sponsored by Presperse LLC, was presented to Rodolphe Korichi, PhD, and co-authors for their paper, "Why Women Use Makeup: Implication of Psychological Traits in Makeup Functions," which was published in the SCC Journal of Cosmetic Science.
The Hans A. Schaeffer Award, sponsored by Arch Personal Care Products, was presented to Renee Bolden, PhD, and co-authors for their paper presented at the 2009 Annual Scientific Seminar, "Flow Cell Microscopy: A Novel Method to Visualize Product Deposition on Hair." Croda Inc. sponsored the Joseph P. Ciaudelli Award for the best paper submitted to the SCC Journal of Cosmetic Science on hair care technology in 2008, which went to Yin Hessefort and co-authors for her paper, "True Porosity Measurement of Hair: A New Way to Study Hair Damage Mechanisms."
The Des Goddard Award, also presented by Arch Personal Care Products, recognized the most innovative paper on the topic of polymer science, which presented at the 2009 Annual Scientific Seminar. "Characterization of Hair Damage and Its Effect on Hair Color Fading and the Routes for Color Protection for Shampoo Stripping," written by Yan Zhou and co-authors, received this honor. The Society of Cosmetic Chemists Award, sponsored by The Hallstar Company, recognized the best paper presented at the SCC Annual Scientific Seminar in 2009 related to protecting against damage caused to human skin by UV radiation. "SPF Retention via Silicone Derivatives," by Stacy A. Mundschau and co-authors, received the award. Finally, C&T magazine presented Dr. Seeman with the Frontiers of Science Award for his look to the horizon of personal care.
Following the awards luncheon, attendees returned for an afternoon session on modeling and data assessment, moderated by Martha Tate, PhD, of Kimberly-Clark. Starting off the session, George Fitzgerald, PhD, of Accelerys Inc. presented, "Advanced Regression Models for Soap Reformulation." His presentation showed an approach that successfully produced predictive models to understand existing processes as well as discover new processes. In the example given on soap formulations, he discussed how the model could be used to optimize formulation performance by finding the values of individual ingredient properties.
Next up was James Hayward, PhD, of Applied DNA Sciences Inc., who described how the DNA from botanical genomes can be used to authenticate personal care products such as cosmetics, biotherapeutics and natural textiles, among others, and botanically-sourced ingredients. David Boudier of Silab then discussed methods to assess skin complexion and compared two populations: smokers and nonsmokers. Radiance analysis via both sensorial and analytical methods showed how the complexion of smokers was dulled in comparison with nonsmokers. Finally, Dominik Imfeld, PhD, of DSM Nutritional Products, stunned attendees with his presentation on snake venom from the temple viper as a biomimetic design model to develop an ingredient that mimicks waglerin-1, which is found in the venom, to treat skin wrinkles.
After the full day of technical sessions, attendees filed out into the technical showcase once again to network with innovative suppliers and manufacturers, followed by the Suppliers' Cocktail Reception featuring food, drinks and good company, which allowed attendees to interact in a relaxed atmosphere and make new industry contacts as well as catch-up with existing relationships.
The next days' concurrent sessions branched in two very different directions: the very technical and the very practical. R. Randall Wickett, PhD, of the University of Cincinnati led the charge in a Skin Biology session that featured talks ranging from: substances of plant origin, specifically glaucine from Glaucium flavum (yellow hornpoppy), that impact lipid storage (Karl Lintner, PhD, Sederma); and natural "precursors" to boost skin's repair mechanisms (Giorgio Dell'Acqua, PhD, Dell'Acqua Consulting and Induchem); to a study finding that climate does not impact the biochemistry of the stratum corneum (Douglas Hoffman, Kimberly-Clark); the identification of chromosome passenger complex proteins that are involved in adult epidermal stem cell differentiation (Isabelle Imbert, ISP/Vincience); and tight junctions and the flow of lipids to restore skin barrier function (Boudier).
The concurrent session moderated by Lochhead focused on Formulation Fundamentals. This session kicked off with a keynote presentation by Ricardo Diez, PhD, of Chanel, sponsored by Ruger Chemical Corp., who gave a historical overview of 50 years of cleansing products. His presentation entertained attendees with a look at the first patents in the industry, old literature and advertisements of the time. Wrapping up the first presentation, Lochhead commented on the advertisements of today stating, "We need to reduce the level of sensationalism."
Following this historic overview were presentations on: hyperbranched polyalphaolefins to modify polymer crystallinity to improve shine, durability and stability in color cosmetic formulations (Melanie Urdiales, New Phase Technologies); the use of oil/wax interaction data analyses to predict lipstick formulation firmness (Rebecca Peevers, Croda Europe); hand sanitizer formulations incorporating moisturizing ingredients (Lisa A. Flugge-Berendes, PhD); and improving emulsion quality by controlling phase inversion while reducing reducing energy application (T. Joseph Lin, PhD).
After a full morning of sessions, attendees visited the technology showcase then headed to the luncheon where James Akerson was presented by Agisim with the society's Merit Award for 50 years of outstanding services and leadership in the society, including serving as the 47th president, serving as a member of the committee on scientific affairs, and indexing the Journal of Cosmetic Science.
In addition, Agisim presented the new 2010 SCC Board, including: Lochhead (president); Wickett (vice president); Joseph Dallal (ISP, vice president-elect); Chris Heisig, PhD (STERIS Corp., treasurer); Dawn Burke-Colvin (Mary Kay Inc., secretary); Suellen Bennett (Croda Inc., director, Area I); Peter Tsolis (The Estée Lauder Companies, director, Area I); Dawn Thiel Glaser (Glenn Corp., director, Area II); Kevin Tibbs (Better Life, director, Area II); Jacklin Vetkoetter (LF Beauty USA, director, Area III); Debbie Pierce (Cosmedx Science, director, Area III); Angela Eppler, PhD (Pfizer Consumer Healthcare, director, Area IV); and Samuel Cooper (Clariant Corp. director, Area IV). Wrapping up the luncheon was the presentation of the SCC's Certificate of Appreciation to Gary Agisim for his effective leadership, cousel and unselfish service as the 63rd president.
The joy of learning didn't stop there; attendees returned to the conference rooms for the final session on hair color. Jim Vlasic of Greenway Research Lab moderated the session, which opened with a presentation by Timothy Gao of Croda Inc. on enhancing dye penetration and color development in liquid oxidative hair dye formulations using oleth-5 phosphate and dioleyl phosphate. Attendees asked several questions during the Q&A session regarding the material's mechanism of action, the measuring techniques used and comparisons with other systems.
Following Gao, Donald C. Havery of the US Food and Drug Administration discussed color additives to clarify: which ones are permitted, commonly asked questions, and confusion regarding batch testing. He explained to attendees that some colorants are not approved for use in cosmetics simply because no one has submitted a request for this application. He also clarified the difference between terminology, such as FD&C Blue 1 vs. Blue 1, indicating that they are the same—one being simply a space saver on the label. Finally, he discussed the rules relating to additives, which relate to their intent in a product. The hair color session wrapped up with topics including the visualization of hair combing friction utilizing thermal imaging (Renee Bolder, PhD, The Procter & Gamble Co.), and a study on the influence of surfactants on hair color fading (Joh Kiplinger, Rhodia).
After all was said and done, hundreds of attendees received high throughput exposure to decades of information, if not more, in just two days; an impressive means to the end of educating and making connections within the industry.