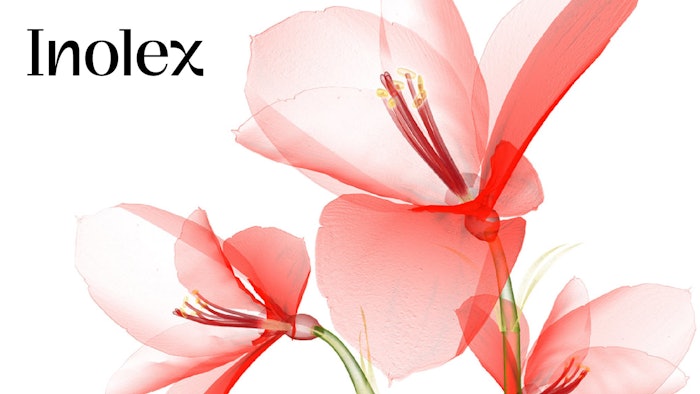 Inolex has announced a new corporate identity with an updated website, logo and contemporary, edgy attitude. The company has chosen to embrace confidence and a rebellious spirit in the beauty ingredients it creates.
The identity was developed over a yearlong partnership with world-renowned design studio Pentagram. The result is an approach shaped to inspire positive rebellion in the beauty and personal care industry.
Related: Bio-based 1,2-Alkanediol Blends Extend Inolex's Patent Portfolio
With its teal wordmark and compact logo of a singular X, the Inolex logo has been designed as a recognizable graphic element that expresses the company's fluidity between science and nature.
Lisa Gandolfi, Ph.D., vice president, marketing, commented: "We've had the essence of our identity, this kind of rebellious spirit, in our products and our approach for decades. Through our work with the Pentagram team, we were able to distill who we are and what we offer to the industry into an elegant and artistic visual design and imagery that transcends all that we do."
She added the company crafts sustainable ingredients for healthy beauty and wellness using science, imagination and purposeful design backed by beliefs. Ingredient design is led with science and honors nature while focusing on innovation and the future.
Inolex is being intentional not to define beauty with imagery of people. Instead, it depicts beauty using Pentagram's visual language developed with expressive, translucent natural imagery and abstract textures to "evoke curiosity and create a feeling of freshness with calm breathing space."
Pentagram's Michael Gericke led the team responsible for developing Inolex's new brand identity. "Inolex's leadership truly cares about people and our environment. They challenged and encouraged us to be bold — even rebellious," Gericke said. "We expressed their passion for innovation as a positive force and disruptor in an industry on the threshold of extraordinary change."
In addition, while sustainability is, indeed, top of mind throughout the beauty care industry, it is central at Inolex. According to David Plimpton, CEO, "Sustainable ingredient design, leading with science and honoring nature, is our core capability as a company." He added the company challenges itself to think differently to invent the future of ingredient platforms — and that its people and products exist to serve the greater good.