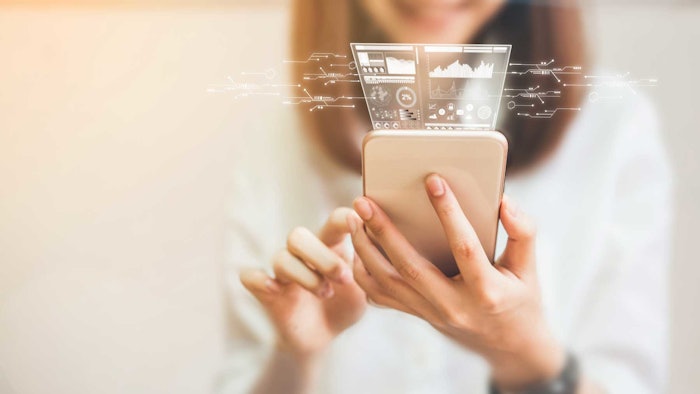 >>> EVENT ALERT: During Beauty Accelerate 2022, experts from The Estée Lauder Cos., BeautyStat, GOOP and Belcorp will explore how technology advances consumer engagement and R&D innovation. Join us Sept. 28 and 29, 2022, in NYC. Register now for the best rates.<<<
Coming off of its CES Innovation Awards in both 2021 and 2022, AmorePacific has taken beauty "high tech" this year with collaborations to develop a sensor to measure skin touch, an approach to dynamically visualize UV dose and more recently, and a wireless electronic skin to monitor biometrics and UV exposure. These advances could benefit skin care and beauty product development.
Chip-free and Wireless Biometric Monitoring
Recently, AmorePacific funded work by a cohort of researchers, primarily from the Massachusetts Institute of Technology (MIT), who developed a chip-free electronic skin capable of sensing biological signals related to pulse, sweat and UV exposure. The work was published in Science.
According to an MIT report, wearable sensors are ubiquitous thanks to wireless technology and enable a person's glucose levels, blood pressure, heart rate, activity, etc., to be transmitted to smartphones for analysis. These sensors run off of conventional chips and power sources but next-gen iterations are taking on smaller, thinner, more flexible forms—such as that described here. 
At the heart of the new sensor design is an "ultrathin, high-quality film of gallium nitride," which has piezoelectric properties: it can produce electrical signals in response to mechanical strain, or vibrate in response to electrical impulses. The researchers showed it could vibrate in response to a person's heartbeat or salt in their sweat, and it could be read by a nearby receiver, which suggests it could monitor biological signals.
"If there is any change in the pulse, or chemicals in sweat, or even UV exposure to skin, all of this activity can change the pattern of surface acoustic waves on the gallium nitride film," notes Yeongin Kim, a principal investigator on the study from MIT. "And the sensitivity of our film is so high that it can detect these changes."
Skin Sensation Sensor
In related work, in January 2022, AmorePacific announced the development of the "world's first" touch sensor to measure skin sensation. The research, published in the journal ACS Nano, describes "flexible pyroresistive graphene composites" to artificially differentiate materials and solvent types using thermosensation. 
As the company explained, the intelligent sensor takes measurements and uses machine learning to recognize the levels of coolness and moisture felt by the human skin, as well as types of solvents. It converts measurements into digital values, and this information can support the development of cosmetic products with optimal feel characteristics. The work was  achieved in collaboration with Ulsan National Institute of Science and Technology (UNIST).
Park Young-ho, CTO of AmorePacific's R&I Center, said, "the sensor can accurately compare and measure the level of coolness or warmth delivered by cosmetic products and therefore, provide objective results."
Dynamic UV Dose, Visualized
Finally, as previously reported, researchers from AmorePacific and Hanyang University, Seoul, developed an approach to dynamically visualize UV dose on sun-protected skin. They reported that UV dose is determined by several external factors including properties of sunscreens, weather, type of outdoor activity, etc., and therefore devised a framework to dynamically visualize UV dose based on these factors.
A 3D model of human skin was created using triangular meshes, which were positioned in static postures to emulate outdoor activities. The angle of the sun in relation to points on the "skin" was then tracked to the time-dependent properties of sunscreen and color-mapped using software to indicate states before 1 MED is reached. This work was published in Skin Research & Technology.