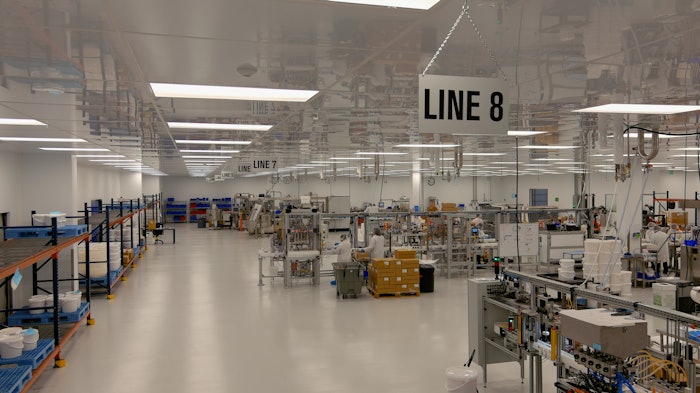 Capsum hosted a grand opening event for its first fully sustainable, LEED silver-certified cosmetics manufacturing site in Austin, Texas. The 126,000-sq.ft. factory will expand the company's U.S. market presence and limit its carbon footprint from overseas transport.
The facility uses solar energy from 3,570 solar panels and low-energy LED lighting to reduce the company's energy consumption to an annual production equivalent to 2GWh—the consumption of 200 U.S. households, according to the company. Located in close proximity to the airport, the site also aims to limit carbon dioxide emissions caused by transport.
Related: BASF and Vattenfall Partner on Hollandse Kust West Wind Farm Site
The site additionally offers a 360-degree approach to water management through an untouched, naturally salted water source; ecological water ponds to filter and recycle rainwater; and the use of reclaimed water from the city of Austin to for irrigation.
Capsum's grand opening event further underscored the company's farm-to-face approach to raw materials including growing and extracting active ingredients on site in a controlled, pesticide-free environment using indoor precision farming. Additionally, the event featured a microfluidic pop-up lab, a beauty station to test prospective textures, and a refill station for loose products to emulate the consumer in-store experience toward reducing packaging waste.
See archived: [video] Capsum Unveils Microfluidic Concept Formulas
During the event, a panel discussion highlighted the science of microfluidics as this process is key the to company's custom drop-by-drop, "polysensory" product design. Also discussed was the future of sustainability in beauty—from plants to consumer experience and packaging end of life, to what an anti-aging cream will look like in 10 years.
Panelists included Sébastien Bardon, Capsum founder and CEO; Caroline Hadfield, president of Rose Inc.; Janna Ronert, founder and CEO of Image Skincare; Iva Teixeira, founder and CEO of The Good Face Project;  and Ami Rubinstein, deputy CEO of Sulapac. Following the panel discussion, attendees were invited to a celebratory cocktail party.