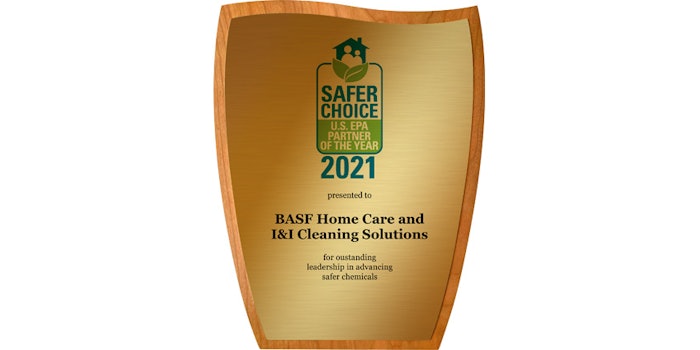 BASF
The U.S. Environmental Protection Agency (EPA) has named BASF a 2021 Safer Choice Partner of the Year Award winner for the fifth time and the third consecutive year.
Related: Clean Production Action Creates 6 Principles for Chemical Ingredient Disclosure
BASF is among this year's 33 Safer Choice Partner of the Year award winners and was honored for achievement in the design and manufacture of products with safer chemicals.
The Safer Choice program helps consumers and purchasers for facilities such as schools and office buildings find products that perform and are safer for human health and the environment.
BASF added 13 ingredients and renewed an additional 25 ingredients on CleanGredients, a database of chemical ingredients pre-approved for use in Safer Choice-certified products.
To qualify for the Safer Choice label, a product must meet EPA's Safer Choice Standard, which includes stringent human and environmental health criteria. An ingredient qualifies only after it has been reviewed and approved by the Safer Choice program.
EPA's Safer Chemical Ingredients List (SCIL) and CleanGredients are resources that can be used to help formulators make products that meet EPA's Safer Choice criteria.
BASF's portfolio of ingredients that meet Safer Choice criteria includes chelating agents, processing aids and additives, surfactants, polymers, plasticizers and solvents that are used across applications for home care as well as industrial and institutional cleaning solutions.
"Post-pandemic, sustainability has returned as a major focus for consumers at an even greater level than before," said Marcelo Lu, senior vice president of BASF Care Chemicals and BASF North America. "The focus now is on sustainable performance and the Safer Choice standards symbolize the type of products brands and suppliers wish to develop. At BASF we are proud to have a growing portfolio of ingredients that are listed on CleanGredients and the EPA Safer Chemical Ingredients List. These ingredients are effective and offer a strong biodegradability and sustainability profile."