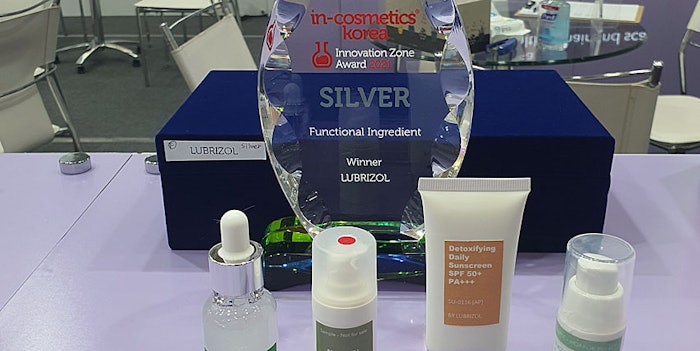 Lubrizol Life Science–Beauty
Lubrizol Life Science–Beauty's (LLS Beauty) Kelco-Care (INCI: Sphingomonas Ferment Extract) diutan gum won the silver medal Innovation Zone Award at the in-cosmetics trade show that was held in July in Seoul.
Previously: Lubrizol Uncovers Additional Benefits for Kelco-Care Diutan Gum
Kelco-Care diutan gum won in the category of Functional Ingredients at the show due to its reportedly high efficacy in covering a wider pH range at low use levels.
The biogum active is a rheology modifier and reportedly provides high levels of formulation stability at high temperatures. The ingredient is a water-soluble biopolymer produced by fermentation, designed specifically for use in skin care, sun care and color cosmetics formulations.
Additionally, the ingredient has a moisturizing effect that can last all day, as well as strong pigment suspension capabilities, which can be useful for natural-derived makeup. It also is compatible with high levels of alcohol and polyols, and is readily biodegradable.
In addition, Kelco-Care diutan gum is ideal for hair conditioners, hair treatments and hair color. According to the company, the ingredient has thickening and suspending capabilities that can impart protection and repair benefits to hair fibers, even at low use levels and when boosted with added salt. Its film-forming capabilities also provide conditioning benefits that offer a nice, silky sensory experience to the hair while reducing drag or stickiness.
"We're delighted that the industry has recognized the innovative qualities of Kelco-Care diutan gum," said Maxime Fougere, global marketing manager at LLS Beauty. "Our commitment to R&D and to bringing the best formulations and ingredients to our customers is what drives us."