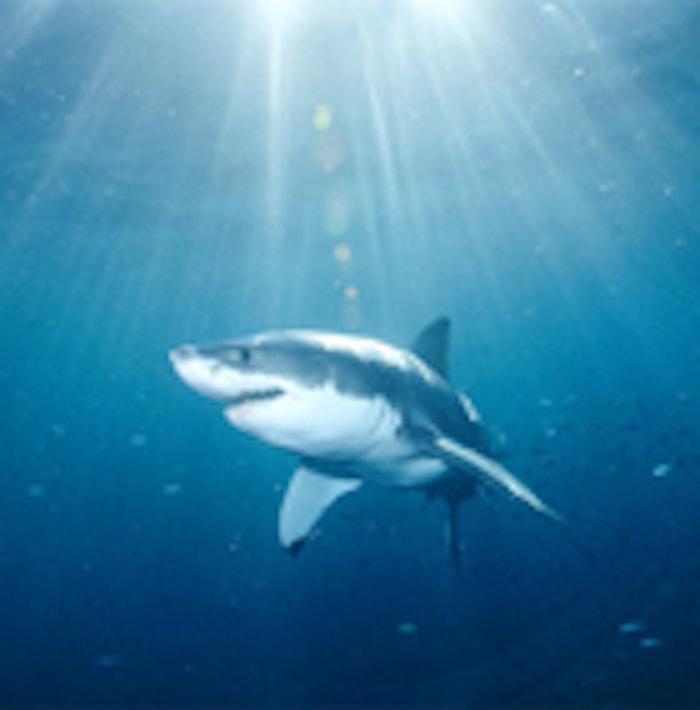 Unilever has announced that it will remove shark squalene from its cosmetic brands including Pond's and Dove. According to the company,  the new production that using plant-based squalene will begin early this year, and new formulations are expected to appear on consumer shelves as early as April 2008.
"Many of the world's shark populations are collapsing, and the use of shark products for commercial purposes is the greatest threat to their survival," said Elizabeth Griffin, marine wildlife scientist at Oceana.
Squalene is widely used in cosmetics as a  natural, oil-free moisturizer and can be found in products ranging from antiaging cream to lip gloss. Squalene is an organic compound found in the livers of sharks, and is in especially high concentrations in the livers of deep-sea sharks, or those living in ocean depths of 300 to 1500 meters. Deep-sea sharks are at such a great risk of overfishing that scientists have concluded they should not be caught at all. But alternatives do exist as squalene is available in a number of botanical sources, including rice bran, wheat germ, amaranth seeds and olives.
Oceana, an international ocean conservation group based in Washington, D.C., was made aware of the use of shark products in cosmetics when it discovered that a company called "Oceana" was selling shark squalene as a skin enhancer. Since that time, Oceana has become engaged in a campaign to end the use of shark squalene in cosmetics. And earlier this month, Oceana was pleased to report that The Vermont Country Store, a large supplier of "Oceana" shark squalene, had removed the product from their shelves.
"I doubt most people who use cosmetic products would do so if they knew they were supporting the death of countless sharks and causing harm to the oceans," said Griffin. "The cosmetics industry has a responsibility to educate consumers about what they are putting on their faces."
With the decision to end using shark-based squalene, Unilever has joined other leading cosmetic companies in the switch to sustainable plant-based sources. Like Unilever, L'Oreal is currently completing the phase-out of production with shark-based squalene and its substitution with the plant-based ingredient. Beiersdorf, LVMH, Henkel, Boots, Clarins, Sisley and La Mer, an Estée Lauder brand, also have either made the decision to stop using shark-based squalene or had a policy to never use it in the first place, according to information the European headquarters of these companies provided to Oceana.