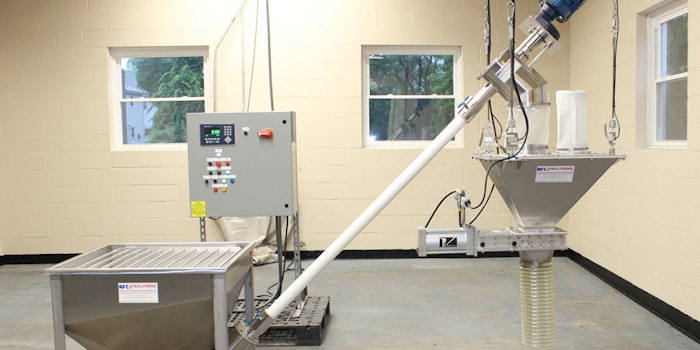 Automated Flexible Conveyor (AFC)
Automated Flexible Conveyor's (AFC) Batch-Weigh System is designed to automatically transfer, weigh and dispense precise amounts of powders, pellets, flakes and other bulk materials into mixers, hoppers, tanks, vessels and containers. 
Related: XPR Automatic Balance Improves Dosing Accuracy, Productivity and Safety
The AFC Batch-Weigh System is an integrated weighing system that can weigh single or multiple ingredients from various production equipment locations to a single batching vessel. Advanced weighing technology along with integrated process controls are combined to enhance the versatility and scalability of process weighing requirements.
The Batch-Weigh consists of a receiving hopper with a hopper slide gate to contain the batch quantity, load cells and control panel. The controls incorporate electronic technology in AC inverter drives and programmable logic controllers (PLCs). Settings and adjustments are made at the push of a button on the front-mounted keypad through a menu-oriented LCD display. The system may be custom-configured to suit any operating environment, including explosion hazard areas.
An integrated weigh controller with multi-speed outputs is wired to a variable frequency drive for complete control over bulk material weighing. An operator selects a recipe, initializes the batch start sequence and the controller takes over. 
One material at a time will be weighed to its predetermined set point, then the controller will index to the next material, and so on, until the last ingredient is weighed. Upon completion of the weighing cycle, the weigh controller initiates the dump sequence. This will actuate a valve and allow the contents of the scale to be emptied and the valve closed, completing the batching operation.
Other features of the batch-weigh system include a full numeric keypad for digital tare and data entry; large backlit graphical display; user-programmable soft keys; addition of a single or multiple materials using 2-speed weigh-in procedure; and simplified material setup.
Previously: Eppendorf Enables Socially Distanced Formulating with VisioNize Lab Suite