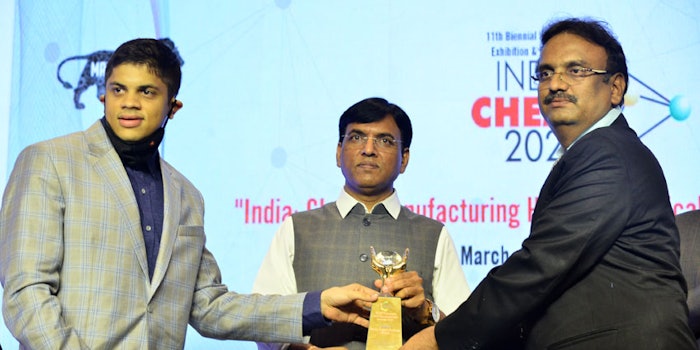 Kumar Organic Products Ltd. was named Manufacturing Process Innovator of the Year 2021 by the FICCI Chemicals and Petrochemicals Awards jury for the biocatalytic production of its Kopester IDO (Isodecyl Oleate) ingredient—an ester naturally derived from oleic acid obtained from palm oil and isodecyl alcohol.
Vinay Kumar Singh, head of formulation for the company, explained, "The innovation substantiates the integration of biocatalysis into the chemical process of esterification of the fatty alcohol (isodecyl alcohol) and the fatty acid (oleic acid) into an ester: isodecyl oleate. This significantly improved the process economy by [reducing] time, effort and solvent-intensive steps, directing the process toward green and sustainable chemistry."
He added, "The enzyme lipase immobilized on a non-compressible resin carrier was used as the biocatalyst. The process is carried out at 50°C temperature, achieving 95% conversion. The immobilized enzymes used at a level of 1% were successfully recycled ten times, contributing to the cost effectiveness."
Eco-friendly and Economical
Singh noted the uniqueness of this patent-pending innovation is that it has converted a chemical process into a biotransformation process at half of the process temperature without any solvent, cost effectively. "As the biocatalysts are immobilized, they are easily filtered, washed and reused for the next batch," he wrote.
According to the company, there is increasing pressure from both society and governments for chemistry-based industries to become more sustainable through the development of eco-friendly products and processes that both reduce waste and prevent toxic substances from entering the environment. The present innovation aimed to address the redesign of a chemical process in order to eliminate hazardous chemicals and flammable solvents, giving way to a greener cleaner and cost effective process for the emollient esters.
Isodecyl Oleates in Skin, Hair and Makeup Formulation
lsodecyl oleates have been widely used in cosmetic and personal care products, Singh reports. In skin care products, they offer attributes such as a non-oily feel, skin conditioning effects, good spreadability, fast absorbence, lightweight emollience and shine. For hair care, benefits include shine, anti-frizz and a non-oily feel. In both case, the materials are said to offer good lubrication properties and possess low viscosity.
The ingredients also are used as dispersants and lubricants in cosmetic formulations. They reportedly are important in makeup and makeup removers, where they are used as wetting agents for iron oxide pigments to disperse and suspend them.
"By virtue of its branched chain structure, isodecyl oleate possesses several distinct properties," Singh adds. "It has the ability to lower the freezing point of the emulsion phase of products, as well as control product viscosity. In dispersible bath oils, it forms a white emulsion, giving the tub water a rich and milky appearance."
He notes it also has the ability to suspend aluminum chlorohydrate, which makes it valuable for dry antiperspirant formulations. Finally, lipstick formulations have employed isodecyl oleate thanks to its coupling properties, which increases the hardness and strength of the product without reducing its flow characteristics.