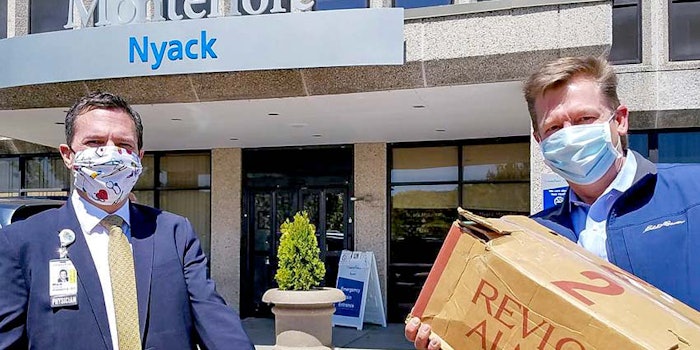 Beauty giant Revlon and ingredient expert Symrise have partnered to produce and donate six tons of hand sanitizer to local hospitals, to aid in the fight against COVID-19.
Seeking ways to support communities in this pandemic, Symrise re-engineered its manufacturing lines to produce a new U.S. Food and Drug Administration (FDA) compliant formula. Revlon then leveraged existing packaging to bring the product to hospitals and front line medical workers as quickly as possible.
This project forms part of the Symrise approach to help the current situation, together with its partners. The joint approach with Revlon proves how joining forces can help ease the situation.
Both companies are working with local governments to support those most in need near Revlon's Oxford, NC facility as well as Symrise's Teterboro, NJ facility. Products were distributed to hospitals, front line county workers, police and fire departments, and EMS personnel through North Carolina's Healthcare Preparedness Coalition and The Chief Officer of Bergen County's Executive Branch.
"As the world faces the continued impact of COVID-19, Revlon is proud to have collaborated with our long-time partner Symrise in the production of hand sanitizer to support our local communities. To all the health care heroes around the world, thank you, from Revlon," said Debra Perelman, president and CEO of Revlon.
"The health, well-being and safety of our Symrise associates, external partners as well as those in the local communities we serve are the most important priorities for Symrise during these challenging times," said Achim Daub, global president scent and care, management board, Symrise AG. "The entire management board of Symrise expresses their sincere gratitude and heartfelt appreciation to all the health care and front line workers who put their lives on the line every day in caring for our safety and well-being, now and during other times." 
Andreas Steiner, senior VP consumer fragrances, Symrise North America, added, "We feel obliged to help our local communities wherever we can. Our ingredient know-how helps us to produce hygienic hand sanitizer for local health support in New York and New Jersey, among many others around the globe. We would like to thank our long-standing partner Revlon for this important and highly rewarding collaboration during such challenging times."
For more information, contact Symrise.