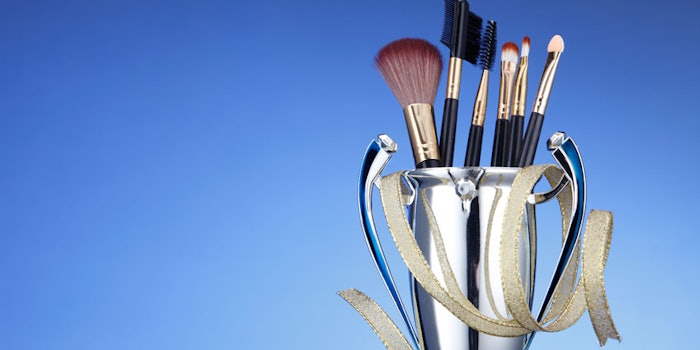 The three latest advances for graying hair, enhanced mood and facial sculpting effects from Givaudan Active Beauty left in-cosmetics Global 2019 with some shiny new hardware.
Darkenyl (INCI: Not Available), a molecule that targets gray hair and reactivates the pigmentation process in the follicle, took home the bronze for "Best Active Ingredient" in the in-cosmetics' Innovation Zone Best Ingredient category;
The Sensityl (INCI: Not Provided) cosmetic active was awarded second place for "Most Innovative Raw Material, Natural Products" during the BSB Innovation Awards; and
Agefinity (INCI: Not Provided), a mannose-6-phosphate complex, won the first place BSB Innovation Award in the category of "Cosmetics/Ingredients/Actives/Anti-Aging." The ingredient is designed to rejuvenate the "Y-zone," i.e., face and neck area, using natural ingredients and biotechnology to energize and reshape skin cells.
"We managed to push the barriers of creation to develop active ingredients that are both innovative and deliver new benefits for consumers," said Romain Reynaud, Givaudan R&D director. "[These] awarded actives reflect the scientific performance of Givaudan Active Beauty experts who are passionate and dedicated at crafting inspirational products for our customers."
The Innovation Zone Best Ingredient and BSB Innovation awards were held during in-cosmetics Global Paris, April 2-4, 2019.