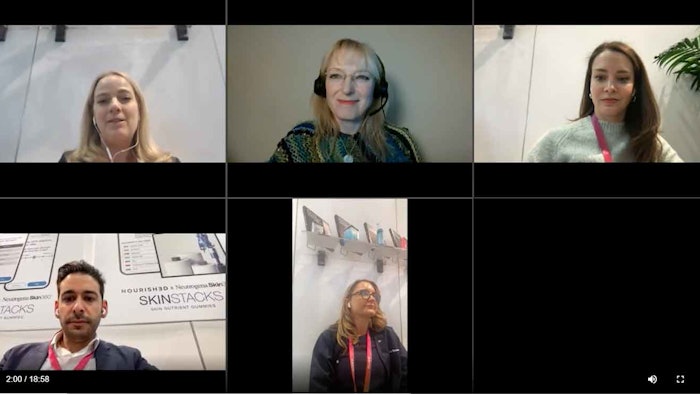 3D printed, personalized skin care supplements, developed by Nourished in collaboration with Johnson & Johnson's (J&J's) Neutrogena Skin360 brand, debuted at the Consumer Electronics Show (CES), held Jan. 5-8, 2023, in Las Vegas. Branded as SkinStacks and featuring seven select key ingredients, the gummies are printed on demand after a digital "selfie" skin assessment and designed to holistically support the user's skin goals.
See related: [video] Un'masking' an Essential Next-Gen Nutricosmetic Technology
Cosmetics & Toiletries caught up with team members at CES; here they share insights on consumers, skin parameters, 3D printing, SkinStacks ingredients and product development, and more. Participants included: Desiree Dowe, marketing director of future skin health, J&J; Paul LaTerra, director of the Dermocosmetics and Health Accelerator, J&J; Melissa Snover, CEO and founder, Nourished; and Logan McGill, global marketing director for Neutrogena, Clean & Clear and skin tech, J&J.
See related: L'Oréal's HAPTA & Brow Magic Bring Accessible, Personalized Makeup Tech to CES 2023
Watch now to learn more or read the complete interview in our February 2023 issue.