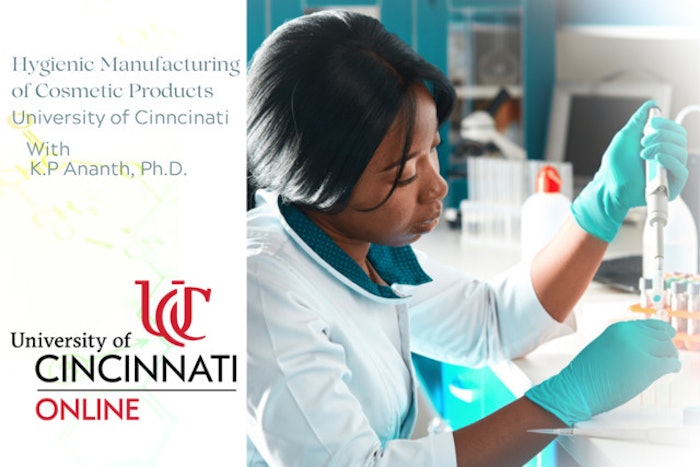 This podcast is sponsored by:
University of Cincinnati
Cosmetic education falls under a vast number of topics, yet it has a limited number of courses across the United States. The industry continues to march further toward naturals and preservatives, presenting a need for further learning.
With the support of the Personal Care Products Council (PCPC), the University of Cincinnati (UoC) has developed a new graduate program: Hygienic Manufacturing of Cosmetic Products. In this sponsored podcast, K.P. Ananth (Ananthapadmanabhan), Ph.D., director of the cosmetic science program, shares with Peter Smedley, assistant editor of Cosmetics & Toiletries, its development.
Ananth also explains how the PCPC is connected and supports his future students: "One advantage of our specific cosmetic science program is that the students can hit the ground running when they want because they'll have exposure to all aspects of cosmetic science." 
See Latest —13 Trending Ingredients in Skin: Restorative Solutions are the Future
In addition, Ananth dives into the unique opportunities offered by the UoC, with an expansive selection of coursework and programs for anyone interested in cosmetics to further their education. He divulges that this program will give students more hands-on experience, and that the university is continuing to look at industry needs to work closely with key organizations like the Society of Cosmetic Chemists and the PCPC.
The UoC offers several practical courses for cosmetic formulation, as this podcast explains. Listen now to learn more.