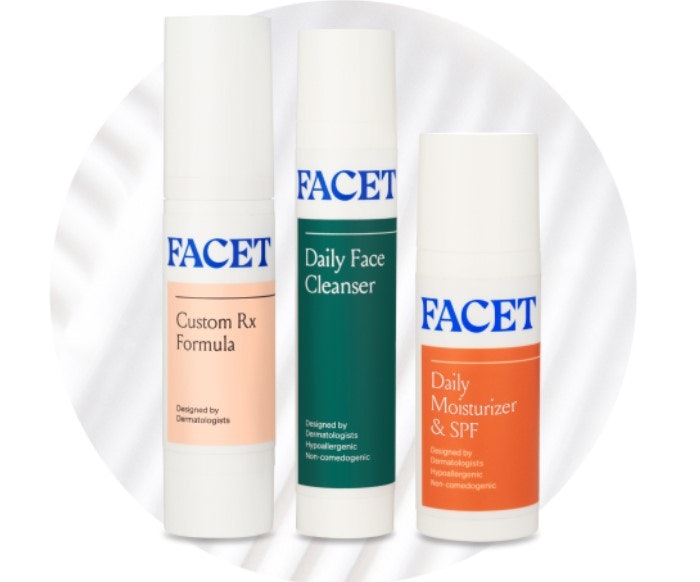 Thirty Madison has announced the launch of Facet, a clinical skin health platform which offers more than 50 clinically backed prescription and non-prescription options and care plans designed by board-certified dermatologists.
Previously: P&G Reintroduces Bodewell Formulas for Eczema and Psoriasis
Facet will treat eczema, psoriasis, acne, rosacea, dandruff, melasma and anti-aging. Treatments include prescription topicals, custom prescription formulas, prescription orals and biologics and/or non-prescription options. 
Thirty Madison closed its merger with Nurx in March 2022, forming the largest virtual care company, per an official announcement.
Rajani Rao, general manager for Facet, said, "Conditions like eczema, psoriasis, and rosacea often go untreated—and even for those who do receive a diagnosis, people still feel like it's a battle to manage these conditions long-term. You're left to figure it out on your own. Patients deserve an empathetic, thoughtful approach led by medical experts who can offer them the holistic care plans they need to feel confident again. We've built that experience with Facet, and made it accessible, personalized and genuinely supportive."
Facet medical director Peter Young, MD, board-certified dermatologist, said, "With Facet, Thirty Madison will fundamentally shift how we approach skin health by actually looking through a medical lens to solve medical skin concerns, versus focusing on what often feels like these unachievable beauty standards. People need medical solutions to properly treat their skin—it's the body's largest organ. For patients with conditions like psoriasis or eczema, every product they use plays an important role in managing their condition—from their daily face wash and moisturizer to an oral treatment or an injectable—and finding the right mix of treatments is critical to achieving healthy skin."