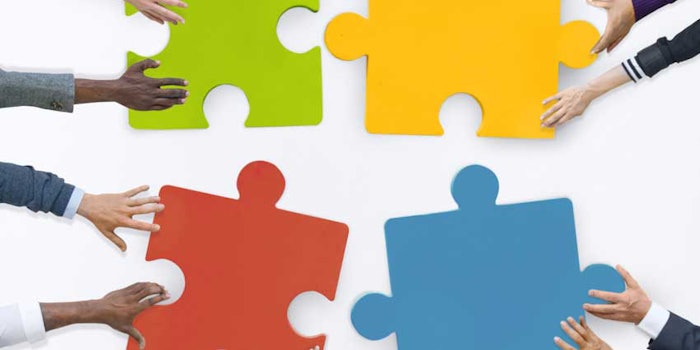 Throughout 2017, Cosmetics & Toiletries will feature an all-new "Supplier Roundtable" series to discuss solutions to formulating issues. This month, suppliers known for their sun protection expertise were challenged with: How to formulate a non-whitening, high-SPF product. Following are their responses.
Abhijit Bidaye, Applications Team Leader for Skin Care, Croda
Most UV formulations include combinations of organic and inorganic UV filters. Organic sunscreens are photolabile, which means their UV protection decreases over time, whereas inorganic sunscreens are photo-stable. The photostabilization of organic filters can be achieved by adding filters like octocrylene or inorganic sunscreens like titanium dioxide. Combining organic filters with inorganic filters is a highly efficient formulation strategy.
Pre-blended dispersions like Croda's Solaveil Clarus are perfect for formulators looking to provide high-SPF, non-whitening sun protection. This is because the particle sizes of titanium dioxide and zinc oxide used in the dispersions are optimized for UVA and UVB attenuation, so broad-spectrum coverage is possible with minimal skin whitening. These dispersions impart significant sensory properties to the formulation.
To achieve high efficacy of sunscreen actives, sunscreens need to be evenly distributed on uneven skin surfaces in the form of a coherent film to evenly distribute sunscreens. Using film-formers like SolPerform 100 is beneficial for this purpose.
A high SPF can be achieved by controlling rheology parameters such as high shear viscosity, recovery time and thixotropy. The sensory appeal of the formulation can be modified by a choice of the appropriate emollients.
For more information on Creating non-whitening formulations with inorganic sunscreens, click here to watch how Croda experts formulate.
Jochen Klock, Ph.D., Head of Global Marketing for Sun Care, Personal Care, DSM Nutritional Products Ltd.
The U.S. allows a defined set of UV filters, and the most useful materials are available under our PARSOL brand. We keep a couple of compositional recommendations available to our customers, as far as how to reach a high SPF and what amount of filters is best to combine.
The challenge to create a high SPF product does not lie so much in the combination of UV filters alone anymore, but rather in the choice of a synergistically supporting formulation basis. And the DSM opinion can sway in two directions:
A better distribution of the UV filters on human skin to reach a maximum protection level (better SPFs); and
Even more important, a texture that animates the consumer to use the product more often and apply the product in sufficient amount.
We talked with consumers to understand their needs regarding sun protection, product application and have built on several years' competence to quantify the sensory properties of all our prototype sunscreen recommendations, optimizing and matching them best to consumers requirements.
We also looked at technology to "de-grease" sunscreen formulas, to make them become "dry touch" and found it necessary to create our own sensory modifiers: the VALVANCE product line. With only a low concentration of these specifically shaped spheres, they drive almost every sunscreen formula toward fast absorption, they dry tough, and are less sticky with a more matte finish.
AMPHISOL (INCI: Potassium Cetyl Phosphate) technology, the gold standard under emulsifiers, allows us to build lotions with any viscosity, even emulsion sprays with high stability and water-resistance. Typically you will get spreadability of the sunscreen and even a slight SPF boost with AMPHISOL. Lotions generally show an initial "whitening" effect due to water droplets, and this can help the consumer control complete coverage during the first seconds of spreading the product. Immediately afterward, the AMPHISOL formulas optically disappear and leave a non-tacky, high protective film on skin.
For further information, please refer to the DSM website.
Jean Zhang, Personal Care Formulation Manager, Beauty & Personal Care, The Hallstar Company
In today's marketplace, high SPF means SPF 50 or higher, so maintaining as much of your UV filters' attenuation as possible is more important than ever.  In our experience, achieving non-whitening high SPF systems built on only organic UV filters is not that difficult when: a) applied to dry skin*; b) built on a foundation of photostable UV filters; c) judiciously incorporating photolabile UV filters, through the use of photostabilizers of the type and in a quantity sufficient to stabilize them; and d) fully solubilizing the UV filters.
Formulation examples:
Focusing on inorganic only and mixed inorganic/organic systems, titanium dioxide is more whitening than zinc oxide, but it does provide a higher UVB contribution toward achieving high SPF. So, it is critical to control: a) its particle size and distribution, to maximize UV attenuation while minimizing optical whitening; b) its surface treatment, to aid and enhance particle dispersion; and c) its dispersant and carrier system, to inhibit particle agglomeration and aggregation, and to impart good compatibility in both W/O (W/S) and O/W systems. 
Zinc oxide may be used with titanium dioxide to achieve higher SPF. It may be added as a powder or as a dispersion. When added as a powder, the titanium dioxide dispersion should be first diluted with sufficient low-viscosity oil as a carrier, to better disperse the zinc oxide for reduced whitening effects and to impart better skin feel.
Formulation examples:
Future Supplier Roundtable Discussions
If you are a supplier and interested in participating in a future Roundtable discussion, contact Jennifer Novoseletsky at jnovoseletsky@allured.com for more information.
Keep an eye out for the next Supplier Roundtable in March 2017, on: Formulating makeup with even, natural coverage that feels light and breathable.