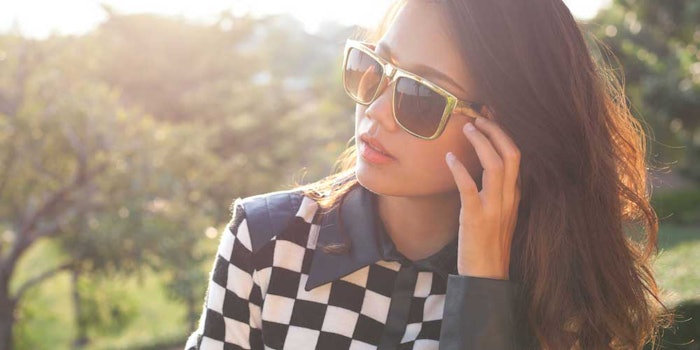 The need for full-spectrum protection in sun care products has long been a focus in the personal care industry—in fact, the global sun care market was valued at $9.8 billion in 2017, according to Euromonitor. However, with the increased use of technology such smart phones, the use for this protection has extended beyond the sun's rays—and now demonstrates the potential to protect against blue and other visible light damage.
For the April installment of the Cosmetics & Toiletries' Supplier Roundtable, which discusses formulating issues on a monthly basis, experts were challenged: How can formulators incorporate full-spectrum protection into their products? Following are the responses.
Robert Hu, Vice President, ASPAC, EMEA and Global Research & Development, Hallstar
To ensure that sun protection remains reliably effective, Hallstar focuses on proactive photostabilization, where scientifically designed stabilizers enable existing ingredients, such as UV filters and cosmetic actives (vitamin A, resveratrol and other light sensitive species), as well as endogenous chromophores in human skin.
For example, avobenzone is the only globally-approved chemical UVA1 filter, providing broad-spectrum protection against UVA irradiation. However, it is known to rapidly convert from the effective enol form to the short-absorbing and photoreactive keto form upon exposure to UV irradiation, so it is not photostable—leading to sun protection that is not very long lasting.
Hallstar's SolaStay S1 (INCI: Ethylhexyl Methoxycrylene) and AvoBrite (INCI: Acrylates Copolymer) are potent stabilizers for avobenzone, enabling robust, effective and globally approved solutions to UVA protection, while preserving themselves via an efficient internal conversion relaxation mechanism. This reduces the use level of UV filters, leaving a lot of formulation room for aesthetic engineering.
The unique characteristics of another photostabilizer, HallBrite BHB (INCI: Butyloctyl Salicylate), has allowed Hallstar to produce the highest performing, aesthetically pleasant TiO2 dispersion, HallBrite EZ Flo TDX (INCI: Butyloctyl Salicylate (and) Titanium Dioxide (nano) [Titanium Dioxide] (40%) (and) Triceteareth-4 Phosphate (and) Dimethicone Crosspolymer (and) Silica).
Global consumers are also increasingly concerned with high energy visible sun rays such as those in the blue region. Traditional sunscreen products cannot protect against visible light energy because species-blocking visible light will become visible to human eyes. Personal care products containing them will become colored. Another common industry approach is antioxidating. Antioxidants fight the consequences of sun exposure through a self-sacrificing mechanism. Therefore, their effects are neither complete nor long-lasting.
Hallstar invented a new approach to totally eliminate all sun light-generated oxidative stress by stabilizing the endogenous chromophores in human skin. The Micah (INCI: Not Availble) family of products resolves the excited state energy of sun irradiated endogenous chromophores in human skin, eliminating the harmful impact from the sun at its source.
Laure-Anne Gillon, Business Development Manager - Beauty Care Actives, SEPPIC
Even if sun benefits the body, too much exposure leads to skin damage (sunburn, dark spots, premature aging, etc.).
A combination of organic and mineral sunscreens is the best way to avoid all sun rays that penetrate the skin but these can be challenging to formulate with.
In this aspect, SEPPIC and Stéarinerie Dubois offer specific solutions:
DUB Helioptima (INCI: Diisopropyl Adipate (and) Propylene Glycol Dicaprylate/Dicaprate (and) C12-15 Alkyl Benzoate (and) Diisopropyl Sebacate): An ester with a rich but non-sticky feel, for organic sunscreen solubilization;
DUB SSIC (INCI: Isocetyl Stearoyl Stearate) and Emogreen L15 (INCI: C15-19 Alkane) combination: Emollients for inorganic sunscreen dispersions with a pleasant skin feel;
Montanov 82 (INCI: Cetearyl Alcohol (and) Coco-Glucoside) or Sensanov WR (INCI: C20-22 Alkyl Phosphate (and) C20-22 Alcohols): O/W sun care emulsifiers for improved sunscreen solubilization and dispersion; and
Sepimax Zen (INCI: Poyacrylate Crosspolmer-6): Effective polymer for inorganic sunscreen suspensions even in sprayable formulas.
But what happens to the skin when sun rays still penetrate it?
UVA/UVB light are involved in immediate effects like sunburn, sun spots and deeper alterations (DNA alterations, autophagic activation, etc.). Antileukine 6 (INCI: Caprylic/Capric Triglyceride (and) Laminaria Ochroleuca Extract), which is extracted from the golden seaweed Laminaria Ochroleuca, reduces the overall inflammatory amplification and sunburn due to UV rays, and protects the skin matrix and DNA against UV damage, reducing skin aging.
Blue light, in excess, found in visible light, screens and LED lights, accelerates the oxidation process and induces ROS formation. Sakadikium (INCI: Glycerin (and) Water (aqua) (and) Hedychium Coronarium Root Extract), extracted from butterfly ginger, regulates the fibroblast autophagic activity under blue light, and protects the lysosomes and the mitochondria under UVA for a visible brightness and complexion improvement.
Penetrating even deeper in the skin, infrared (IR) alters DNA, like UV,  but it also affects its repairing mechanism. It brings heat to the skin, leading to inflammatory reactions, MMP synthesis and alterations in dermal structural proteins.
Phycocorail (INCI: Lithothamnion Calcareum Extract (and) Mannitol (and) Diatomaceous Earth (and) Zinc Sulfate), our porous calcified algae extract, absorbs IR and creates a thermic shield that prevents heat penetration into the skin. Keratinocytes, Langerhans cells, DNA and lipid membranes are thus protected under UVB, visible radiations and IR.
Future Roundtables
To participate in a future Supplier Roundtable, contact Cosmetics & Toiletries Assistant Editor Brooke Schleehauf at [email protected]. Upcoming topics will cover:
Acne Care Solutions (May)
Formulating Softness and Shine in Hair (June)
How to Go Green and Remain in the Black—Case Studies (July)
Proxy Formulating: Using Alternative Ingredients (September)
Formulating Multifunctional Products (October)