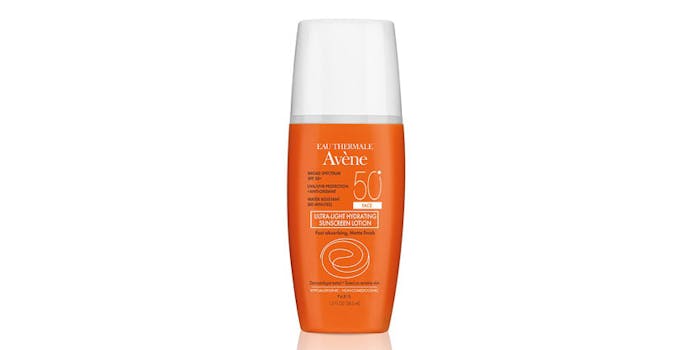 Editor's note: This month, we welcome back our regular "Read the Label" contribution from Susan Raffy, of Susan Raffy Consulting. Each month, Raffy will review the marketing claims and ingredient listings of chosen products to provide insight on product formulas.
This month's column will discuss the Avène Ultra-light Hydrating Sunscreen Lotion, SPF 50+, for Face.
The Avène Dermatological Hydrotherapy Center in France has managed sensitive skin for more than two centuries. Based on the soothing properties of Avène Thermal Spring Water, proven effective by numerous scientific studies, Avène Dermatological Laboratories created a complete line of dermocosmetic products dedicated to sensitive skin.
The Avène Ultra-light Hydrating Sunscreen Lotion claims to be an innovative sunscreen with a "unique UVA/UVB filter system." This column will review the ingredient listing for functionality and claims substantiation.
This lotion is an oil-in-water emulsion with sorbitan isostearate, polyglyceryl-3 distearate, lecithin, steareth-2 and steareth-100 as emulsifiers and co-emulsifiers. The arachidyl alcohol, behenyl alcohol and arachidyl glucoside are a mixture of o/w emulsifiers that produce white, light texture, matte creams and lotions with long-lasting moisturizing effects.
The lightweight, dry and silky esters/emollients are isononyl isononanoate, isohexadecane and dicapryl carbonate. Dimethicone is also an emollient and helps prevent "soaping" of the lotion when rubbed on the skin. The emulsion is stabilized with xanthan gum and mannan. The humectants glycerin and sorbitol also help to support the hydrating claim.
Styrene/acrylates copolymer is the film-forming polymer that provides water resistance. Polyester-8 enhances this water resistance and provides moisturizing capabilities. Polyester-7 and neopentyl glycol diheptanoate are components in a synergistic combination of a high molecular weight, water-resistant polymer with a light, dry emollient.
Ethylhexyl methoxycrylene is a photo-stabilizer and solvent for organic sunscreens. Silica is a porous material that absorbs oils in the formula and on the skin to help maintain a "matte" finish.
The only cosmeceutical or "bio-active" ingredient present is tocopheryl acetate, or vitamin E acetate. Although both vitamin E (tocopherol) and vitamin E acetate provide some antioxidant protection against free radicals, I would not consider either as "powerful," in comparison with many of other antioxidants used in personal care products.
The preservative system consists of phenoxyethanol and ethylhexylglycerin, and is boosted by chelating agent disodium EDTA. Anisic acid is a skin-friendly, organic acid with fungicidal activity.
I believe the basis of the "unique UVA/UVB filter system" claim is that oxybenzone is not one of the "active ingredients" in this SPF 50+. The four sunscreen actives in the formula are all listed in the OTC monograph and their combination is in commercially marketed products. In my opinion, the other claims made for this product (oil-free, fragrance-free, PABA-free, oxybenzone-free, paraben-free, etc.) are supported by the ingredient listing.
Active Ingredients: Avobenzone 3% (sunscreen), Homosalate 13% (sunscreen), Octisalate 5% (sunscreen), Octocrylene 10% (sunscreen).
Inactive Ingredients: Water (aqua), Isononyl Isononanoate, Glycerin, Silica, Isohexadecane, Styrene/Acrylates Copolymer, Dimethicone, Polyester-7, Neopentyl Glycol Diheptanoate, Dicaprylyl Carbonate, Ethylhexyl Methoxycrylene, Polyester-8, Sorbitol, Arachidyl Glucoside, Tocopheryl Acetate, Arachidyl Alcohol, Behenyl Alcohol, Phenoxyethanol, Steareth-2, Ethylhexylglycerin, Xanthan Gum, Sorbitan Isostearate, Polyglyceryl-3 Distearate, Lecithin, Oleic Acid, Disodium EDTA, Steareth-100, Mannan, p-Anisic Acid.