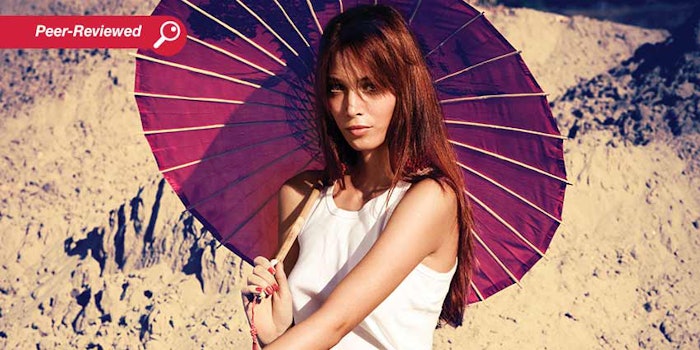 Click through to the September 2019 digital magazine to read the complete article.
The challenges formulators face to produce effective, high-SPF sunscreens increase every day. Take Key West's1 and Hawaii's2 legislative moves to ban oxybenzone and octinoxate, two commonly used sunscreen actives, for example. Add to these regulations the general need for more environmentally and skin-friendly sun protectants, and the entire industry is quickly affected.
Finding suitable preservative systems to protect these formulations poses hurdles as well. Social media, the evolving market and regulatory constraints continue to move the industry toward nontraditional preservation methods. Importantly, these approaches should be considered during the initial stages of the product development; especially when formulating high-SPF, mineral or organic sunscreens.
Figure 1 shows how, in sunscreens, the worlwide use of some of the most common preservatives has evolved in the past five years, according to Mintel.3 Short chain parabens are losing popularity, giving way to aromatic alcohols and organic acids. Note that this table only represents approved active preservatives as listed in Annex V of Regulation (EC) No. 1223/2009 on cosmetic products.4 It does not include nontraditional preservation methods, which as stated, are rising in use throughout the personal care industry.
Preserving Sunscreens
Experience has shown that sunscreen products are frequently more difficult to preserve than other skin care products. Some of the main considerations for identifying the appropriate preservation system for sunscreen formulas are:
• Incompatibilities. Some organic UV filters, such as avobenzone, are not compatible with formaldehyde-releasers5 due to their highly reactive aldehydic carbonyl functionality.
References
Grabenhofer, R. (2019, Feb 6). Key West joins Hawaii in the ban of octinoxate and oxybenzone. Retrieved from www.cosmeticsandtoiletries.com/regulatory/uvfilters/Key-West-Joins-Hawaii-in-the-Ban-of-Octinoxate-and-Oxybenzone-505418321.html
Schleehauf, B. (2018, May 4). Hawaii to ban certain sunscreen chemicals. Retrieved from https://www.cosmeticsandtoiletries.com/regulatory/region/northamerica/Hawaii-to-Ban-Certain-Sunscreen-Chemicals-481757731.html
Mintel Global New Product Database (GNPD). internal data. www.mintel.com
European Commission (2019, accessed Aug 8). Legislation. Retrieved from http://ec.europa.eu/growth/sectors/cosmetics/legislation/
Click through to the September 2019 digital magazine to read the complete article.