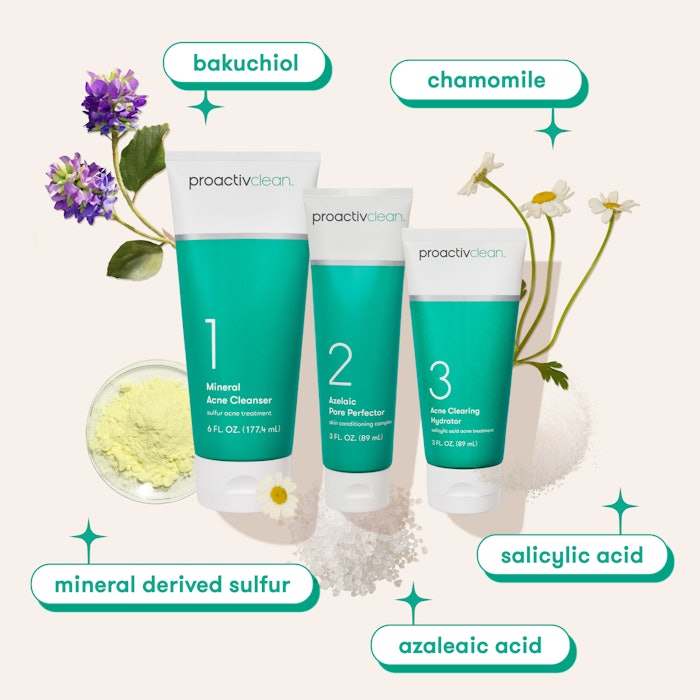 Proactiv has debuted its 3-Step Routine, which is formulated for individuals with sensitive, acne-prone skin. 
It is said to offer a gentler solution to clear blemishes, visibly smooth the skin and promote a calming effect.
The products are free from parabens, phthalates, sulfates, cyclic silicones and more than 100 other ingredients.
3-Step Routine includes:
Mineral Acne Cleanser:  A creamy, daily-use mineral cleanser that washes away excess dirt, oil, and dead skin.
Azelaic Pore Perfector: A lightweight serum-like azelaic acid lotion that helps improve the look of uneven skin tone and soothe irritation. 
Acne Clearing Hydrator: A daily-use moisturizer that helps clear blemishes while replenishing the skin's moisture barrier.
Samantha Boulukos, head of business at Alchemee, said, "After close monitoring of consumer feedback both offline and online, we created a dermatologist-developed routine that is both gentle enough for sensitive skin and effective enough for treating acne. This is a continuation of our effort to empower individuals wherever they may be on their clear skin journey. We worked hand-in-hand with board-certified dermatologist Dr. Rachel Nazarian on the formulation of the Acne Clearing Hydrator to ensure we were delivering the best ingredients in a gentle yet effective manner. We are proud to add this to our portfolio of science-backed products."
Rachel Nazarian, M.D., consulting board-certified dermatologist, said, "Acne can be overwhelming and frustrating, and it's oftentimes difficult to pinpoint a specific cause. That's why I'm proud to work with Proactiv on creating skincare solutions for the next generation. Through our research and feedback, we have found that many consumers desire acne-fighting formulas that are gentle and want to avoid ingredients that risk drying out or irritating their skin. The Acne Clearing Hydrator is a gentle way to achieve beautiful skin using ingredients that are benzoyl peroxide and retinoid-free. The three-step routine has all the acne-clearing effectiveness without numerous chemicals many people want to avoid, helping to improve overall skin clarity. No compromise needed."
Key ingredients: Mineral-derived sulfur, salicylic acid, hyaluronic acid, bakuchiol, chamomile, glycerin, squalane, bisabolol, allantoin