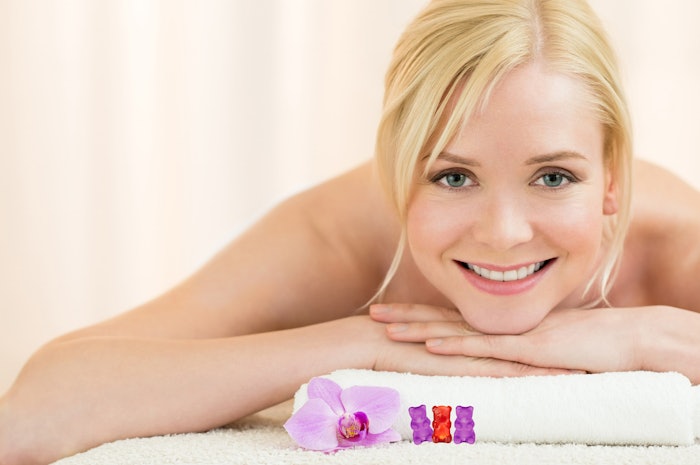 Monteloeder, S.L., a subsidiary of SuanNutra, has launched a vegan, fruit-flavored gummy from its Eternalyoung anti-aging botanical blend. The gummy marks Monteloeder's entrance into new delivery systems for the beauty-from-within space.
The formula contains pomegranate (Punica granatum), sweet orange (Citrus reticulata), desert "ginseng" (Cistanche deserticola) and gotu kola (Centella asiatica).
Two gummies provide the daily recommended 225 mg dose of Eternalyoung.
Miguel Poza, director of SuanNutra, the nutraceuticals division of Suanfarma, said, "We tested our anti-aging formula in plant-based gummies that deliver a fun and flavorful experience instead of the routine supplements typically encountered. Gummies delight consumers' taste buds, but we wanted to take it to the next level—a plant-based vegan level—and developed a pectin-based formulation that maintains the excellent texture and consistency characteristic of gelatin gummies. We're offering this proof of concept as a way to support our customers in their formulations and to provide them with ideas and related data to help them accelerate product development. Our focus, however, is on the Eternalyoung solution; this initiative demonstrates our extensive knowledge and reinforces our unmatched customer support."
Maria Ángeles Gutiérrez Montero, head market development of SuanNutra, said, "We are attuned to the phenomenon of 'pill fatigue' and the expressed desire from consumers for more enticing supplement options. As a direct response, we incorporated our signature beauty formula into a delicious gummy matrix, infusing a touch of indulgence into the daily beauty and wellness regimen."