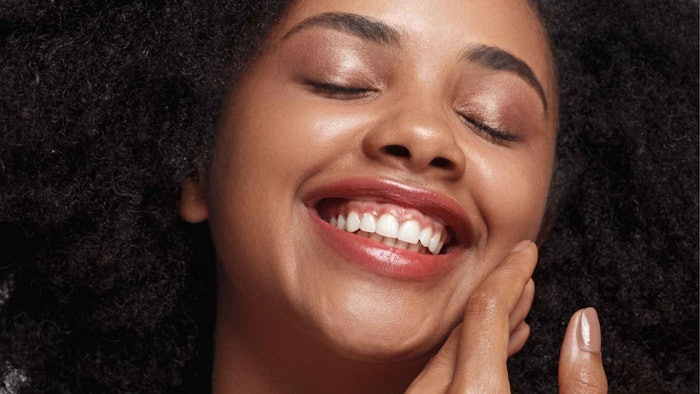 To brighten both the user's skin and mood, Clariant has launched a stick and mask prototype formula under the theme "The Joyologist." The Feel-Good Magic Stick and Forget-It-All Relaxing Mask are two natural products designed to complement consumers' daily routines and deliver a multi-sensory experience for mood enhancement and relaxation.
Feel-good Magic Stick
This formulation is based on Clariant's Rootness Mood+ ingredient (INCI: Propanediol (and) Sanguisorba Officinalis Root Extract) that reproduces the natural benefits of light to revitalize the skin and enhance the mood. Sourced from Sanguisorba officinalis, a plant used in traditional Chinese medicine, it is derived through Clariant's environmentally friendly plant-milking technology.
The stick is said to provide a relaxing, fresh effect for a well-being "push." Aqueous gels provide a cooling sensation thanks to their water-based formulation. The product imparts a lightweight, non-greasy texture that absorbs quickly into the skin, leaving it feeling soft and hydrated.
Ingredients: Water (Aqua), Butylene glycol, Corn Starch Modified, Glycerin, Sodium Stearate, Propanediol, Kaolin, Carrageenan, Lespedeza Capitata Leaf/Stem Extract, Curcuma Longa Tumeric Root Extract, Sanguisorba Officinalis Root Extract, Potassium Sorbate, Citric Acid, Sodium Benzoate, Fragrance, CI 19140, CI 14720, CI 16255.
Forget-it-all Relaxing Mask
The key active in this prototype product is Beracare CBA (INCI: Copaifera Officinalis (Balsam Copaiba) Resin (and) Passiflora Edulis Seed Oil (and) Tocopherol), a complex blend wherein copaiba oil's tremendous potential is reportedly boosted by passion fruit oil. Beracare CBA is sourced responsibly from renewable resources in the Amazon and offers an alternative to cannabidiol, soothing sensitive skin by targeting the skin's endocannabinoid system.
The mask is said to have a soft texture that leaves skin feeling relaxed and soothed. It is intended for application at the end of the day and is provided in a multi-sensorial set that includes a scented candle and relaxing playlist.
Ingredients: Water (Aqua), Kaolin, Sucrose Polystearate, Cetearyl Alcohol, Olea Europaea (Olive) Oil Unsaponifiables, Copaifera Officinalis (Balsam Copaiba) Resin, Passiflora Edulis Seed Oil, Magnesium Aluminium Silicate, Glycerin, Phenoxyethanol, Sorbitan Caprylate, Panthenol, Squalane, Xantham Gum, Tocopherol.
"Based on a Beautystreams report, titled Joyology 2021-2026, consumers believe that beauty care can help them feel happier and more confident," said Flávia Igreja, Clariant's global marketing and formulation manager for actives and natural origins. "Among 29 potential sources of happiness measured, 55% of people across the world said they are most likely to derive 'the greatest happiness' from health and physical well-being. This inner wellness can further increase if personal care products are also aligned with their concerns for safety and the conservation of nature."