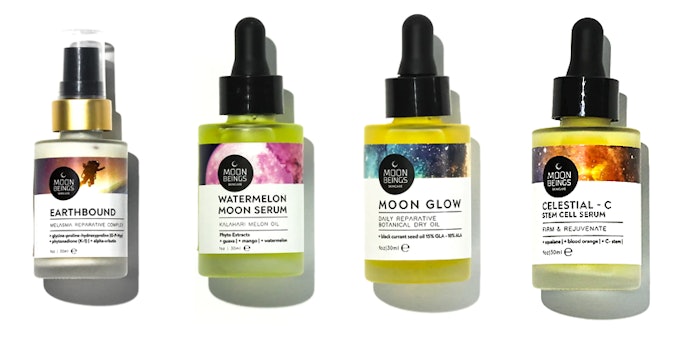 Image source: Moon Beings
Moon Beings Skincare harnesses the power of plant and marine actives that contain carotenoids, along with amino acids and fruit enzymes. In particular, Moon Beings has created retinol alternative skin care to treat sensitive skin without the harshness that is observed typically with retinol. 
Related: Herbivore Launches Moon Fruit Retinol Alternative Serum
The Moon Beings collection features an oil-based serum, night cream, vitamin C seurm, dry oil and foaming face wash. 
Earthbound Night Cream
This aqueous retinol-free complex contains glycine-proline-hydroxyproline (G-P-Hyp) with alpha-arbutin, which has been reportedly proven to protect and correct discolored pigmentation by stopping melanin synthesis.
This cream is boosted with phytonadione vitamin K-1 to halt skin discoloration by binding to pigment compounds that carry them out of the skin cells, aiding in a further brightening result.
Celestial C Serum
This vitamin C-based fruit and aloe vera serum contains blood orange, which is naturally rich in polyphenols known to increase circulation and collagen production, ease breakouts and inflammation and improve skin tone.
Added squalane works as a humectant base to further protect and improve the skin barrier.
Watermelon Moon Oil Serum
Clarify and glow the skin with this multi-benefit serum with extracts of Kalahari and guava. Squalane oil, meadowfoam oil, blueberry seed oil and Kalahari oil to keep the skin protected and nourished.
Kalahari melon is formulated in this serum for its moisturizing, regenerating and restructuring properties as it also contributes to the integrity of the cell wall and the suppleness of the skin. It plays a role in the regulation of hydration and the restructuring of the epidermis.
Moon Glow Daily Reparative Botanical Dry Oil
The Moon Glow with black currant seed oil is rich in 15% GLA/10% ALA to help promote skin healing and protection. Also added is jojoba oil, reportedly known to be the most similar to the skin's sebum to help smooth and plump patchy skin areas.
Moon Glow is also boosted with avocado and rosehip oil. Avocado oil has an abundance of antioxidants, plant sterols, omega-9, minerals and vitamins, including vitamins C and E.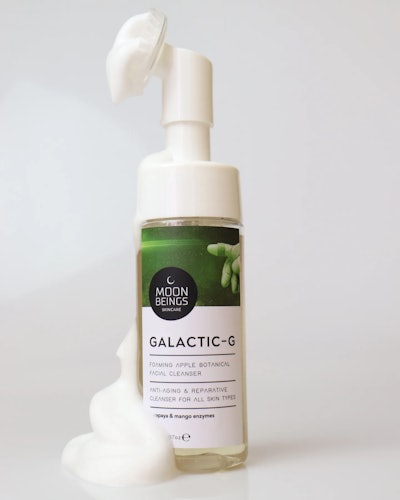 Galactic G Foaming Wash
Revitalize and renew skin tone and texture with this foaming apple botanical facial cleanser. The blend of papaya and mango enzyme antioxidants cleanses and brightens for healthy-looking, brilliant skin.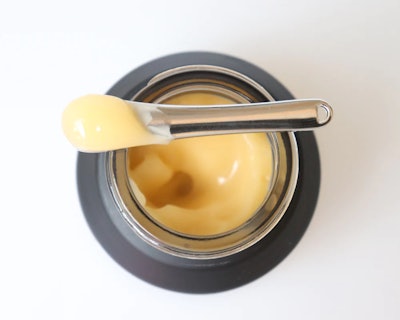 Space Jelly
This hydrating red algae hydro-jelly mask has a supple smooth texture containing humectants to seal in hydration, while the algae and marine plant complex draws in moisture to calm the skin.
This jelly contains marine algae harvested from arctic Norwegian seas and deeply hydrating hyaluronic acid to work to create the appearance of plumper skin, and seal in moisture for lasting hydration.
Ingredients (Earthbound Night Cream): Water (aqua), Simmondsia chinensis (unrefined jojoba) oil, organic aloe vera, xanthan, vegetable glycerin, C14-22 alcohols (and) C12-20 alkyl glucoside, tripeptide-29 (glycine-proline-hydroxyproline (G-P-Hyp), hyaluronic acid, alpha-arbutin, phytonadione (K1), Lactobacillus (and) Cocos nucifera (Coconut) fruit extract, tocopherol, tocobiolSF (sunflower derived).